2015 NFL Draft: Wisconsin Preview
With RB Melvin Gordon and a slew of offensive line prospects knocking at the NFL's door, the Badgers streak of draft picks doesn't appear to be in jeopardy any time soon.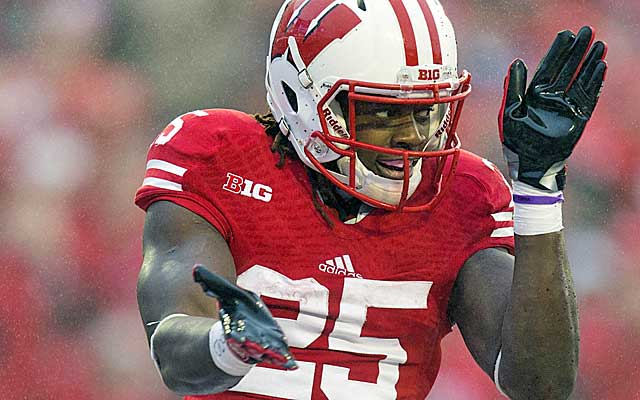 NFL Draft: More prospect previews |   Prospect rankings |  Brugler: 2015 mock draft 
Wisconsin didn't miss a beat in 2013 under new head coach Gary Andersen. In fact, the Badgers actually won more games than the previous year. A large reason for the team's success last season was the run game, led by Melvin Gordon and James White, behind one of the country's toughest offensive lines. White was a fourth-round pick of the Patriots in the 2014 NFL Draft and Gordon is the team's top prospect for the 2015 class and could become the first running back drafted in the first round since 2012.
With five Badgers drafted in the 2014 NFL Draft, Wisconsin's active streak of consecutive years with a draft pick extends to 46 straight, every year since 1968. And with Gordon and a slew of offensive line prospects knocking at the NFL's door, the Badgers streak doesn't appear to be in jeopardy any time soon.
Wisconsin's NFL Draft-Eligible prospects to watch in 2014:
RB Melvin Gordon, RS Junior (6-1 | 207 | 4.54 | #25)
Wisconsin has had an excellent run on running backs over time, most recently Montee Ball and James White. But Gordon has the natural talent to be the best NFL running back the Badgers' program has ever produced. After redshirting in 2011, he saw limited playing time in 2012 behind Ball and White, but produced stats that would have led some other teams in rushing (621 rushing yards, 10.0 yards per carry). With Ball off to the NFL, Gordon and White shared the running back duties in 2013 with White leading the way with carries, but Gordon had a team-best 1,609 rushing yards, averaging 7.8 yards per rush and 123.8 yards per game. Although unproven as a pass-catcher with only three career catches, he has a well-rounded skill set and is elite in two areas: balance and acceleration. Gordon goes zero to 60 in a flash and bursts to top speed quickly with the vision and patience to follow blocks and find holes to daylight. Although he has only average power, Gordon has the natural balance to bounce off contact without losing momentum with a physical nature to break tackles. His body type isn't ideal, with a high-cut frame and only average bulk throughout (similar skill-set as Jamaal Charles), but he lowers his pads and keeps his legs pumping to generate deceiving power. Gordon has only eight starts on his resume, but he will be "the guy" in the Badgers' backfield in 2013 and projects as one of the most talented backs for the 2015 draft class if he declares. The NFL hasn't had a first round running back the last two years and time will tell if Gordon is selected in the first 32 picks, but no question in my mind that he has first-round ability.
OT Tyler Marz, RS Junior (6-5 | 321 | 5.34 | #61)
Marz earned the starting left tackle position last fall and started all 13 games there in 2013, stabilizing a position that had been a question mark the previous few seasons. He earned All-Big Ten Honorable Mention honors as a sophomore, but now entering his junior year, he has a bright future ahead of him with the chance to develop into the best Badger left tackle since Joe Tomas. Marz shoots his hands at the point of attack and doesn't play with a passive bone in his body, displaying strong wrists to stonewall rushers. He has a bad habit of being late out of his stance and needs to improve his snap anticipation, but shows a smooth kickslide with natural bend and pad level to be reliable in pass protection. Marz has light lateral movements for his size and it's not often that speed beats him around the edge, using angles well to seal. He showed consistent improvement as a starter last season and belongs in the same discussion as Penn State's Donovan Smith and a few others for the distinction to be the second-best left tackle in the conference behind Iowa's Brandon Scherff.
OC Dan Voltz, RS Sophomore (6-3 | 313 | 5.44 | #70)
The Badgers have had two centers drafted in the top-60 picks over the last three years: Atlanta Falcons' Peter Konz (55th overall, 2012) and Dallas Cowboys' Travis Frederick (31st overall, 2013). Voltz redshirted in 2012 and with Frederick going pro early after the season, he shared the center duties with Dallas Lewallen last season, earning his first career start at Ohio State and finishing the season with seven total starts. Voltz lacks overpowering strength to redirect blockers, but is a tough-minded finisher and does a nice job on combo blocks, always looking for someone to block with developing awareness. Although he has room to improve his hand quickness off the snap, he is an easy bender with smooth body control to work well in space and counter slippery rushers. Voltz is still very young and likely has two or three more seasons in Madison before ready for the NFL, but he's a name to keep on the radar.
OT Rob Havenstein, RS Senior (6-7 | 327 | 5.40 | #78)
The Badgers' starter at right tackle the past two seasons, Havenstein enters his senior season with 28 starts under his belt, all on the right side. He is a mammoth human being with good body thickness throughout and stout strength to absorb contact and hold his ground. Havenstein has ordinary athleticism for the position and clearly lacks elite lateral quickness with some hip and joint stiffness that keeps him from being a natural bender. He tends to overextend himself at times too with inconsistent body control, but he's a physical mauler and brings the right mentality to the position each snap. Although still inconsistent recognizing extra pressures, Havenstein is the veteran member of the Badgers up front with the most game and starting experience. He isn't a highly graded NFL prospect, but there is a place at the next level for a player with his strengths.
Other Wisconsin prospects worth watching:
TE Sam Arneson, Senior (6-4 | 254 | 4.73 | #59)
Although he enters his senior season with only 10 catches and five starts on his collegiate resume, much is expected from Arneson in 2014. The Badgers lose 51 catches from the tight end position from last season and Arneson, who is viewed as a reliable pass catcher and blocker, is the senior leader of the 2014 unit and a player scouts are keeping tabs on this season.
OG Dallas Lewallen, RS Senior (6-5 | 322 | 5.29 | #73)
Mostly a reserve over his career, Lewallen shared the center duties with Voltz last season, but is expected to start at guard as a senior in 2014. He has the look of a NFL lineman with a tall, sturdy frame and although he didn't shine in any one area in the games he played last season, he didn't have many glaring flaws either. A consistent, healthy senior season could translate into a draft pick for Lewallen.
OG Kyle Costigan, RS Senior (6-4 | 315 | 5.31 | #54)
The Badgers returning starter at right guard, Costigan worked his way into the starting line-up as a sophomore, starting 20 games the past two seasons. He tends to lunge out of his stance and needs to introduce more patience and discipline to his skill-set, but Costigan plays with good knee bend and mechanics in both the pass and run games.
DT Warren Herring, RS Senior (6-2 | 294 | 5.06 | #45)
The back-up behind Beau Allen at nose guard last season, Herring has only one career start to his name, but has been a valuable reserve the last few years, seeing plenty of reps as part of the Badgers' defensive line rotation. He doesn't have ideal range to routinely play up and down the line of scrimmage, but he has the strength to hold the point and takes pride in doing the dirty work in the trenches.
LB Derek Landisch, Senior (5-11 | 230 | 4.74 | #30)
Another first-time starter in 2014, Landisch has the unfortunate task of helping to replace Chris Borland this season, one of the best linebackers in program history. Landisch has similar size as Borland and the athleticism is comparable, but where he needs to show improvement is his instincts to read, diagnose and attack, performing that sequence quicker and more consistent.
Show Comments
Hide Comments
Not every draft pick can be a winner. Here are the 32 guys who could cause the most regret

Our list of late-round gems includes plenty of lesser-known backs and quality linemen

A running back going No. 2 overall? When you're being compared to Hall of Fame runner, yes
Pass rushers and explosive offensive players highlight the best Day 1 contributors

Here's every draft pick heading to the NFC West, including 21 by the Seahawks and 49ers co...

Here's every draft pick heading to the NFC South, home of the NFC's last two Super Bowl te...