2016 NFL Combine: Joey Bosa prepared for possible position change
With six of the teams picking top-seven in the 2016 NFL Draft expected to run a 3-4 base defense this season, Ohio State pass rusher Joey Bosa is preparing to show his versatility in any scheme.
As one of the best players in the 2016 NFL Draft, Ohio State pass rusher Joey Bosa is prepared for the questions NFL teams will throw at him during the process, including the details behind his one-game suspension (which he declined to elaborate on). Bosa is also ready for a possible position change if teams wants him to transition to a stand-up role in a 3-4 scheme.
Bosa admitted that he is "more comfortable" in a 4-3 formation because that is all he knows, but that hasn't stopped him from training to show his versatility.
"I can see myself playing anywhere on the defensive line," Bosa said. "I have been working standing up, I have been working on my linebacker drops. So I definitely believe I am ready to play in a 3-4 or 4-3."
Six of the teams picking top-seven in the 2016 NFL Draft are expected to run a 3-4 scheme as the base defense and Bosa is doing what he can to be ready if those teams put him through space drills. He singled out Kansas City Chiefs pass rusher Tamba Hali as a versatile NFL pass rusher that he admires, mostly due to his hand technique and quickness.
Bosa played almost primarily as a left defensive end in Ohio State's 4-3 base, but he also saw snaps on the right side, inside as a three technique and on his feet as a spying linebacker. He is very physically gifted and perhaps his defensive coordinator Luke Fickell said it best: "There's nothing he can't do."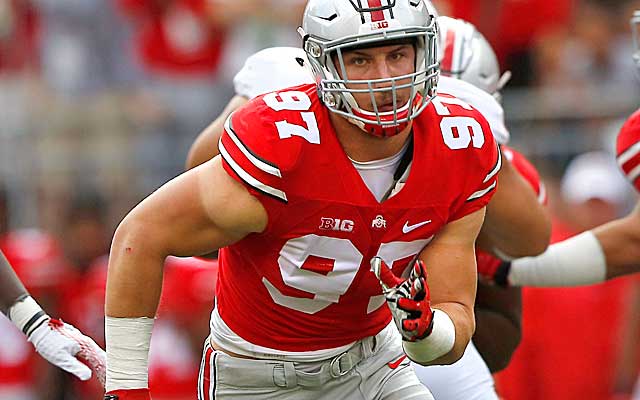 Bosa agrees and believes he is worthy of the No. 1 pick.
"I do believe I am the best player in the draft," Bosa said when asked where he stacks up in this class. "Of course, there's a lot of amazing players in this draft and it's going to be up to Tennessee to make that decision. But I think as a top player, if you don't believe that, then there's something wrong."
Regardless of where Bosa ends up, two things won't change: his laid-back sense of humor and his first name.
"I never really see myself as a Joe," Bosa said. "I see myself as a Joey. Maybe once I'm like 50, I'll be Joe. Old man Joe."
Show Comments
Hide Comments
Our Latest Stories
The Browns also can't wait on DeShone Kizer, taking the Notre Dame QB at No. 1

A look at NFL prospects who helped and may have hurt themselves this past weekend

Credit Mike McIntyre for developing the talent needed to catch scouts' attention in this t...
The Division-III left tackle transfer is quickly proving he has a future in the NFL

Five key NFL Draft prospects stand out in this week's big matchup between the Gators and V...

Michigan's Peppers, who's listed at strong safety, can do just about everything on the football...