2016 NFL Combine: Nkemdiche admits being drunk, with Tunsil in hotel fall
Ole Miss defensive tackle Robert Nkemdiche said he was drunk and with teammate Laremy Tunsil when the Atlanta hotel incident took place in December.
The Sports Xchange/CBSSports.com

• 2 min read
INDIANAPOLIS -- Ole Miss defensive tackle Robert Nkemdiche came to the NFL combine believing the only way to sell prospective employers on his talent was to come entirely clean about his past.
That included sharing with media, and presumably teams with whom the first-round defender will meet this weekend, that NFLDraftScout.com's top-ranked offensive prospect, Ole Miss offensive tackle Laremy Tunsil, was present when Nkemdiche fell through a hotel window in December.
"I tell them the truth. It was a rash decision by me. Uncharacteristic," Nkemdiche said. "That's not who I am. That's not what I stand for. That's not what my family stands for. It was embarrassing for me and my whole family, the Ole Miss family. I tell them that's not the kind of player they're getting. They're getting a straightforward player. I'm never going to return to that. I'm just moving forward and embracing this moment."
A former No. 1 overall recruit, Nkemdiche's college career ended when he broke and fell at an Atlanta hotel in December. Nkemdiche went to the hospital for minor injuries, but seven marijuana cigarettes were discovered by police inside his hotel room and he was charged with misdemeanor possession of marijuana. He was suspended for the Sugar Bowl and his case, Nkemdiche said Friday, is still pending.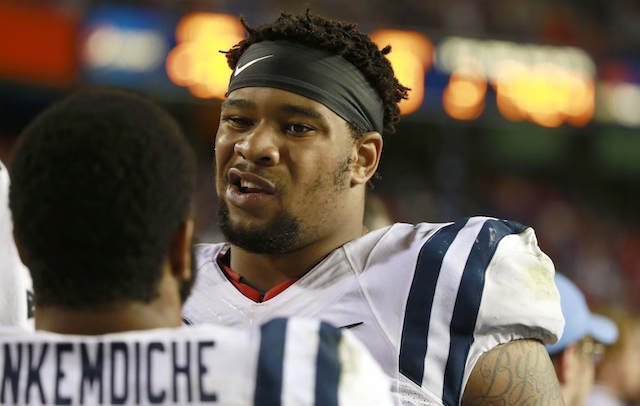 One member of the Ole Miss family, Tunsil, "was there," Nkemdiche revealed for the first time Friday. He did not accompany Nkemdiche to the hospital, nor was he charged.
"There were more people in my room. The hotel was under my name. Nobody wanted to take the fall," Nkemdiche said. "It had to go under my name. It just happened to play out like that."
When Tunsil met the media Thursday, he went out of his way to defend Nkemdiche.
"A lot of people, they don't know about Rob, man," Tunsil said. "He's a great guy, a humble guy. He had a little few off-the-field incidents, but you know you have little hiccups."
Nkemdiche said he was drinking before the fall but denied use of marijuana or synthetic marijuana when asked Friday.
"I was drinking. I was drunk," he said.
Nkemdiche said teams are curious about his character more than the discrepancy between his immense natural ability and on-field production.
"I kind of tell them the truth because I don't pitch anything. I don't try to create an act because for the people that do know me as a person ... that wasn't me," he said. "That was rash. It was blunder. The people that know me know that's not who I am. I don't do those kind of things. The media's done a tarnish to my name but I've just got to make them understand me as a person who I am. Just got to keep moving forward, just keep being positive and working hard."
Show Comments
Hide Comments
Our Latest Stories
Credit Mike McIntyre for developing the talent needed to catch scouts' attention in this t...

The Division-III left tackle transfer is quickly proving he has a future in the NFL

Five key NFL Draft prospects stand out in this week's big matchup between the Gators and V...
Michigan's Peppers, who's listed at strong safety, can do just about everything on the football...

The Browns will almost certainly be spending yet another early pick on a quarterback

A look at NFL prospects who helped and may have hurt themselves this past weekend