2016 NFL Draft: Lynch, Goff joining QB class full of promise and projects
NFL teams in search of a quarterback in the 2016 NFL Draft will have plenty of intriguing options but no prospects ranking as highly as Jameis Winston and Marcus Mariota did a year ago. Here's a quick breakdown of the top prospects, including the intriguing underclassmen joining the list.
by Rob Rang
The Sports Xchange/CBSSports.com

• 3 min read
The 2016 NFL Draft features plenty of talent at the quarterback position, but it's spread out between a dozen (or more) prospects.
That's unlike a year ago when it was obvious that the top two prospects -- Jameis Winston and Marcus Mariota -- were relatively transcendent underclassmen (and then a steep drop-off in talent after them), the 2016 draft is loaded with projects.
The crop was significantly boosted Thursday with the expected announcements that the top two quarterbacks on NFLDraftScout.com's board -- Paxton Lynch (Memphis) and Jared Goff (California) - were forgoing their senior seasons and heading to the NFL.
Lynch (6 feet 6, 230 pounds) possesses all of the physical tools to excite scouts, including rare agility for a man of his size and a hose for an arm. However, rather than end his career with a bang, Lynch struggled mightily in a 31-10 loss to Auburn, raising all kinds of questions about the steep learning curve he'll face in the NFL.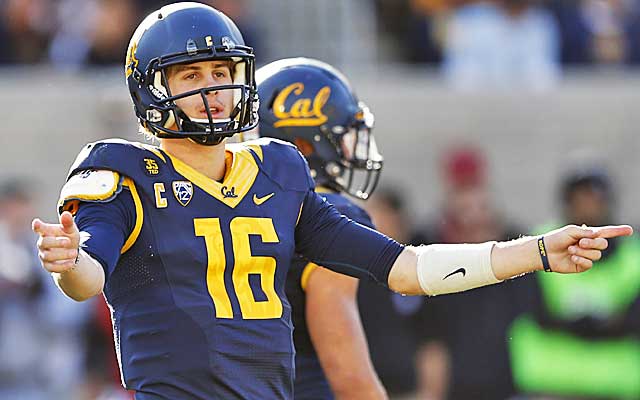 Goff (6-4, 210), on the other hand, was brilliant in guiding Cal to its first bowl victory since 2008, tossing six touchdowns without an interception to win the Armed Forces Bowl. That victory, however, came against an overmatched Air Force defense and there are plenty of concerns as to whether Goff's thin frame and average arm strength will hold up in the NFL, making it potentially critical that he's drafted by a team that fits his strengths.
The top-rated seniors at the position also come with significant questions.
Michigan State's Connor Cook remains in the first round conversation as the 6-2, 220-pounder has the build, arm strength and track record in a pro-style offense to offer a relatively quick transition to the NFL.
Scouts, however, question how much of the Spartans' success is due to Cook. Michigan State beat Ohio State on Nov. 21 without Cook by sticking to Mark Dantonio's philosophy of running the ball and playing physical, assignment-sound defense. Despite starting the past three years for Sparty, Cook still has a tendency to spray the ball due to inconsistent footwork.
Further, scouts question whether Cook, who curiously was never voted a captain by teammates during his collegiate career, has the leadership traits necessary to ever be a franchise quarterback.
North Dakota State's Carson Wentz is the small-school wild card to keep an eye on. He was lightly recruited out of high school due in part to his size (5-8, 125 pounds as a high school freshman) but he sprouted and now possesses an ideal frame for the NFL (6-5, 231).
Not surprisingly, Wentz has starred against the lower competition, guiding the Bison to a berth in the FCS national championship Jan. 9 against Jacksonville State. While he possesses the frame, arm and surprisingly athleticism scouts are looking for, he comes with obvious level of competition questions with only one career appearance against an FBS team (Iowa State). Scouts are excited to see Wentz matched up against top talent at the Senior Bowl. A strong performance in Mobile could push Wentz into the first-round mix.
With an undefeated record at Ohio State that includes sparkling performances in playoff wins last year against Alabama and Oregon to guide the Buckeyes to a national championship, Cardale Jones doesn't come with the same level of competition questions as Wentz. Further, he boasts the most exciting skill-set of this year's quarterbacks with a Daunte Culpepper-like combination of size (6-5, 250 pounds), arm strength and athleticism.  
While undeniably gifted, Jones is quite a gamble at the next level, having started only 11 games (and played in 23 overall) over his collegiate career. In terms of running the ball or chucking it downfield on vertical routes, Jones looks like a future star. It is virtually everywhere else, however, that Jones needs considerable polishing before he can be expected to guide an NFL franchise.
With no guarantees among quarterbacks at the top, NFL teams could elect to take advantage of this year's bumper crop of offensive and defensive linemen (who make up the majority of our current mock drafts) and instead wait until the middle rounds to find a passer.
There are some intriguing prospects amongst the second-tier quarterbacks, including Mississippi State's Dak Prescott, Stanford's Kevin Hogan, Arkansas' Brandon Allen and Louisiana Tech's Jeff Driskel, each of whom made strides in 2015.
None, however, boasts the complete skill-set to ease the concerns of QB-needy general managers throughout the NFL, which should make the buildup to this year's draft all the more fascinating to watch.
Show Comments
Hide Comments
Our Latest Stories
Michigan, California and BYU held pro days on Friday, with Davis Webb fighting a 'torrential...

Plus, prospects at Utah, Missouri and San Diego State look to make their mark on a busy Th...

Plus, two USC prospects tackle agility drills and two small-schoolers look to make their m...
In a class loaded with defensive studs, no position group is better than the corners and s...

Mitchell Trubisky is 'solid,' Takk McKinley sits and Marlon Mack 'sizzles' during Tuesday pro...

John Lynch is among the 75 NFL scouts at UNC's pro day, while the Browns are noticeably ab...