A&M's Matthews, Buffalo's Mack, VT's Fuller among Week 1 stars
Last year, Cordarrelle Patterson sparked his rise into the 2013 first round with a dominant performance in the season opener. Which players made strong first impressions so far in this year's opening slate?
by Rob Rang
The Sports Xchange/CBSSports.com

• 6 min read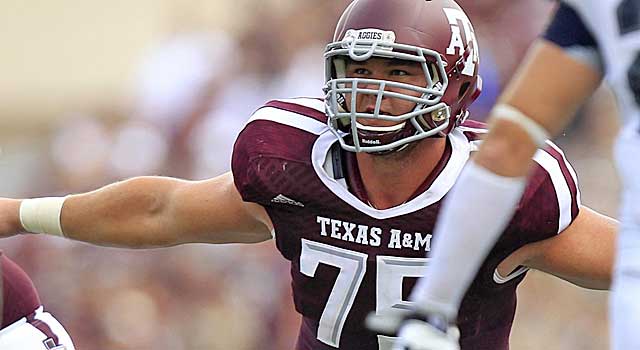 Last year, Cordarrelle Patterson burst onto the national scene with a dominant performance during a nationally televised opener over North Carolina State, sparking the former Tennessee Volunteer's rise to the first round.
Which players made strong first impressions so far in this year's opening slate?
Matthews mostly dominant in 1st start at LT
The hype, of course, centered on Johnny Manziel but for scouts the most important story in Texas A&M's win over Rice was the nearly flawless transition blue chip offensive tackle Jake Matthews made in switching from the right to left side.
Matthews, NFLDraftScout.com's highest rated senior prospect, started every game at right tackle the past three years for the Aggies and could have left A&M after his junior season and been drafted in the first round. Instead, by returning, he took over for Luke Joeckel, whom the Jacksonville Jaguars selected with the No. 2 overall pick.
Considering his bloodlines (son of Hall of Fame offensive lineman Bruce Matthews), the picture-perfect technique demonstrated by the Aggies' tackle perhaps isn't surprising, but it is noteworthy, nonetheless. Matthews isn't quite as smooth sliding in pass protection as his former teammate but he doesn't have to be, possessing dominant upper body strength to latch on and control his opponent. His initial punch frequently knocked defenders back onto their heels. The 6-5, 308-pound blocker actually finished many passing plays with just one arm controlling the defensive end while peeking back inside to offer help, if needed. 
Matthews did have one significant slip-up in this contest, however, allowing a sack of Manziel midway through the third quarter when he failed to recognize a twist between Rice's defensive tackle and end. He got off-balance by leaning left, giving up an easy avenue inside for the sack.  
Matthews will face a much tougher opponent in their SEC opener two weeks from now when Alabama visits College Station.


Mack attack on first-round track?
The Buffalo Bulls couldn't keep up with Ohio State on Saturday but outside linebacker Khalil Mack proved that he could handle the big stage, demonstrating the power, athleticism and playmaking ability scouts expect of a potential first round pick.
Mack (6 foot 3, 248 pounds) has proven himself a man among boys in the Mid-American Conference, racking up 56 tackles loss, 18 sacks and 11 forced fumbles over his career. His big-play proficiency was on display against the talented Buckeyes, too. He returned an interception (just the second of his career) for 53-yards and a touchdown in the second quarter and recorded 9.5 tackles, including 2.5 sacks in the 40-20 loss. Mack also forced a fumble in the game but it was called back on a penalty.
Physically speaking, Mack belonged on the same field with Ohio State, showing an explosive pop to disengage from blocks, fluidity and speed in coverage and physical, secure tackling ability.
He was able to provide pressure from either side, showing speed and power off the edge. Mack's aggression occasionally got the better of him. So determined to get upfield, Mack occasionally lost sight of the ball, allowing Ohio State runners to slip by.
Fuller flashes in Hokies' loss to Alabama
The Chick-fil-A Kickoff matchup of Alabama and Virginia Tech came with plenty of subplots. Among them, was the opportunity to evaluate the secondaries from two of college football's best producers of NFL defensive back talent.
Alabama safety Hasean Clinton-Dix and Virginia Tech cornerback Antone Exum dominated the buzz entering the game, but it was Hokies cornerback Kyle Fuller who stood out Saturday, intercepting one pass from AJ McCarron and knocking down multiple others in the 35-10 loss.
Often drawing one on one matchups against star wideout Amari Cooper, the 6-0, 190-pound Fuller showed better-than-advertised closing speed as well as excellent timing and hand-eye coordination to rip the ball away on several well-placed passes.
The interception came with Alabama leading 21-7 midway through the second quarter. Fuller initially lined up 8 yards off of Alabama junior DeAndre White, before reading McCarron's eyes and cutting in front of the junior wideout to snatch away the ball. Fuller weaved for 11 yards before being tackled. Virginia Tech kicked a field goal shortly thereafter in what wound up being their final points.
While Fuller's impressive evening against the defending champs is sure to gain kudos with scouts, his name is far from unknown to talent evaluators. Fuller is one of four brothers who have played for the Hokies. His oldest brother, Vincent, played seven years in the NFL as a defensive back. Another brother, Corey was selected by the Detroit Lions in the sixth round of the 2013 draft. The youngest of the group, Kendall, signed with Virginia Tech as a five-star recruit this year. He looked like a future standout, himself, earning the start opposite his brother with Exum still recovering from knee surgery.  
WSU's big-hitting Bucannon thumps Auburn

With innovative offensive minds Mike Leach and Gus Malzahn leading the way for the Washington State Cougars and the hosting Auburn Tigers, one couldn't have blamed scouts for expecting a player from that side of the ball to make the big impression.
Instead, it was Washington State's senior free safety Deone Bucannon who proved the most impactful prospect in this game.  

The 6-1, 215-pound safety was all over the field for the Cougars, finishing with a game-high 14 tackles, including 12 solo stops. While allowing an average of 6.6 yards per rushing attempt will put a free safety in position to make a lot of tackles, it was the 2012 second-team all-conference pick's physicality which may have taken talent evaluators unfamiliar with him by surprise.  

While Washington State is bigger and stronger since Leach took over the program a year ago, many of the Cougars were noticeably smaller than their SEC counterparts. Bucannon was one of the few Washington State players to physically match up. The well-built safety repeatedly thumped Auburn ball-carriers with bone-rattling hits. Further, his recovery of a fumble with just four minutes remaining in the game gave the Cougars the ball at midfield down just seven points. Washington State challenged but ultimately turned the ball over on downs, losing 31-24.  

He'll draw the ire of scouts for preferring to tackle high, often leaving his feet to fly through the air with outstretched arms to catch ball-carriers. Because of their fantastically-physical nature, some of his tackles are highlight-reel worthy. Bucannon's arms are too often close enough to the helmet and back of the shoulder pads, however, that it could tempt a jumpy referee to throw the flag for an illegal hit. The hard-hitting Cougar safety has struggled with penalties throughout his career and was flagged for unnecessary roughness after a helmet to helmet hit on running back Corey Grant in the third quarter. Bucannon's big hit forced a fumble (and can be seen here) but the penalty instead gave the Tigers a first down. 
Bucannon wasn't asked to make many plays against the pass in this contest as Auburn quarterback Nick Marshall completed just 10 passes for 99 yards as the Tigers featured the running attack. If the big-hitter can prove he's athletic and instinctive enough to handle coverage duties in the NFL, he could challenge for a spot among the first 75 picks in the 2014 draft -- a plateau no Cougar has climbed since cornerback Marcus Trufant was selected No. 11 overall by the Seattle Seahawks in 2003. 
Show Comments
Hide Comments
Ross looks like the perfect replacement for Brandin Cooks in the Big Easy

The top three-technique prospect in the draft could see his name not called at all

A diluted drug test continues recent alarming off-field concerns for talented Alabama pros...
Here are players from Air Force to Wyoming who might not be drafted but could make an NFL...

Who should the Rams take with their first pick? We break down all their options

Who should the Seahawks take with their first pick? We break down all their options