Boyd ups NFL Draft stock with 5 TDs, career-high 455 yards vs. Syracuse
Five touchdowns and a career-high 455 passing yards look good on paper. Even better for Boyd's chances at the Heisman and first round, his touchdowns came off of NFL-caliber throws.
by Rob Rang
The Sports Xchange/CBSSports.com

• 3 min read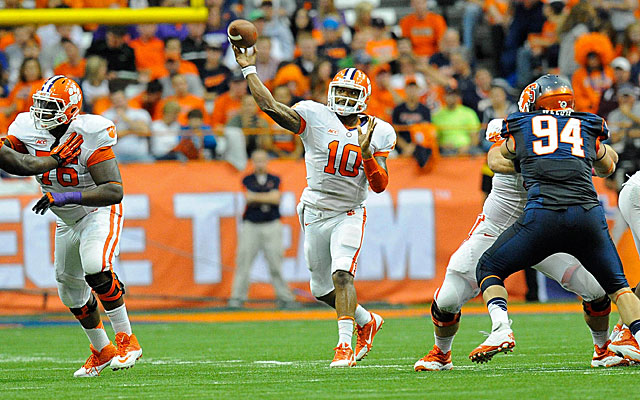 Louisville junior Teddy Bridgewater is considered the top quarterback prospect potentially eligible for the 2014 NFL draft. The excitement surrounding him is matched perhaps only by the audible buzz growing around a redshirt sophomore class of UCLA's Brett Hundley , Oregon's Marcus Mariota and Stanford's Kevin Hogan .
All of the hype surrounding the underclassmen, however, has robbed Clemson Tigers 's Tajh Boyd of the spotlight that usually comes as the top senior quarterback prospect in the country.
As the star of the nation's No. 3 team, Boyd has earned plenty of hype as a Heisman Trophy candidate. At this point, some consider him the the favorite. Other seniors -- Georgia's Aaron Murray , LSU's Zach Mettenberger , Alabama's AJ McCarron , Miami's Stephen Morris and even Fresno State's Derek Carr  -- have generated every bit the NFL draft buzz as Boyd over the first month.
Based on their similar size, dual-threat capabilities and poise under pressure, Boyd is drawing comparisons to Seattle Seahawks QB Russell Wilson. In a 49-14 win the road against a plucky Syracuse squad, Boyd consistently stuck NFL-caliber throws, showing the form to earn a significantly higher selection in the 2014 draft than No. 75, where the Seahawks nabbed Wilson two years ago.
The 6-foot-1, 225-pound Boyd completed 20 of 27 passes for a career-high 455 yards and five touchdowns in a little more than three quarters Saturday. His touchdown passes went for distances of 60, 42, 17, 40 and 91 yards and were varied, with some requiring velocity and others great touch. In each case, Boyd's touchdown strikes were pinpoint accurate, as we break down his first four scores:
Boyd's first touchdown toss was a relatively easy one. Boyd drew in the Syracuse defense with an effective play-action fake before settling and firing a bomb approximately 40 yards down the right seam to a wide-open

Adam Humphries

for an uncontested score. What made the play impressive, however, was the timing. The scoring strike came only 30 seconds into the game, instantly silencing the Syracuse crowd.
The Orangemen did a better job of covering Humphries on Boyd's second touchdown pass of the first quarter, but a missed tackle at the 5-yard line, allowed the junior wideout to spin his way into the end zone. Boyd's pass again came off of play-action and was placed over his receiver's left shoulder, allowing him to drift to the right, away from the defender. 
Boyd's third score -- a wheel route to H-back Stanton Steckinger -- required a tighter trajectory and velocity to fit between two Clemson defenders to give Clemson a commanding 28-7 lead with 9:49 left in the first half. 
Boyd was back to showing off his touch on his fourth score of the first half. Taking the snap out of shotgun, he dropped and fired quickly down the left sideline, where

Martavis Bryant

had slipped free for another 40-yard score.
While the Tigers held a commanding 35-7 lead, the Orangemen seemed to take back momentum late in the second quarter when Boyd made an uncharacteristic poor throw deep down the middle late and was intercepted. The Orange scored to narrow the gap, and over the next several drives the Syracuse pass rush began to break through Clemson's offensive line. Boyd was sacked four times over the next quarter and was hurried often. He was intercepted a second time, in fact, midway through the third quarter after being chased out of the pocket. His pass, a little inside of Seckinger, was tipped and impressively picked off by the Orange's Ritchy Desir .
With less than a minute remaining in a third quarter dominated by Syracuse, Boyd erased any hopes of a comeback by unleashing a beautiful deep ball to star wideout Sammy Watkins for a 91-yard touchdown. The throw came with pressure in Boyd's face and the Clemson quarterback hurling the ball from approximately his own 1-yard line to perfectly hit Watkins in stride at midfield.
It was the kind of throw that can turn Heisman voters and NFL general manager from skeptics to believers.  
Boyd's impressive day comes on the heels of a Heisman-worthy performance yet again by Florida State's Jameis Watson.
Florida State travels to Clemson on Oct . 19 in a game with obvious national championship, Heisman Trophy and NFL draft implications.    
Show Comments
Hide Comments
Our Latest Stories
Plus, two USC prospects tackle agility drills and two small-schoolers look to make their m...

In a class loaded with defensive studs, no position group is better than the corners and s...

Mitchell Trubisky is 'solid,' Takk McKinley sits and Marlon Mack 'sizzles' during Tuesday pro...
John Lynch is among the 75 NFL scouts at UNC's pro day, while the Browns are noticeably ab...

Watson, the fourth QB picked, lands in a great spot in Andy Reid's offense

The Rockets' Kareem Hunt looks like the top senior RB prospect in the draft