Clowney's dominance overshadowed in upset loss to Tennessee
The Volunteers got the win but with arguably the most impressive half of football of his collegiate career, South Carolina's superstar reasserts himself as the country's elite defender.
by Rob Rang
The Sports Xchange/CBSSports.com

• 5 min read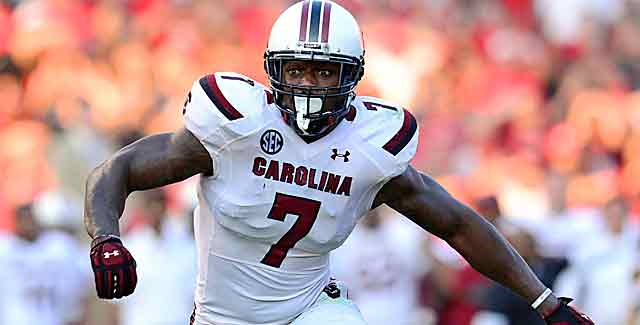 On a day that could be described as Showdown Saturday for the number of tantalizing one on one matchups between highly regarded NFL prospects, the feature attraction held up to the hype.
Lining up opposite the most talented left tackle he'll face this year, South Carolina defensive end Jadeveon Clowney demonstrated the exceptional burst off the snap, lateral agility and array of pass rush moves which has kept the 6-foot-5, 272-pound Clowney atop my Big Board and as the first defender on NFLDraftScout.com's rankings. 
In one half of dominant football, Clowney may have silenced his increasingly vocal critics, registering four tackles, including 2.5 tackles for loss. Frankly, the numbers don't do him justice. Two other big hits behind the line of scrimmage over the first 30 minutes nearly resulted in what would have been the most dominant half of football of Clowney's career.
Clowney's opponent, 6-foot-6, 327-pound junior Antonio Richardson, had limited South Carolina's superstar to a relatively pedestrian four tackles in last year's contest, thrusting the massive left tackle onto the national stage. Among those four tackles, however, was a sack and forced fumble with 1:10 remaining in the game from then-quarterback Tyler Bray which proved critical in the Gamecocks' 38-35 victory.
While Clowney came through when he needed to in last year's game, Richardson controlled him throughout much of that game, demonstrating his own unique combination of size, agility, patience and power that has drawn comparisons to former Dallas Cowboys' Pro Bowl tackle Erik Williams.
Each player referenced the battle during SEC media days, with Richardson admitting that he'd watched the replay of Clowney's sack and forced fumble "hundreds of times" during the offseason. 
Richardson, who has played well this season and also is a first-round prospect, struggled with Clowney this time around. He was flagged three times on Saturday, including a critical personal foul that pushed Tennessee out of potential field goal range late in the fourthquarter.
Unlike most collegiate pass rushers, Clowney owns a complete game, based on spectacular athleticism and refined technique. He complements his speed rush with a terrific interior move and has the strength, toughness and vision to star against the run, as well.
Clowney beat the shockingly athletic Richardson with his initial explosiveness, as well as the same quick jab-step right, cut back inside move which resulted in the Clowney's famous collision with Michigan running back Vincent Smith in last year's Outback Bowl victory.
Clowney's explosiveness isn't limited to just his legs. He used his trademark swim move to great effectiveness, causing Richardson and other would-be Tennessee blockers (like senior left guard Alex Bullard) to simply whiff as he soared his arm over their heads to slip into the backfield in a blink. He also showed off his power, simply bull-rushing Richardson deep into the pocket, at times. Whatever questions scouts may have had about Clowney's motor in other contests, they couldn't question his competitiveness in this contest, as South Carolina's star defender strung out plays wide against the running game and pursued with passion yards downfield. He also got his hands up in the passing lanes when he wasn't able to collapse the pocket.
While Clowney's talent was as obvious in this matchup as any game this season, the defender wasn't without his mistakes. On several occasions, he broke into the backfield to hit running backs for a potential loss but slipped off.
Worse, Clowney was called for a personal foul penalty for grabbing the face mask of running back Rajion Neal resulted in a first and goal for the Vols to extend their first drive of the second quarter.
Replays showed that Clowney cleared grabbed Neal's facemask but he appeared to do so inadvertently while he stuffed the running back for what would have been his fourth tackle for loss of the first half. Instead, Tennessee quarterback Justin Worley took advantage of Clowney's mistake, hitting wideout Alton Howard to give Tennessee a 10-7 lead. The Vols kept up the momentum by scoring a second touchdown on their next drive after a stagnant South Carolina offense went three and out.
The Gamecocks' longest drive of the game resulted in zero points as Elliott Fry missed a 45-yard field goal. Clowney nearly gave South Carolina the ball back, knifing into the backfield to wrap up Neal for another tackle for loss. Perhaps used to being hit before he made the line of scrimmage, Neal reacted quickly, pushing the ball towards Worley as Clowney took him to the ground. After conferring for several seconds, the officials ruled that Neal's fumble (which was recovered by South Carolina) was instead a pass attempt that allowed the Vols to kneel down and take their 17-7 lead into the half.
Critics will point out that Clowney wasn't as statistically productive in the second half (three tackles), but those who watched the game saw the South Carolina star continue to make disruptive plays. Give Tennessee head coach Butch Jones some credit. Entering this game, Jones' teams were a combined 42-2 when leading at halftime and the Vols adjusted with quicker passes and the vast most of their runs going right (away from Clowney). Running backs were also often kept in to chip against Clowney in the second half. 
Much has been made of Clowney's less-than-ideal production entering this contest. As was demonstrated in this contest, Clowney's value lies with his ability to impact the play-calling and personnel opponents use against South Carolina, rather than something as simple as his own statistics.
Some long-time talent evaluators have recently characterized him as overrated. Some of this "scouting" has centered on some of the other talented South Carolina defenders Clowney has played with, many whom have since struggled to duplicate their collegiate success in the NFL.
While Clowney clearly hasn't been the dominant force we've all grown to expect, a variety of circumstances (including injury) may be playing a role in his posting "just" 14 tackles, three tackles for loss and two sacks in five games.
Though Tennessee ultimately outlasted South Carolina, Clowney established yet again why he's a dominant prospect whose ability to impact the game on every snap will make him the first defender selected in the 2014 NFL draft. 
Show Comments
Hide Comments
Here's what you need to know from the pro days of Florida, Florida State, Texas and Eastern...

The Lions could be in the market for an impact safety and Peppers is a top-tier athlete with...

Lamp's performance continues the momentum he's created for himself throughout his senior s...
The versatile Stanford star would wear a lot of hats in Green Bay

Michigan, California and BYU held pro days on Friday, with Davis Webb fighting a 'torrential...

Plus, prospects at Utah, Missouri and San Diego State look to make their mark on a busy Th...