Diamonds in the Rough 2013: Is Matt Scott the next Russell Wilson?
Ever year Rob Rang nails a few NFL Draft diamonds in the rough. This year's class includes Matt Scott, the former Arizona QB who could follow in Russell Wilson's footsteps.
by Rob Rang
The Sports Xchange/CBSSports.com

• 7 min read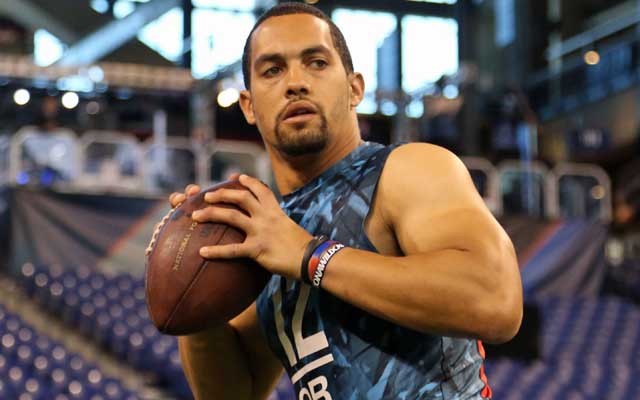 Whether in the first round or via sifting through the undrafted free-agent pool, the ability to find "Diamonds in the Rough" is one aspect that separates the good NFL scouting departments from the great ones.
Below is a list of players who for whatever reason haven't yet received the attention their physical abilities warrant. Some played for smaller schools or ended their career injured. Others broke out as seniors after being forced to wait for playing time. Still others enjoyed a great deal of collegiate success, but are incorrectly characterized as not having the prerequisite skills for the NFL. All are viewed as potential selections by NFL teams, though most are unknown to the average fan. 

Over the last 12 years, I've highlighted several unheralded prospects who went on to surprise in the NFL. Before NFL fans were learning the names Aaron Kampman, Lofa Tatupu , Russell Wilson or Jimmy Graham I had listed them as Diamonds in the Rough. 
[Read: Diamonds in the Rough 2012]

My success during this time is neither a fluke, not just my own doing. The staff at NFLDraftScout.com contribute significantly to my rankings and help clue me in to prospects I otherwise may have overlooked. Our success is well documented. Over the past five years 178 of the 200 players listed in my Diamond in the Rough articles were drafted into the NFL. The vast majority of the players not drafted were signed by NFL teams within one week of the draft. 
[Read: Diamonds in the Rough 2011]

With the draft now only weeks away, here are a host of players likely to be second or third day picks that I feel will ultimately prove to be steals. I feature one player per position and list five others to keep in mind, along with their heights, weights and time in the 40-yard dash. Also, listed among each position is at least one player not invited to the Combine. (Denoted with an asterisk*)

Players are listed alphabetically.

Quarterbacks 

Matt Scott , Arizona, 6-2, 213, 4.63: 
A year ago I listed Russell Wilson in this space and it is precisely because of the success that he, Robert Griffin III and 2011 second-round pick Colin Kapernick had a season ago that I anticipate Scott contending for a spot within the first 100 picks of the 2013 draft. Like these three young NFL stars, Scott is a dual-threat at the quarterback position and one who demonstrated touch, velocity and accuracy while throwing five times as many touchdowns as interceptions last season. With only one full season as the starter after backing up Nick Foles , Scott is admittedly a work in progress but one I feel has the upside to warrant developing. 
Five Other Quarterbacks to Consider: 
1. Colby Cameron , Louisiana Tech, 6-2, 212, 4.71
2. Ryan Griffin , Tulane, 6-4, 216, 4.90*
3. Jordan Rodgers , Vanderbilt, 6-2, 202, 4.79*
4. Brad Sorensen , Southern Utah, 6-5, 229, 4.93
5. Jeff Tuel , Washington State, 6-3, 218, 4.63
Running Backs
Dennis Johnson , Arkansas, 5-7, 196, 4.49*
I can appreciate the fact that former Arkansas running back Knile Davis is the more impressive athlete in comparison to Johnson, but anyone who watched much of the Razorbacks over their respective careers will likely recognize the value the short (not small) running back/receiver/returner extraordinaire held with the team. Johnson left the SEC having led the conference with 5,330 all-purpose yards (2,036 rushing, 510 receiving, 2,784 as a kick-returner) in 50 games. In one of the more shocking snubs in recent combine history, he wasn't invited to Indianapolis but did prove his athleticism during an impressive Pro Day workout. 
Five Other Running Backs to Consider: 
1. Ray Holley, Louisiana Tech, 5-8, 194, 4.57*
2. Jawan Jamison , Rutgers, 5-8, 203, 4.62
3. Miguel Maysonet , Stony Brook, 5-9, 209, 4.64
4. Robbie Rouse , Fresno State, 5-7, 190, 4.75
5. Kerywn Williams, Utah State, 5-8, 195, 4.44
Tight Ends
Ryan Otten , San Jose State, 6-5, 230, 4.73
If not for a frightening staph infection which at one point threatened his life, Otten might be considered a potential top 100 prospect. He flashed this kind of ability while hauling down passes at San Jose State and earning an invitation to the Senior Bowl. While lacking the bulk and strength scouts are looking for as a traditional in-line blocker, Otten is a slippery route-runner with soft, reliable hands and enough speed to threaten the seam. 
Five Other Tight Ends to Consider
1. Jack Doyle , Western Kentucky, 6-5, 254, 4.86
2. Ryan Griffin, Connecticut, 6-6, 261, 4.90*
3. Nick Kasa , Colorado, 6-6, 269, 4.71
4. Lucas Reed , New Mexico, 6-6, 247, 4.77
5. Levine Toilolo , Stanford, 6-8, 260, 4.79
Wide Receivers
Marquess Wilson , Washington State, 6-3, 194, 4.45
Teams are certainly going to want to do their homework on Wilson as his explosive accusations against Washington State head coach Mike Leach and his staff don't exactly demonstrate the kind of mental toughness scouts are hoping for in a highly drafted prospect. Make no mistake, however, Wilson is a legitimate talent and quietly enjoyed a very strong workout at the combine, alleviating any concerns about whether he was simply a by-product of an aggressive offense while with the Cougars. Wilson, NFLDraftScout.com, has learned has gone on multiple pre-draft visits, including with Tampa Bay, Cleveland and Tennessee. 
Five Other Wide Receivers to Consider
1. Chad Bumphis, Mississippi State, 5-10, 196, 4.56*
2. Brice Butler , San Diego State, 6-3, 214, 4.39*
3. Greg Herd, Eastern Washington, 6-3, 202, 4.56*
4. Uzoma Nwachukwu , Texas A&M, 5-11, 198, 4.50*
5. Ace Sanders , South Carolina, 5-7, 173, 4.53
Offensive Line
Terron Armstead , Arkansas-Pine Bluff, 6-5, 306, 4.65
The dazzling straight-line speed Armstead demonstrated at the combine caught the public by surprise but not scouts who saw him dominate competition at the East-West Shrine Game and impress as a late injury replacement at the Senior Bowl, as well. Unlike many small school prospects who simply latch on with whatever program will give them an opportunity, Armstead was recruited by a number of big schools, opting to play with Golden Lions because they were the only team willing to let him compete in track, as well as football. Highly intelligent, a remarkable athlete and having demonstrated the ability to raise his level of play against elite competition, Armstead could earn a shockingly high draft selection. 
More 2013 NFL Draft coverage
Five Other Offensive Linemen to Consider
1. Braden Brown , BYU, 6-6, 310, 5.20
2. Theo Goins, Central Florida, 6-5, 313, 5.36*
3. Luke Marquardt , Azusa-Pacific, 6-9, 315, 5.34
4. Vinston Painter , Virginia Tech, 6-4, 306, 4.90
5. Matt Summers-Gavin , California, 6-4, 310, 5.49*
Defensive Line
Nick Williams , Samford, 6-5, 309, 4.84
More 2013 NFL Draft coverage
| | |
| --- | --- |
| | 2013 NFL Draft |
Florida's Sharrif Floyd was generally credited with enjoying the most impressive all-around workout among defensive tackles tested at the combine but Williams proved to be quicker than Floyd and most others in the shuttle drill (4.65-seconds) and led his position in the 40-yard dash (4.84) and the vertical jump (33"). The reason why most don't know his name is because of the fact that Williams was lightly recruited out of high school after dedicating his impressive athleticism to basketball. He's still quite rough around the edges but it was the eight sacks he registered in 2012 more than any numbers during workouts which could force a team to gamble on him in the middle rounds. 
Five Other Defensive Linemen to Consider
1. David Bass , Missouri Western, 6-4, 262, 4.74
2. Armonty Bryant , East Central Oklahoma, 6-4, 263, 4.78
3. Montori Hughes , Tennessee-Martin, 6-4, 329, 5.13
4. Quanterus Smith , Western Kentucky, 6-5, 250, 4.75 (est.)
5. Brandon Williams , Missouri Southern, 6-1, 335, 5.32
Linebacker
Ty Powell , Harding, 6-2, 249, 4.60
Having played defensive end, linebacker and safety for Harding, scouts knew Powell was versatile and he certainly appeared to be quite athletic. He demonstrated just how athletic at the combine, when he ranked among the most explosive in his position group in the vertical jump (37") and three-cone drill (6.98-seconds). The athleticism shows up on tape, as Harding has an explosive burst off the snap, as well as impressive change of direction. These traits helped him rack up 12 tackles for loss, including 8.5 sacks and block a school-record four kicks in 2012. Powell could hear his name called as early as the late third round. No Harding player has been selected in the draft since the Denver Broncos selected defensive back Bruce Baldwin in the fifth round 30 years ago. 
Five Other Linebackers to Consider: 
1. Michael Clay , Oregon, 6-0, 230, 4.74*
2. Jayson Dimanche, Southern Illinois, 6-1, 231, 4.58
3. Brandon Hepburn , Florida A&M, 6-3, 240, 4.68
4. Travis Long , Washington State, 6-4, 243, 4.76*
5. Bruce Taylor , Virginia Tech, 6-1, 237, 5.0
Cornerback
Steve Williams , California, 5-09, 181, 4.34 
While Williams lacks the size scouts prefer, the light-footed, loose-hipped cornerback certainly possesses the athleticism for coverage as well as the toughness necessary to handle run support. After playing in all 37 games over his career, including starting the past 25 consecutively, Williams surprised many with the decision to leave after his junior season and many analysts have yet to catch on to his impressive all-around game. Blame his relatively plain name or the fact that he starred for a Cal squad that struggled through a 3-9 season. Regardless, don't be surprised when Williams' play in the NFL proves he was among the most unheralded defensive backs in the build-up to the 2013 draft. 
Five Other Cornerbacks to Consider: 
1. Robert Alford , Southeast Louisiana, 5-10, 188, 4.34
2. Mike Edwards , Hawaii, 5-9, 189, 4.50
3. Rashaan Melvin, Northern Illinois, 6-2, 192, 4.44*
4. Sheldon Price, UCLA, 6-2, 190, 4.47*
5. B.W. Webb , William & Mary, 5-10, 184, 4.46
Safety
Ray Polk , Colorado, 6-1, 219, 4.42*
Demonstrating a combination of physicality and athleticism to go along with his prototypical size, Polk was a surprising combine snub. He certainly made up for it during his Pro Day, registering times in the low 4.4s in the 40-yard dash, a 39" vertical jump, 10-6" broad jump and 19 repetitions of 225 pounds, each which would have ranked among the elite among his position at the combine. Polk's impressive workout isn't the only reason why it was surprising that he wasn't invited to Indianapolis. After a career in which he showed blatant disregard for his own well-being (as well as the health of others), teams may to formulate a consensus medical grade on the big-hitter. While perhaps a bit stiff in coverage, Polk certainly has the explosive closing speed to intrigue as a late-round in-the-box safety and special teams demon.
Five Other Safeties to Consider: 
1. John Boyett , Oregon, 5-10, 204, 4.65 (est.)
2. Josh Evans , Florida, 6-1, 207, 4.54
3. Cooper Taylor , Richmond, 6-5, 228, 4.49*
4. Duke Williams , Nevada, 5-11, 203, 4.48
5. J.J. Wilcox, Georgia Southern, 6-0, 213, 4.51
Show Comments
Hide Comments
Our Latest Stories
The Browns get the best player in the draft and a QB project, while O.J. Howard heads to the...

Here's the one player per position scouts are most anxious (or should be) to see

The Bears also hit the reset button at QB and take Mitch Trubisky at No. 3
Here's a reference guide for your favorite NFC West team throughout the combine and free a...

Here's a reference guide for your favorite AFC East team throughout the combine and free a...

Here's a reference guide for your favorite NFC South team throughout the combine and free...