Don't overlook LT Erving in Florida State QB Winston's ascent
Anyone watching Florida State's 63-0 win over No. 25 Maryland was wowed by freshman QB Jameis Winston but NFL scouts were also marveling over the upside of 6-foot-6, 320-pound LT Cameron Erving.
by Rob Rang
The Sports Xchange/CBSSports.com

• 4 min read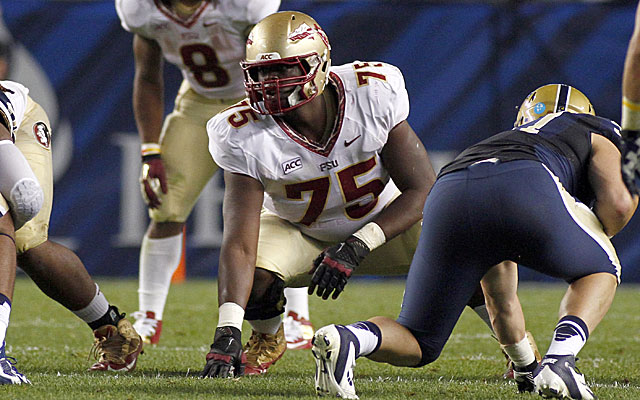 For those watching Florida State destroy Maryland on Saturday in a key ACC showdown of previously unbeaten and ranked teams, it was difficult not to focus on Seminoles' redshirt freshman quarterback Jameis Winston, whose blend of athleticism and accuracy already is sparking first-round predictions.
With all due respect to Winston, the Seminoles boast a number of exciting prospects with the blend of size, strength and athleticism to project as future NFL starters, including left tackle Cameron Erving, a redshirt junior whose quietly stellar pass protection has significantly aided his quarterback's ascent.
Erving, 6-foot-6 and 320 pounds, blends length with surprisingly light feet and flexibility. He initially impressed the FSU at defensive tackle in 2011, registering 20 tackles in backup duty for a Seminoles' defense that ranked first in the country against the run (2.3 yards allowed per rush). He made the switch to the offensive line last year, emerging as a 14-game starter and EJ Manuel's blindside pass protector.  
While Erving impressed a season ago, he did so in part because he wasn't playing with the burden of expectations.  This year, he's being nitpicked on every snap. Occasional lapses in technique have led to defenses generating some pressure on Winston. That wasn't the case Saturday, however, as Winston and the Seminoles dominated the visiting Terps.   
The Terrapins entered the ACC showdown with an unblemished 4-0 mark for the first time since 2002. It was the Terrapins' first venture into the Top 25 since head coach Randy Edsall took over the program two seasons ago.
A big part of this success was due to Maryland's pass rush, which entered Saturday's contest leading the country with 17 sacks and had allowed just one passing touchdown.
The Terps run a lot of twists and stunts up front to free up their pass rushers, with the biggest beneficiary being 6-foot-3, 250-pound senior linebacker Marcus Whitfield, a former defensive end who served as Erving's primary assignment throughout much of this game.
Despite weighing at least 70 pounds more than Whitfield, Erving matched the athletic pass-rusher step for step, showing off smooth athleticism in his kick-step to handle speed off the edge as well as the strong hands to latch on and control his opponent. Perhaps most impressive considering his height and relative inexperience, Erving plays with good knee bend, which helps him win the leverage battle and generally anchor well against bull rushes.
One notable exception in which Erving was beaten on a bull rush came on Winston's fourth touchdown pass of the game, which came with 1:50 remaining in the third quarter and put FSU up 42-0.
On this play, Erving was matched up against 6-foot-2, 250-pound linebacker Cudjoe-Virgil Yannik who successfully got his hands inside Erving's and quickly drove the massive left tackle into his quarterback. In perhaps his most impressive play of yet another mesmerizing game, Winston slipped away from Yannik and threw a perfect strike to tight end Nick O'Leary for a 12-yard score.
Erving's foot speed is most evident in the running game, as the Seminoles frequently ask him to block at the second level. He pulls smoothly, showing impressive initial quickness and acceleration for a man of his size. Complementing his athleticism is Erving's physicality. The former defensive tackle didn't lose his aggression when making the switch to the offensive side of the ball, attacking opponents with zeal.
Aggression sometimes works against Erving, however. He'll drop his head on contact, providing defenders opportunities to wash through him. Furthermore, Erving fails to adjust when blocking on the move, at times. While he's quick to the second level Erving too often loses track of his target, winding up where he thought the play was going to go only to have his assignment run past him. Each is a correctable skill that the athletic big man should improve upon as he gains experience.
Considering the lopsided final score, singling out one player -- especially an offensive lineman -- is a bit of an injustice to what was a dominating effort from the entire Florida State squad.
The Seminoles only carried a 7-0 lead into the second quarter, however, and Erving's ability to handle the Terps' pass rush took on another level of importance when the Seminoles' most experienced blocker, senior center Bryan Stork, was sidelined with a concussion.
Stork, a 32-game starter and legitimate NFL prospect in his own right, misfired on a first quarter snap and was replaced early in the second stanza. His backup, junior Austin Barron, had his helmet ripped off on his first play from scrimmage and was replaced by Sterling Lovelady, who promptly allowed a sack that forced a FSU punt.
Barron returned on the next series. Clearly, Florida State adjusted well after that, averaging more than a point a minute throughout the rest of the game.  
 
Show Comments
Hide Comments
Reeves-Maybin makes up for his lack of size with terrific instincts and agility

Royce Freeman leads the top draft-eligible Ducks as our countdown of the top programs rolls...

Our countdown of the top programs for NFL prospects continues with the Hurricanes
Can Max Redfield, a former five-star recruit, put it all together for his senior season?

Our countdown of the top programs for NFL prospects continues

The 'little' brother of Panthers' Star is a 6-2, 310-pound run stuffer.