Finding the Fits: Bishop Sankey will soon be a star for Titans
This article is one of a 32-part series in which the goal is to identify one relatively unheralded player selected in the 2014 NFL Draft who appears to be an especially good schematic fit with his new NFL team.
by Rob Rang
The Sports Xchange/CBSSports.com

• 4 min read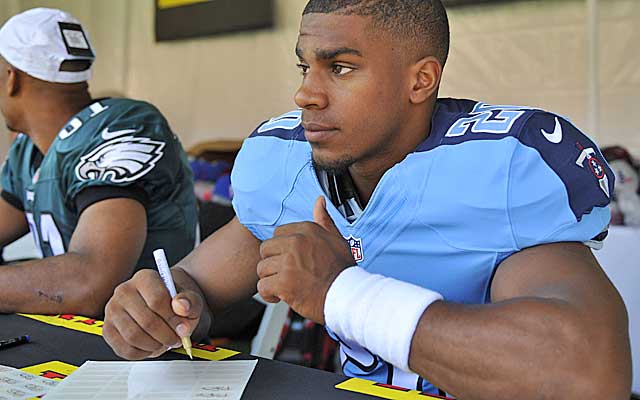 This article is one of a series called Finding the Fits in which NFLDraftScout.com will review some of the more intriguing picks made during the 2014 NFL Draft. The goal of the series is to identify one relatively unheralded player per team who appears to be a good schematic fit and, therefore, more likely to be a surprise contributor early in his pro career.
Tennessee Titans' best fit: RB Bishop Sankey, Washington
Four years removed from the electric 2009 season in which he became just the sixth player in NFL history to ever eclipse the 2,000 rushing yard mark in a single season, the Titans released Chris Johnson.
In the second round of the 2014 draft, general manager Ruston Webster and new head coach Ken Whisenhunt drafted his replacement in Sankey, a player whose style on and off the field couldn't be more different than the phenom once known as CJ2K.
Whereas the 5-foot-11, 203-pound Johnson looked and broke away from defenders like a wide receiver, the Sankey's success has less to do with his speed (a very respectable 4.49 in the 40-yard dash at the Combine) and more to do with vision, burst and surprising power to fight through would-be tacklers. He runs with good forward lean and determination and spins off of contact, rarely take a direct shot. Sankey has natural hands, showing the ability to pluck outside of his frame as well as track over his shoulder. Due to his experience in former Washington (and current Southern Cal) head coach Steve Sarkisian's pro-style attack, Sankey is also well-versed in pass protection, showing awareness and the toughness to take on hard-charging defenders. Sankey was impressive at the Combine and his Pro Day workout, as well.
Johnson's flashiness on the field was matched by a flamboyant personality off it. Sankey, on the other hand, is a no-nonsense son of an Air Force technical sergeant who is quick to credit teammates for his success.
All in all, it is easy to see why the Titans made Sankey the first running back selected in the 2014 draft. And given that investment, as well as the shrinking career expectancy of runners in today's NFL, don't expect Whisenhunt to take long to feature the rookie. Sankey's reliable all-around game should earn him plenty of playing time pushing the journeymen specialists otherwise dotting the Titans' roster at running back, like the bulldozing 5-foot-11, 233 pound Shonn Greene, kick returner extraordinaire Leon Washington or jitterbug Dexter McCluster into complementary roles.
I expect Sankey to take over as the lead back in Tennessee early and ultimately enjoy a similar rookie season as the back I compared him to in January - Giovani Bernard. Registering 1,209 all-purpose yards, eight touchdowns and helping push his squad into the playoffs (as Bernard did last year for the Bengals) would put Sankey in the running as the Offensive Rookie of the Year. Given his pro-ready game and mentality, Sankey may, in fact, be the favorite heading into the season for this award.
Other thoughts on the Titans' 2014 draft class:
The presence of three-time All-Pro Michael Roos at left tackle and the four-year, 20 million dollar contract given to former Baltimore Ravens' right tackle Michael Oher prior to the draft made the Titans' selection of Michigan's Taylor Lewan a surprising selection. Upon closer review of Oher's contract, however, it is easy to see that Webster and Co. protected the team by sticking to the best-available-player strategy on draft day. A back-loaded contract rewards Oher if he plays up to his talent but doesn't trap the Titans should the veteran disappoint - or simply get beaten out - by the rookie. Though each of his 48 starts came at left tackle for the Wolverines, some clubs saw Lewan as a natural right tackle. Lewan plays with the aggression and physicality teams prefer on the strongside and he's an extraordinary athlete who remains a relative neophyte on the offensive line. Lewan only made the transition from defensive line as a senior in high school, which some believe is a sign of his coachability.
A team with lesser talent at offensive tackle might have passed on former LSU quarterback Zach Mettenberger as the classic pocket passer lacked mobility even before suffering a torn ACL late last year. Given incumbent starter Jake Locker's inability to remain healthy thus far, however, the selection of the strong-armed, prototypically-built Mettenberger makes sense, especially given Whisenhunt's offense. Mettenberger flashed future NFL-starter ability in Cam Cameron's pro-style offense at LSU, learning to manipulate defenses as well as the ability to make every throw. Mettenberger slid to the sixth round, in part, due to questions about his leadership ability. He'd do well to learn from Locker, who, for all of his inconsistencies in the durability and accuracy department, is well-respected for his dedication. With the Titans electing to not pick up the fifth-year option in Locker's contract, the 2010 first round pick must enjoy his finest season in the NFL or risk playing elsewhere in 2015. As such, Mettenberger is in perfect position to convince Whisenhunt and Co. that the club's future at quarterback is in safe hands.
Tennessee's 2014 draft class:

1st Round - No. 3 overall - OL Taylor Lewan, Michigan
2nd Round - No. 39 overall - RB Bishop Sankey, Washington
4th Round - No. 93 overall - DL DaQuan Jones, Penn State
4th Round - No. 114 overall - DB Marqueston Huff, Wyoming
5th Round - No. 144 overall - ILB Avery Williamson, Kentucky
6th Round - No. 222 overall - QB Zach Mettenberger, LSU
Key Undrafted Free Agents Signed:

RB Antonio Andrews, Western Kentucky
OLB/DE James Gayle, Virginia Tech
OC Gabe Ikard, Oklahoma
Read more about all of Tennessee's picks here.
Show Comments
Hide Comments
A diluted drug test continues recent alarming off-field concerns for talented Alabama pros...

Here are players from Air Force to Wyoming who might not be drafted but could make an NFL...

Who should the Rams take with their first pick? We break down all their options
Who should the Seahawks take with their first pick? We break down all their options

Who should the Cardinals take with their first pick? We break down all their options

Who should the 49ers take with their first pick? We break down all their options