Finding the Fits: Chargers could be electrified with Attaochu, Verrett
This article is one of a 32-part series in which the goal is to identify one relatively unheralded player selected in the 2014 NFL Draft who appears to be an especially good schematic fit with his new NFL team.
by Rob Rang
The Sports Xchange/CBSSports.com

• 5 min read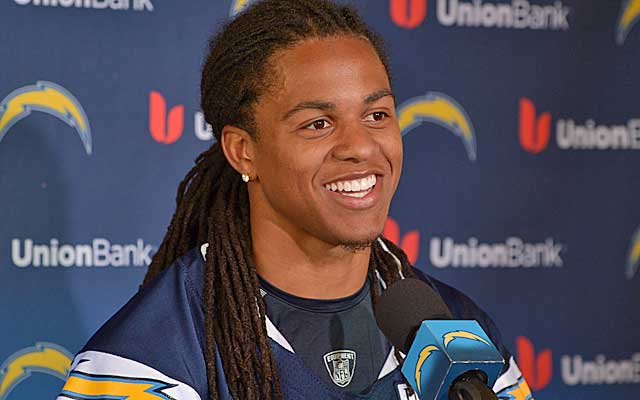 This article is one of a series called Finding the Fits in which NFLDraftScout.com will review some of the more intriguing picks made during the 2014 NFL Draft. The goal of the series is to identify one relatively unheralded player per team who appears to be a good schematic fit and, therefore, more likely to be a surprise contributor early in his pro career.
San Diego Chargers' best fit: OLB Jeremiah Attaochu, Georgia Tech
The Chargers finished dead last in the AFC (and 29th in the NFL) a year ago in Pass Defense, allowing an average of nearly 260 passing yards a game and surrendering over twice as many touchdowns (23) as interceptions (11). These numbers arguably would have been even worse if two of San Diego's AFC West rivals - Oakland and Kansas City - weren't so reliant on running the football in 2013.
General manager Tom Telesco and head coach Mike McCoy wasted little time addressing the secondary, nabbing TCU cornerback Jason Verrett in the first round (more on him later). Equally important, however, was supplementing the Chargers' lack of pass rush, which San Diego did with the addition of Attaochu in the second round, a highly athletic edge rusher whose experience in the 3-4 scheme at Georgia Tech should make his transition to defensive coordinator John Pagano's similar attack easier than what former first round defensive ends Melvin Ingram and Larry English were asked to do out of college.
The Chargers certainly thought so, trading up seven spots to nab the former Yellow Jacket to supplement a pass rush that currently projects aging and relatively slow-footed edge rushers Dwight Freeney and Jarrett Johnson to better last year's 28th-place finish in the NFL sack race.
Unlike Freeney (who starred for the Indianapolis Colts as traditional 4-3 defensive end) and Johnson (experienced at OLB but better against the run), Attaochu offers an explosive burst off the edge with good flexibility, agility and balance to change directions. These traits helped him register 22 sacks over his final two seasons at Georgia Tech and project well to a division that features relatively slow-footed quarterbacks, especially given that San Diego already boasts some exciting young talent in their front seven in ends Corey Liuget and Kendall Reyes and inside linebacker Donald Butler.
Other thoughts on the Chargers' 2014 draft class:
The Chargers are being forced to exercise patience with Verrett, their first round selection, who has been unable to participate in mini camps and OTAs due to shoulder surgery. It is the prudent plan as Verrett's time-table for recovery was known by teams prior to the draft and as a dominant three-year starter at a program known for producing quality defenders, his acclimation to San Diego's defense should go relatively smoothly. Dominant might seem too strong of a description for a player selected No. 25 overall, but the term fits. If the 5-foot-10, 189-pound Verrett was a little bigger he would have been the first corner selected and a top 10 selection. Some long-time scouts gave Verrett the highest grade among seniors at any position prior to the draft and it isn't difficult to see why. He boasts incredible agility and speed to rank as the this year's elite cover corner and plays with the scrappy mentality as a tackler to more than make up for his lack of preferred size. It is perhaps ironic that the Chargers are considering signing former Kansas City Chiefs' standout Brandon Flowers because Verrett offers a similar skill-set. Just as the 5-foot-9, 189-pound Flowers emerged as one of the NFL's best corners despite matching up with the big receivers of the AFC West, expect Verrett to reward San Diego's investment with a Pro Bowl nod or two early in his NFL career.
One of the fascinating aspects about the NFL draft is how differently some teams approach it. Some clubs preach the Best Player Available strategy, others look to fill needs. Telesco and McCoy clearly identified unique traits they felt the Chargers lacked and attacked the draft that way. It is a strategy that serves as a testament to both the talent already on the roster in San Diego and the rare depth of the 2014 class. Certainly Verrett's coverage and Attaochu's pass rush deserve mention but one would expect a club's top two picks to boast unique traits. The specific traits of San Diego's Day Three picks are what make this one of the year's strongest hauls, in my opinion. Nose guard Ryan Carrethers is a classic wide-bodied strong man who excels in clogging running lanes. Marion Grice complements the backs already on San Diego's roster with arguably the best hands of any runner in the 2014 class. Grice's hands and ability to adjust to the ball led some scouts to project his NFL future at receiver. Perhaps the most unique trait addressed by San Diego came in seventh round wideout Tevin Reese, whose blinding track speed could enhance a Chargers' passing attack that was previously reliant upon bigger (but slower) wideouts who lack breakaway ability, despite Philip Rivers boasting the arm to challenge deep. Reese certainly provides that, with a staggering 22 of his 25 career touchdowns with the Bears covering 40+ yards. Forgive me for mixing my sports analogies but while most teams were hoping to hit a homerun with their Day Three picks, San Diego was looking for singles with their final picks. Complementing the talent already on the roster with these specialists could make the 2014 draft class a special one in San Diego.
San Diego's 2014 draft class:
1st Round - No. 25 overall - CB Jason Verrett, TCU
2nd Round - No. 50 overall - OLB Jeremiah Attaochu, Georgia Tech
3rd Round - No. 89 overall - OG Chris Watt, Notre Dame
5th Round - No. 165 overall - NG Ryan Carrethers, Arkansas State
6th Round - No. 201 overall - RB Marion Grice, Arizona State
7th Round - No. 240 overall - WR Tevin Reese, Baylor
Key Undrafted Free Agents Signed:

S Alden Darby, Arizona State
CB Chris Davis, Auburn
TE Michael Flacco, New Haven
Read more about all of San Diego's picks here.
Show Comments
Hide Comments
Four defensive backs are picked in the final five spots of the first round in Rob Rang's final...

Character has become such a concern for draft prospects that scouts spend a majority of their...

Also, expect Haason Reddick to go higher than expected and Reuben Foster to be taken on Th...
Plus the Cowboys and Steelers find new cornerbacks late in the first round in Dane Brugler's...

Late breaking news has caused several players to slide down the Top 100 just before the 2017...

Drama is always a certainty when it comes to the unpredictability of the draft