Finding the Fits: Cody Latimer adds physicality to Broncos' WRs
This article is one of a 32-part series in which the goal is to identify one relatively unheralded player selected in the 2014 NFL Draft who appears to be an especially good schematic fit with his new NFL team.
by Rob Rang
The Sports Xchange/CBSSports.com

• 4 min read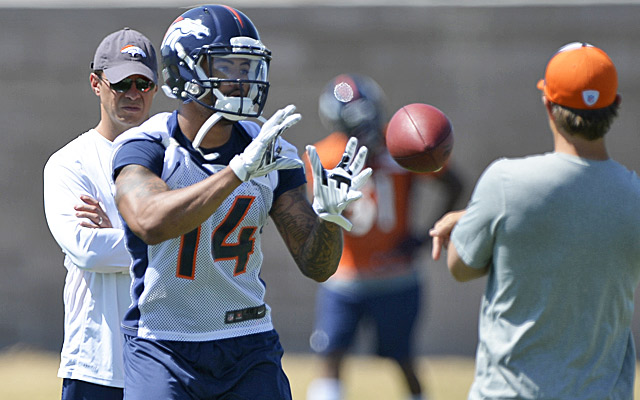 More NFL offseason: League minicamp dates | Latest news, notes
This article is one of a series called Finding the Fits in which NFLDraftScout.com will review some of the more intriguing picks made during the 2014 NFL Draft. The goal of the series is to identify one relatively unheralded player per team who appears to be a good schematic fit and, therefore, more likely to be a surprise contributor early in his pro career.

Denver Broncos' best fit: WR Cody Latimer, Indiana
The Denver Broncos advanced to Super Bowl XLVII due to their record-breaking offense but the loss of wideout Eric Decker to the New York Jets and pending free agency for Demaryius Thomas and Wes Welker (each entering the final year of their deals) made pass-catcher an area of concern.
President John Elway addressed the need for speed at the position in free agency, signing former Pittsburgh Steelers' big-play threat Emmanuel Sanders to a three-year, $15 million deal. The Broncos still needed a big-bodied wideout to adequately make up for the loss of the 6-foot-3, 214-pound Decker, who averaged 86 receptions for 1,176 yards and 12 touchdowns since Peyton Manning came to town
Insert Latimer, who at 6-foot-3, 215 pounds, is nearly a carbon copy of Decker from a size standpoint
Like Decker, who played his college ball at Minnesota, Latimer toiled in relative obscurity at Indiana but nonetheless stood out against Big Ten competition. Also like Decker, Latimer uses his height, leaping ability and body control to beat defenders for jump balls and is an intelligent, hard-working player -- traits Manning can (and likely will) fully utilize.
While there are certainly some striking similarities between the two, a few very important ways in which Latimer is different than Decker could lead to an even better career in the NFL for the former Hoosier than his Golden Gopher predecessor.
For one, Latimer is faster. Offseason surgery to repair a broken pinkie toe (fifth metatarsal) kept him from working out at the combine but scouts on hand for his Pro Day clocked him between 4.39-4.44 seconds. Latimer isn't likely to beat new teammates Thomas or Sanders in a race but he can provide every bit the vertical threat Decker did and is shiftier after the catch, as well. Perhaps best of all, Latimer plays with a defensive mind-set. The 23 repetitions on the bench press (which led all receivers at the combine) is obvious in his play, as Latimer routinely boxed out defenders to make the catch and broke tackles due to his functional playing strength.
Offensive coordinator Adam Gase certainly sounds impressed with his prized rookie.
"He's a physical specimen, and when he plays, he plays his size," Gase said last month during the rookie minicamp. "To see him catch the ball as well as he does and then his blocking is unbelievable. I don't think I've really seen a college guy go after it the way he has in the past, and hopefully he just carries that over to this level."
Other thoughts on the Broncos' 2014 draft class:
Adding grit to a team that was as beaten physically as they were on the scoreboard during the Super Bowl was a clear focus for Elway and head coach John Fox, whose teams have generally ranked among the more aggressive in the league. The first-round selection of Bradley Roby will help. In the weeks leading up to the draft, so much attention was focused upon his athleticism and unfortunate off-field concerns that some lost sight of physical nature in which he played against both the pass and run throughout his career at Ohio State. This fact should allow Roby to make an immediate impact on the outside opposite free agent addition Aqib Talib or if moved inside to handle nickel duties should veteran Chris Harris, Jr. be fully recovered from ACL surgery. Roby didn't play as well in 2013 as he did earlier in his career but the Buckeyes asked him to play a lot of off-man coverage last year, which doesn't complement his specific skill-set. Roby is aggressive at the point of attack, possesses elite speed and fluid change of direction. If the Broncos use him in a heavy man-press scheme as expected, Roby (like Latimer) will quickly emerge as a quality contributor to one of the league's most talented teams.
Roby and Latimer are the crown jewels of Denver's draft class but don't sleep on middle-round picks Michael Schofield and Lamin Barrow to contribute -- perhaps significantly -- as rookies. Schofield was overshadowed at Michigan by Taylor Lewan but he helped his cause with a strong performance at the Senior Bowl, showing the grit, strength and balance to push incumbent starting right tackle Orlando Franklin from resting on his laurels. Barrow also has a talented young player currently ahead of him on the depth chart in Nate Irving. At this point, Irving is the more instinctive and refined of the two, but Barrow is an exciting athlete with an aggressive, physical mentality who will make some splashy plays to generate excitement. Whether his initial impact comes via special teams or defense, Barrow's explosive speed and hitting makes him one to watch as a developmental prospect.
Denver's 2014 draft class:

1st Round: No. 31 overall -- CB Bradley Roby, Ohio State
2nd Round: No. 56 overall -- WR Cody Latimer, Indiana
3rd Round: No. 95 overall -- OT Michael Schofield, Michigan
5th Round: No. 156 overall -- ILB Lamin Barrow, LSU
6th Round: No. 207 overall -- OC Matt Paradis, Boise State
7th Round: No. 242 overall -- OLB Corey Nelson, Oklahoma

Key undrafted free agents signed:

RB Kapri Bibbs, Colorado State
WR Isaiah Burse, Fresno State
QB Bryn Renner, North Carolina

Read more about all of Denver's picks here.
Show Comments
Hide Comments
Ross looks like the perfect replacement for Brandin Cooks in the Big Easy

The top three-technique prospect in the draft could see his name not called at all

A diluted drug test continues recent alarming off-field concerns for talented Alabama pros...
Here are players from Air Force to Wyoming who might not be drafted but could make an NFL...

Who should the Rams take with their first pick? We break down all their options

Who should the Seahawks take with their first pick? We break down all their options