Finding the Fits: Don't overlook rookie Charles Sims in Tampa Bay
This article is one of a 32-part series in which the goal is to identify one relatively unheralded player selected in the 2014 NFL Draft who appears to be an especially good schematic fit with his new NFL team.
by Rob Rang
The Sports Xchange/CBSSports.com

• 5 min read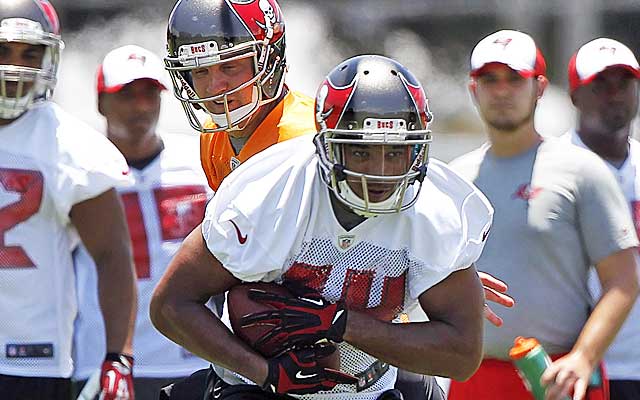 This article is one of a series called Finding the Fits in which NFLDraftScout.com will review some of the more intriguing picks made during the 2014 NFL Draft. The goal of the series is to identify one relatively unheralded player per team who appears to be a good schematic fit and, therefore, more likely to be a surprise contributor early in his pro career.
Tampa Bay Buccaneers' best fit: RB Charles Sims, West Virginia
Given Doug Martin's presence -- and talented youngsters Mike James and Bobby Rainey, as well -- the selection of Sims in the third round probably caught most Bucs' fans off-guard.
This was a club, after all, that allowed 47 sacks a year ago, tied for fifth worst in the NFL. Though improvements were made via free agency along the offensive line (Anthony Collins) and at quarterback (Josh McCown), Tampa was thought likely to invest another early round pick on either (or both) positions. Instead, head coach Lovie Smith and general manager Jason Licht invested their first two picks on wideout Mike Evans and tight end Austin Seferian-Jenkins. Sims made it three skill position players in a row to start off the Bucs' 2014 draft. Folks in Tampa were likely thinking isn't this the same coach who earned a reputation in Chicago for the Bears' vanilla offense?
Of course, it is the same Smith and in Sims, he might see a similar back as the star he left in Chicago, Matt Forte.
Like the Bears' two-time Pro Bowler, Sims possesses impressive burst on a high-cut frame that often deceives would-be tacklers. He's also a terrific receiver, whose hand-eye coordination, body control and soft mitts stood out in West Virginia's upset over Oklahoma State last year.
It is a combination of traits that fits in very well with the attack that new offensive coordinator Jeff Tedford utilized while at Cal. While Tedford is often cited for his work with quarterbacks, under his leadership the Bears became a virtual running back factory, sending six backs into the NFL from 2004-2011, including four top 56 picks -- Marshawn Lynch (No. 12, 2007), Jahvid Best (No 30, 2010), J.J. Arrington (No. 44, 2005) and Shane Vereen (No. 56, 2011). Each year Tedford utilized his backs as receivers out of the backfield, with these four averaging 26 receptions during their starting seasons at Berkeley.
The big pass-catchers in Tampa can certainly generate big plays, and they'll get the big hype before, during and after the season. Big receivers, though, need time to get downfield. With some still concerned with Tampa's ability to pass block, the Bucs' backs should be in position to catch lots of passes in Tedford's offense.
Don't be surprised when Sims, who caught an eye-popping 203 passes during his career at West Virginia (and previously at Houston), winds up emerging as an immediate complementary threat in this offense and eventually considered a steal for the new brain trust in Tampa.
Other thoughts on the Buccaneers' 2014 draft class:   
It remains to be seen if the 35-year old McCown can be as successful in Tedford's scheme as he was in eight games last year for Marc Trestman and the Bears. McCown (and Tedford) certainly have the pass-catchers to be successful with Evans, Seferian-Jenkins, Sims and speedy Robert Herron added to a squad already boasting Vincent Jackson. At 6-foot-5, 231 pounds, Evans has a gliding gait that allows him to slip past defenders in much the same way as Jackson. Evans, however, is a significantly more physical player, who seems to enjoy the hand-to-hand combat that is becoming increasingly common in the NFL with teams playing so much press coverage. Seferian-Jenkins would do well to take some of his new teammate's aggression as he's not the consistently dominant force that his 6-foot-6, 262 pounds might indicate. He's possesses extraordinary body control for a man of his size, however, routinely making the tough grab look easy during his collegiate career. The surprise foot injury (and resulting surgery) which derailed his Combine and Pro Day workouts is over. The 5-foot-09, 193 pound Herron may not sound as imposing as the giants surrounding him on the roster but he's agile, accelerates very quickly and is tough. Evans, Seferian-Jenkins, Sims and Herron give the Bucs an exciting young pass-catcher nucleus to help McCown, second-year pro Mike Glennon or perhaps to help ease in a new quarterback selected a year (or two) from now.
Given a year or two to acclimate to the speed and power of the NFL, Tampa's pair of fifth round offensive linemen - Kadeem Edwards and Kevin Pamphile - could certainly wind up earning their selections as each possess the size and athleticism to warrant development. Neither, however, looks ready to step in and contribute as rookies, which means that it is veterans or bust for the Bucs along the offensive line, right? Not necessarily. Matt Patchan may have struggled with durability and other derailments during his time with the Gators but the promise that made him such a highly celebrated prep signing for Urban Meyer back in 2008 finally came to fruition with his transfer to Boston College in 2013. Patchan, who moved to BC to play under former Florida offensive assistant Steve Addazio, has terrific initial quickness and played with the nastiness last season to project inside to guard for some clubs. He's at least as gifted as Edwards and Pamphile and comes in with a better understanding of what it takes to be successful in the NFL given that his father, David, starred at tackle for the University of Miami and was selected in the third round of the 1988 draft by the Philadelphia Eagles. Given his pedigree and press, the former Prep All-American hardly qualifies as your typical Diamond in the Rough. But if you're looking for a rookie to surprise along Tampa's offensive line this season, it could be Patchan, a Tampa native, and not the two blockers drafted ahead of him.
Tampa Bay's 2014 draft class:
1st Round -- No. 7 overall - WR Mike Evans, Texas A&M
2nd Round -- No. 38 overall - TE Austin Seferian-Jenkins, Washington
3rd Round - No. 69 overall - RB Charles Sims, West Virginia
5th Round - No. 143 overall - OG Kadeem Edwards, Tennessee State
5th Round - No. 149 overall - OT Kevin Pamphile, Purdue
6th Round - No. 185 overall - WR Robert Herron, Wyoming
Key Undrafted Free Agents Signed:

RB Brendan Bigelow, California
OT Matt Patchan, Boston College
DE Chaz Sutton, South Carolina

Read more about all of Tampa Bay's picks here.
Show Comments
Hide Comments
Not every draft pick can be a winner. Here are the 32 guys who could cause the most regret

Our list of late-round gems includes plenty of lesser-known backs and quality linemen

A running back going No. 2 overall? When you're being compared to Hall of Fame runner, yes
Pass rushers and explosive offensive players highlight the best Day 1 contributors

Here's every draft pick heading to the NFC West, including 21 by the Seahawks and 49ers co...

Here's every draft pick heading to the NFC South, home of the NFC's last two Super Bowl te...