Finding the Fits: Fiedorowicz, Clowney should thrive in Houston
This article is one of a 32-part series in which the goal is to identify one relatively unheralded player selected in the 2014 NFL Draft who appears to be an especially good schematic fit with his new NFL team.
by Rob Rang
The Sports Xchange/CBSSports.com

• 4 min read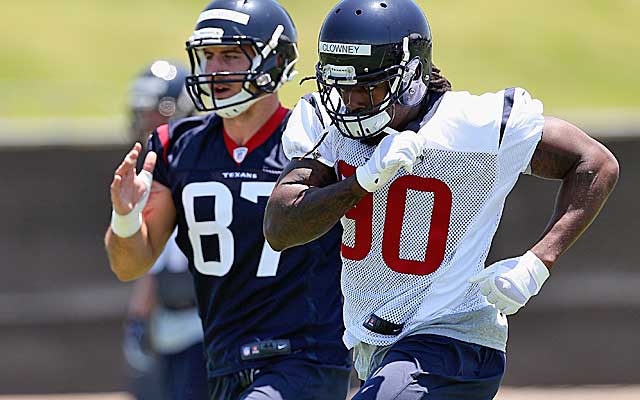 More NFL offseason: League minicamp dates | Latest news, notes
This article is one of a series called Finding the Fits in which NFLDraftScout.com will review some of the more intriguing picks made during the 2014 NFL Draft. The goal of the series is to identify one relatively unheralded player per team who appears to be a good schematic fit and, therefore, more likely to be a surprise contributor early in his pro career.
Houston Texans' best fit: TE C.J. Fiedorowicz, Iowa
Much of the pre-draft buzz surrounding the Houston Texans centered on Jadeveon Clowney and which of the rookie quarterbacks would fit best in new head coach Bill O'Brien's scheme.
Though he won't do it in the flashy style that is likely to make Clowney an immediate terror in the NFL, Fiedorowicz, 6-foot-6 and 265 pounds, is in good position to take advantage of another subtlety of O'Brien's scheme -- a clear prioritization of tight ends as pass-catching mismatches.
After helping Rob Gronkowski and Aaron Hernandez develop into NFL stars in New England, O'Brien quickly made tight ends a weapon at Penn State. Under Joe Paterno, Penn State didn't utilize tight ends in the passing game much as evidenced by the fact that the team's tandem of Andrew Szczerba and Kevin Hamplea caught just 15 passes for 122 total yards and one score in 2011. A year later under O'Brien and the tight end production rose to a combined 82 passes for 1,090 yards and 10 touchdowns amongst four players.
In much this same way, the Texans could ask Fiedorowicz to join veterans Garrett Graham, Ryan Griffen and perhaps even free agent addition Zach Potter to serve as complementary role-players to star Andre Johnson and second-year wideout DeAndre Hopkins in Houston's offense. This isn't likely to be a case of Fiedorowicz (or any other singular Houston tight end) emerging as an immediate star in O'Brien's offense but instead one where the rookie pass-catcher could earn the role of a "security blanket" for whichever quarterback earns the starting role.
Fiedorowicz is well-suited to handling this role. While he didn't generate the attention of juniors such as Eric Ebron and Austin Seferian-Jenkins prior to the draft, he is the most polished of the trio. Like most former Kirk Ferentz-coached prospects, Fiedorowicz is technically sound, offering strength, form and competitiveness as a blocker as well as mismatch capabilities in the passing game. While not an elite athlete who will wow NFL defenders, Fiedorowicz uses his large frame to create separation and catches the ball well with defenders in close proximity.
After coaching against him the past two years, O'Brien should know Fiedorowicz well. Interestingly enough, the former Hawkeye was the only Big Ten player drafted by O'Brien and general manager Rick Smith.
Other thoughts on the Texans' 2014 draft class:
Perhaps the most exaggerated storyline prior to the 2014 draft was the so-called lack of effort from Clowney. While there is no denying that Clowney lacked the production in 2013 that one would expect from a player with his gi, the supremely gifted athlete was the obvious focus of opponents' blocking schemes, which opened up big play opportunities for his South Carolina teammates. Some questioned Clowney's fit as a stand-up edge rusher in defensive coordinator Romeo Crennel's scheme but given the proliferation of the pass in today's NFL, no team runs a strictly 4-3 or 3-4 scheme anymore, meaning that he may rush out of the three-point stance as often as he does the two-point. This suits Clowney better. He's been incorrectly characterized by some as reliant upon his explosiveness but uses his hands and exceptionally long arms to battle blockers and lasso ball-carriers. From the first Big Board I released following the 2013 draft to the second he was selected by Houston, Clowney ranked as my top prospect. He'd be a star in the NFL based on his own talents. Given the presence of Crennel and stud JJ Watt (among others), Clowney isn't just going to be a star; he's going to be one immediately. Expect for Clowney to run away with Defensive Rookie of the Year honors with at least 10 sacks in 2014. 
Schematic fit is nowhere more important than at the quarterback position, which is why Tom Savage could wind up a steal for the Texans in the fourth round. Savage, 6-foot-4, 228 pounds, has all of the arm talent needed to be successful in O'Brien's scheme, including the fluid delivery, velocity and accuracy to all levels of the field. Savage is a traditional pocket-passer in an era rapidly turning towards dual-threat quarterbacks but given the presence of talented left tackle Duane Brown, a relatively immobile quarterback has a chance. Savage is tough and showed some spatial awareness to slide up or laterally while keeping his eyes downfield, which could help take advantage of the Texans' talented pass-catchers. He'll have to show grit - something some scouts questioned with Savage electing to transfer twice over his collegiate career - but given that Savage clearly has a higher upside than holdovers T.J. Yates and Case Keenum as well as weak-armed free agent addition Ryan Fitzpatrick, the rookie could very well get an opportunity to start (and surprise) in 2014. 
Houston's 2014 draft class:

1st Round -- No. 1 overall - OLB Javedeon Clowney, South Carolina
2nd Round - No. 33 overall - OG Xavier Su'a-Filo, UCLA
3rd Round - No. 65 overall - TE CJ Fiedorowicz, Iowa
3rd Round - No. 83 overall - NG Louis Nix III, Notre Dame
4th Round - No. 135 overall - QB Tom Savage, Pittsburgh
6th Round - No. 177 overall - DE Jeoffrey Pagan, Alabama
6th Round - No. 181 overall - RB Alfred Blue, LSU
6th Round - No. 211 overall - FB Jay Prosch, Auburn
7th Round - No. 216 overall - DB Andre Hal, Vanderbilt
7th Round - No. 256 overall - DB Lonnie Ballentine, Memphis

Key Undrafted Free Agents Signed:

ILB Max Bullough, Michigan State
TE Chris Coyle, Arizona State
K Chris Boswell, Rice

Read more about all of Houston's picks here.
Show Comments
Hide Comments
Not every draft pick can be a winner. Here are the 32 guys who could cause the most regret

Our list of late-round gems includes plenty of lesser-known backs and quality linemen

A running back going No. 2 overall? When you're being compared to Hall of Fame runner, yes
Pass rushers and explosive offensive players highlight the best Day 1 contributors

Here's every draft pick heading to the NFC West, including 21 by the Seahawks and 49ers co...

Here's every draft pick heading to the NFC South, home of the NFC's last two Super Bowl te...