Finding the Fits: Josh Huff a DeSean replacement for Kelly, Eagles?
This article is one of a 32-part series in which the goal is to identify one relatively unheralded player selected in the 2014 NFL Draft who appears to be an especially good schematic fit with his new NFL team.
by Rob Rang
The Sports Xchange/CBSSports.com

• 3 min read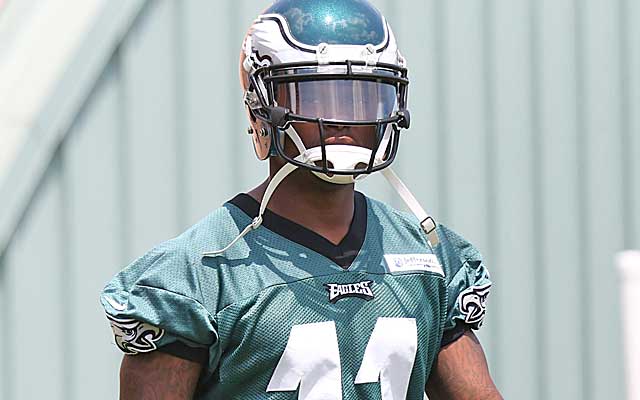 This article is one of a series called Finding the Fits in which NFLDraftScout.com will review some of the more intriguing picks made during the 2014 NFL Draft. The goal of the series is to identify one relatively unheralded player per team who appears to be a good schematic fit and, therefore, more likely to be a surprise contributor early in his pro career.
Philadelphia Eagles' best fit: WR Josh Huff, Oregon
With all due respect to Eagles' second round pick Jordan Matthews, the rookie pass-catcher who could have the most immediate impact in Philadelphia is Huff, who was selected 44 picks after the former Vanderbilt star.
Huff's familiarity with Chip Kelly's offense is the most obvious reason to project early production out of the third-round pick. While veterans are still getting used to Kelly's tempo, Huff is well-versed in the breakneck speed with which the Eagles and Ducks' respective offense flies.
Further, as a rare four-year starter with the Ducks, Huff saw time at each receiver position and as a kick returner over his career. He became the team's go-to receiver his last two seasons and left Oregon tied with the single-season (12) and career touchdown reception records (24).
Huff's fit isn't limited to understanding the terminology in Kelly's playbook, however. Huff (much more so than Matthews or re-signed veteran Riley Cooper), possesses the elusiveness, physicality and acceleration to help replace Desean Jackson's playmaking ability on quick screens and other plays designed to get the Eagles' playmakers in space. At 5-foot-11, 205 pounds Huff is 30 pounds heavier than Jackson. The weight is evenly distributed on Huff's compact frame, making him appear more like a running back than a receiver. It is the kind of build likely necessary to hold up to the punishment and tempo that comes with Kelly's offense.
Matthews certainly possesses the physical skills and work ethic to warrant Philadelphia's selection but given the hype that comes with leaving as the SEC's all-time career receiving leader and a cousin to Jerry Rice, he's hardly "relatively unheralded."
Give Huff a few more years in this offense. He won't be either.
Other thoughts on the Eagles' 2014 draft class:
Given that I personally ranked Marcus Smith as the 48th best prospect in the 2014 draft I can't say I think the Eagles got optimum value with their first round selection. That said, I love Smith's fit in Philadelphia's defense and believe he will ultimately prove worthy of the pick. He has the burst to beat tackles off the edge as well as the flexibility to turn the corner and close. Smith is a passionate, physical defender with surprising instincts and technique given that he signed with Louisville as a quarterback. Coaches at Louisville lauded Smith's willingness to change positions and his work ethic. I was impressed with Smith's versatility while playing OLB in a 4-3 at the Senior Bowl and listed him among my favorite players in the class. Critics suggest that Smith's breakout senior campaign (14.5 sacks) was a fluke. I think it was a sign of things to come.
With an underrated veteran cornerback corps slotted ahead of him, don't necessarily expect fourth round pick Jaylen Watkins to make an immediate impact for the Eagles but I do believe he'll ultimately prove a starting-caliber corner in the NFL. The younger brother of new Bills' wideout Sammy Watkins and the most reliable corner last season on a Florida roster filled with talent, Jaylen has the mental strength and competitive nature that I believe is so critical to success at his position. Even better, he's just as talented from a physical standpoint, boasting agility, acceleration, instincts and physicality. Frankly, I thought he should have been drafted in the second round.
Philadelphia's 2014 draft class:
1st Round -- No. 26 overall - OLB Marcus Smith, Louisville
2nd Round - No. 42 overall - WR Jordan Matthews, Vanderbilt
3rd Round - No. 86 overall - WR Josh Huff, Oregon
4th Round - No. 101 overall - CB Jaylen Watkins, Florida
5th Round - No. 141 overall - DE Taylor Hart, Oregon
5th Round - No. 162 overall - FS Ed Reynolds, Stanford
7th Round - No. 2224 overall - DT Beau Allen, Wisconsin
Key Undrafted Free Agents Signed:
WR/TE Trey Burton, Florida
RB Henry Josey, Missouri
DT Wade Keliikipi, Oregon
Read more about all of Philadelphia's picks here.
Show Comments
Hide Comments
Not every draft pick can be a winner. Here are the 32 guys who could cause the most regret

Our list of late-round gems includes plenty of lesser-known backs and quality linemen

A running back going No. 2 overall? When you're being compared to Hall of Fame runner, yes
Pass rushers and explosive offensive players highlight the best Day 1 contributors

Here's every draft pick heading to the NFC West, including 21 by the Seahawks and 49ers co...

Here's every draft pick heading to the NFC South, home of the NFC's last two Super Bowl te...