Finding the Fits: Long fits the bill for Gruden's offense in Washington
As the Redskins and new head coach Jay Gruden integrate a new offense in Washington, rookie offensive guard Spencer Long is a quick study
by Rob Rang
The Sports Xchange/CBSSports.com

• 4 min read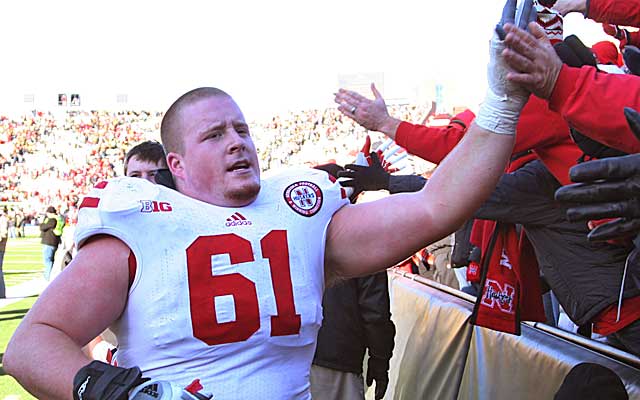 This article is one of a series called Finding the Fits in which NFLDraftScout.com will review some of the more intriguing picks made during the 2014 NFL Draft. The goal of the series is to identify one relatively unheralded player per team who appears to be a good schematic fit and, therefore, more likely to be a surprise contributor early in his pro career.
Washington's best fit: OG Spencer Long, Nebraska
Mike Shanahan can point to his Super Bowl rings and the long list of 1,000 yard rushers that his trademarked zone-blocking concepts helped uncover in 30 years as an NFL coach. The scheme prioritized athleticism and intelligence over brawn and power on the offensive line and when all five linemen were playing cohesively, it was a thing of beauty.
The only people characterizing Washington's offensive line as a thing of beauty last year, however, were rival defensive coordinators.
With the exception of star left tackle Trent Williams, Shanahan's undersized crew was largely pushed around. The right side of the offensive line - guard Chris Chester and tackle Tyler Polumbus -- was especially bad and new head coach Jay Gruden reacted accordingly, drafting potential replacements in Morgan Moses and Long with his second and third picks of the 2014 draft. Long (6-foot-5, 320 pounds) and Moses (6-foot-6, 314) are bigger than Washington's incumbent starters. Better yet, they're more physical.
Moses, frankly, is the more talented of the two rookies. He has a tougher adjustment to make, however, as he'll be moving back to right side after playing at left tackle as a senior.
Long, on the other hand, started all 33 games of his collegiate career at right guard and is revered for his physicality and lunch-pail mentality. He's quick enough to block on the move -- s he was often asked to do at Nebraska -- and offers the size and strength Gruden grew accustomed to having at Cincinnati, where one of the biggest offensive lines in the NFL (averaging 6-5, 322 pounds) resides.
Gruden, himself, took time to acknowledge Long's impressive work following May's rookie mini-camp.
"[Long] did a great job," Gruden said. "From the first [session] to the fourth [session] of practice, you could see how effective he's going to be, how smart he is, No. 1, how physical he can be. He's athletic enough to do whatever we want in the zone game. He's smart enough to pick up the blitzes and the line stunts. He's going to be competitive right away."
Other thoughts on Washington's 2014 draft class:
Given the presence of Pro Bowl pass rushers Brian Orakpo and Ryan Kerrigan, Washington's selection of Trent Murphy with their first pick was a bit surprising. Just like how I appreciated the commitment towards improving the pass rush by the Philadelphia Eagles, I believe Murphy is going to prove worthy of the No. 47 overall pick. Murphy isn't as explosive as Orakpo or as strong as Kerrigan. He's longer than either, however, and possesses a combination of toughness, instincts and surprising fluidity which helped him dominate the Pac-12 the past two seasons, racking up 25 sacks during that time. He plays with a physicality and relentlessness that earned a comparison to new Chicago Bears' pass rusher Jared Allen for me. It will be interesting to see if defensive coordinator Jim Haslett plays his three talented pass rushers simultaneously or in waves but given the reliance on the passing game for the three other NFC East clubs, terrorizing quarterbacks with multiple options seems to be a sound strategy.
While every club would love to unearth a future superstar in the middle and late rounds, savvy teams also look for quality role players. Washington may have found two on the third day of the draft with Tulane wideout Ryan Grant and Baylor running back Lache Seastrunk. Grant lacks the flashy athleticism that has made Pierre Garcon, Desean Jackson and Santana Moss feared playmakers throughout their respective NFL careers but his soft hands and experience lining in the slot and outside make him an effective complementary weapon. Similarly, Seastrunk isn't likely to challenge Alfred Morris as Washington's primary ball-carrier or even Roy Helu, Jr. as the principal backup. Seastrunk offers elusiveness, quick acceleration and soft hands (though he wasn't asked to use them much at Baylor). Gruden prioritized a running back by committee approach in Cincinnati and could see Seastrunk graduating into a third down role should Helu want too much after his contract expires this year.
Washington's 2014 draft class:
2nd Round -- No. 47 overall - OLB Trent Murphy, Stanford
3rd Round - No. 66 overall - OT Morgan Moses, Virginia
3rd Round - No. 78 overall - OG Spencer Long, Nebraska
4th Round - No. 102 overall - CB Bashaud Breeland, Clemson
5th Round - No. 142 overall - WR Ryan Grant, Tulane
6th Round - No. 186 overall - RB Lache Seastrunk, Baylor
7th Round - No. 217 overall - TE Ted Bolser, Indiana
7th Round - No. 228 overall - K Zach Hocker, Arkansas
Key Undrafted Free Agents Signed:
WR Cody Hoffman, BYU
RB Silas Redd, Southern Cal
Read more about all of Washington's picks here.


Show Comments
Hide Comments
Ross looks like the perfect replacement for Brandin Cooks in the Big Easy

The top three-technique prospect in the draft could see his name not called at all

A diluted drug test continues recent alarming off-field concerns for talented Alabama pros...
Here are players from Air Force to Wyoming who might not be drafted but could make an NFL...

Who should the Rams take with their first pick? We break down all their options

Who should the Seahawks take with their first pick? We break down all their options