Finding the Fits: Patriots' James White brings selflessness, security
This article is one of a 32-part series in which the goal is to identify one relatively unheralded player selected in the 2014 NFL Draft who appears to be an especially good schematic fit with his new NFL team.
by Rob Rang
The Sports Xchange/CBSSports.com

• 3 min read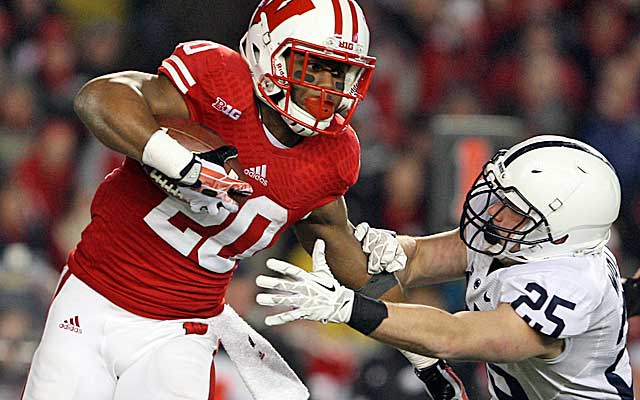 This article is one of a series called Finding the Fits in which NFLDraftScout.com will review some of the more intriguing picks made during the 2014 NFL Draft. The goal of the series is to identify one relatively unheralded player per team who appears to be a good schematic fit and, therefore, more likely to be a surprise contributor early in his pro career.
New England's best fit: RB James White, Wisconsin
Given the perception that New England leans on Tom Brady, it might surprise some that the Patriots finished tied for second in the NFL a year ago in rushing touchdowns (19) and ninth in rushing overall (2,065 yards).
And with the club's best short yardage runner (LaGarrette Blount) signing in the offseason with the Pittsburgh Steelers and hold-overs Steven Ridley, Shane Vereen and Brandon Bolden each entering the final year of their respective contracts, as well, Bill Belichick needed to find reinforcements at running back. He did so in White, a versatile and reliable back with the talent and traits well-suited to making an immediate impact.
With good hands, vision and burst, White (5-foot-10, 195) is an obvious candidate to challenge Vereen, who is built similarly (5-foot-10, 205) and has missed time due to injury in each of his first three NFL seasons. White is a better interior runner than Vereen and has an excellent track record of ball security (two fumbles in 754 collegiate touches) making it possible that he could push Ridley (who has eight fumbles over the past two seasons) as the Patriots' goal-line back, as well. He's also attentive and surprisingly stout in pass protection.
It isn't just White's ability that stands out, however. He's also a proven competitor who has shown the willingness to put team goals ahead of his own. White played with Giovani Bernard at powerhouse prep St. Thomas Aquinas and shared the ball with Montee Ball and projected first round pick Melvin Gordon with the Badgers. Despite coaches, media and fans recognizing that running back is largely a committee-job in today's NFL, convincing athletes of this fact isn't easy. White is competitive enough to want the ball every snap but also possesses the maturity to share it -- traits that could endear him to the coaching staff quickly and result in significant playing time as a rookie and perhaps a starting (and starring) role early in his NFL career.
Other thoughts on the Patriots' 2014 draft class:
The Patriots' second round pick of Eastern Illinois quarterback Jimmy Garoppolo caught many by surprise but given the amount of time New England spent visiting with passers prior to the draft, the fact that Ryan Mallett has not improved significantly during his time in New England and Garoppolo's ideal fit in this quick-hitting offense, the selection was downright predictable. He's certainly a long way off from taking over for Brady but Garoppolo's quick-decisions, hair-trigger release and experience in a shotgun-heavy offense give him a head start over most young quarterbacks. I was very impressed with how well Garoppolo made the adjustment from Eastern Illinois to the East-West Shrine Game and then took another step with a strong showing at the Senior Bowl. The fact that he has a future Hall of Famer playing ahead of him will keep Garoppolo sidelined for now but his fit in this offense and ability to raise his level of play could make New England look very smart a few years from now.
If New England's second round selection was about the future, their first round pick of talented but oft-injured defensive lineman Dominique Easley is definitely about winning now. It seems crazy to think it now but Easley entered the year ranked higher than Aaron Donald by most (but not all) scouts I know. Versatile and athletic, Easley may very well prove to be a better NFL player than he ever was for the Gators. He reminds me of current Seattle Seahawks' defensive lineman Michael Bennett, whose ability to split gaps made him the reigning Super Bowl champs' most consistent and reliable pass rusher last season.
New England's 2014 draft class:

1st Round -- No. 29 overall - DT Dominique Easley, Florida
2nd Round -- No. 62 overall - QB Jimmy Garoppolo, Eastern Illinois
4th Round - No. 105 overall - OC Bryan Stork, Florida State
4th Round - No. 130 overall - RB James White, Wisconsin
4th Round -- No. 140 overall - OT Cameron Fleming, Stanford
6th Round - No. 179 overall - OG Jon Halapio, Florida
6th Round - No. 198 overall - DE Zach Moore, Concordia
6th Round -- No. 206 overall - DE Jemea Thomas, Georgia Tech
7th Round -- No. 244 overall - WR Jeremy Gallon, Michigan

Key Undrafted Free Agents Signed:

LS Tyler Ott, Harvard
RB Stephen Houston, Indiana
TE Justin Jones, East Carolina

Read more about all of New England's picks here.
Show Comments
Hide Comments
Not every draft pick can be a winner. Here are the 32 guys who could cause the most regret

Our list of late-round gems includes plenty of lesser-known backs and quality linemen

A running back going No. 2 overall? When you're being compared to Hall of Fame runner, yes
Pass rushers and explosive offensive players highlight the best Day 1 contributors

Here's every draft pick heading to the NFC West, including 21 by the Seahawks and 49ers co...

Here's every draft pick heading to the NFC South, home of the NFC's last two Super Bowl te...