Finding the Fits: Terrance West, not Johnny Manziel, Browns' best fit
This article is one of a 32-part series in which the goal is to identify one relatively unheralded player selected in the 2014 NFL Draft who appears to be an especially good schematic fit with his new NFL team.
by Rob Rang
The Sports Xchange/CBSSports.com

• 4 min read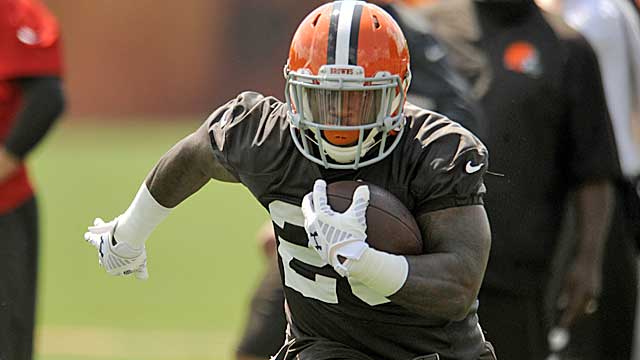 This article is one of a series called Finding the Fits in which NFLDraftScout.com will review some of the more intriguing picks made during the 2014 NFL Draft. The goal of the series is to identify one relatively unheralded player per team who appears to be a good schematic fit and, therefore, more likely to be a surprise contributor early in his pro career.
Cleveland Browns' best fit: RB Terrance West, Towson
While the selection of Johnny Manziel has not surprisingly dominated the headlines in Cleveland (and across the nation), the Browns could see a more immediate impact on the field from several other rookies, including West, who could give free agent signee Ben Tate a legitimate fight to be the Browns' primary ball-carrier in 2014.
On the surface, it appeared that the Browns were set at running back given the addition of Tate, who flashed star ability with the Houston Texans. A closer look at Tate's contract -- an incentive-laden two-year deal that takes into account his previous struggles with durability - and head coach Mike Pettine's admission that the Browns will be taking a run-heavy approach in 2014 opens the door for multiple runners to be successful. Just like Pettine and general manager Ray Farmer boldly traded up to nab Manziel, the duo swooped in to take West, giving up picks in the fourth (No. 106 overall) and sixth round (180) to San Francisco to draft the Towson star at No. 94.
West has the talent to warrant the trade, though Tate has the initial advantage because of his experience in Gary Kubiak's zone-blocking offense in Houston. Kubiak, of course, learned the scheme from Mike Shanahan, who groomed his son in the same attack that will be implemented with the Browns. As such, Tate is a proven commodity.
Competition concerns are legitimate but based strictly on traits to fit the zone-blocking system, West has the higher upside and could quickly overtake Tate as the Browns' feature back.
At 5-foot-09, 225 pounds, West has a stout, compact frame. He is a patient runner with good vision and burst for the cutback and fights through would-be tackles due to his naturally low center of gravity and physical, determined running. West ran well in workouts (4.54 in the 40-yard dash) and this translates well onto the field because he can make defenders miss with an impressive jump-cut and varies his gait, only hitting the boost button to throw off defenders' angles of pursuit when necessary.
Other thoughts on the Browns' 2014 draft class:


Many of the ingredients are in place with the Browns for the gamble on Manziel to pay off. In Shanahan, he has the benefit of an offensive coordinator accustomed to an improvisational quarterback due to his time working with Robert Griffin III. Cleveland also boasts a talented offensive line - especially with Joe Thomas at left tackle - which is something that Manziel, of course, enjoyed while at Texas A&M with top six picks Luke Joeckel (Jacksonville, 2013) and Jake Matthews (Atlanta, 2014) protecting him. Manziel also has downfield weapons potentially at his disposal in Josh Gordon, Nate Burleson and Jordan Cameron, among others. Finally, he has the benefit of a rabid fan base eager to jump on board the Manziel hype train. And yet, even the most loyal Browns' fans have to admit some anxiety with the pick. From a physical standpoint, Manziel's six-foot, 207-pound frame is especially troubling in the rough and tumble AFC North. The turf that he played on in Kyle Field with the Aggies complemented Manziel's mobility, whereas the grass (and gusts off Lake Erie) at FirstEnergy Stadium in Cleveland won't be as accommodating. The reported suspension (and inexplicable lack of replacement) of Gordon robs Manziel of the downfield threat that he'd relied upon with Mike Evans. I've touched upon just some of the various factors that will impact whether Manziel is successful or not in Cleveland but the most important one is the man, himself. Does Manziel possess the dedication necessary to lead the Browns to victory not only on game day but during the week of practice and the off-season, as well?
Poor Justin Gilbert... Not many players are drafted No. 8 overall (and boast the natural playmaking skills that he does) and generate less national buzz simply because of the "other" player his team drafted. In much the same way as Manziel, Gilbert is undeniably a gamble. He is overly reliant upon his athleticism to mask lapses in his technique and doesn't play with sustained physicality in run support. But make no mistake, Gilbert boasts the remarkable fluidity and speed to cover any receiver in the league and the combination of he and Joe Haden could bring back the glorious memories of Hanford Dixon and Frank Minnifield in Cleveland. With Haden established as one of the league's top young corners, opponents are going to challenge the rookie early. Fortunately for the Browns, Gilbert has a history of stepping up in big matchups and his penchant for the big play (led the Big 12 with seven interceptions in 2013) could lead to a flashy first season in the NFL as quarterbacks realize he's not one to try and pick on.

Cleveland's 2014 draft class:

1st Round -- No. 8 overall - CB Justin Gilbert, Oklahoma State
1st Round -- No. 22 overall - QB Johnny Manziel, Texas A&M
2nd Round - No. 35 overall -- OG Joel Bitonio, Nevada
3rd Round - No. 79 overall - OLB Christian Kirksey, Iowa
3rd Round - No. 99 overall - RB Terrance West, Towson
4th Round - No. 134 overall - CB Pierre Desir, Lindenwood

Key Undrafted Free Agents Signed:

RB Isaiah Crowell, Alabama State
WR Chandler Jones, San Jose State
QB Connor Shaw, South Carolina

Read more about all of Cleveland's picks here.
Show Comments
Hide Comments
Our Latest Stories
Lamp's performance continues the momentum he's created for himself throughout his senior s...

The versatile Stanford star would wear a lot of hats in Green Bay

Michigan, California and BYU held pro days on Friday, with Davis Webb fighting a 'torrential...
Plus, prospects at Utah, Missouri and San Diego State look to make their mark on a busy Th...

Plus, two USC prospects tackle agility drills and two small-schoolers look to make their m...

In a class loaded with defensive studs, no position group is better than the corners and s...