Finding the Fits: Versatility key to featured role for Lions' Van Noy
This article is one of a 32-part series in which the goal is to identify one relatively unheralded player selected in the 2014 NFL Draft who appears to be an especially good schematic fit with his new NFL team.
by Rob Rang
The Sports Xchange/CBSSports.com

• 4 min read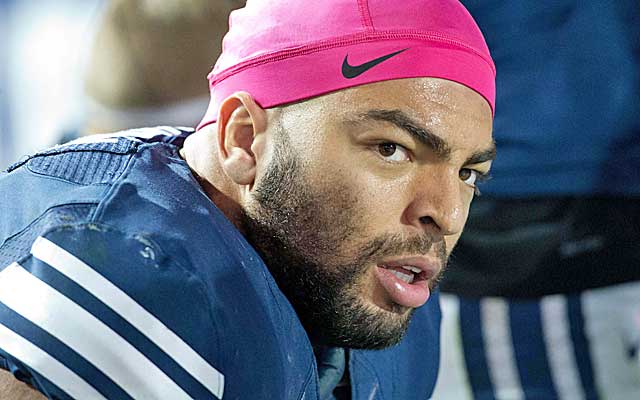 This article is one of a series called Finding the Fits in which NFLDraftScout.com will review some of the more intriguing picks made during the 2014 NFL Draft. The goal of the series is to identify one relatively unheralded player per team who appears to be a good schematic fit and, therefore, more likely to be a surprise contributor early in his pro career.
Detroit Lions' best fit: OLB Kyle Van Noy
Under Jim Schwartz, the Detroit Lions relied upon their front four to wreak havoc. Given that the club boasted one of the more talented defensive lines in football, it was a logical strategy.
As NFL offenses have evolved in an effort to get the ball out of the hands of quarterbacks faster, however, it has become critical for defenses to attack from a variety of angles. General manager Martin Mayhew and head coach Jim Caldwell recognized this and traded up five spots in the second round to land Van Noy, whose Swiss Army Knife-like versatility could land him a featured role in defensive coordinator Teryl Austin's attacking defense.
Austin's aggressive scheme calls for linebackers (and even defensive backs) to rush the quarterback. It is a strategy that can be quite effective -- if complemented with instinctive and fluid athletes.
The scheme suits Van Noy (but not necessarily incumbent starting strongside linebacker Ashlee Palmer) well. Van Noy starred off the edge for BYU, racking up 62 tackles for loss (including 26 sacks). He is a natural pass rusher whose quickness and flexibility help him elude blockers on his way to the quarterback and he has a burst to close, which helped him rack up an impressive 11 forced fumbles over his career.
Van Noy plays the game with more finesse than physicality. He isn't the type to wow with explosive strength to disengage from blocks, instead relying on his great awareness to recognize the play early and slipping under or around opponents to make the clean, technically-sound stop. He is a fluid, efficient athlete who changes directions well and accelerates smoothly, making him effective in coverage as well as when rushing the passer. This versatility stood out not only in BYU's hybrid scheme but in a traditional 4-3 alignment at the Senior Bowl, as well.
Not only is Van Noy a clear schematic fit for Austin's scheme, he has the competitive and mature personality Mayhew and Caldwell are looking to develop in Detroit. A former roommate of 2013 first round pick Ziggy Ansah while both played at BYU, Van Noy should complement the raw defensive end's development on and off the field while also providing some push to Detroit's "other" defensive linemen, Ndamukong Suh and Nick Fairley.
Other thoughts on the Lions' 2014 draft class:


Already boasting the league's most dominant wide receiver in Calvin Johnson and fresh off of inking Golden Tate (who led the Seattle Seahawks in receiving last year) in free agency, Mayhew and Caldwell pulled one of the early stunners of the 2014 draft by selecting tight end Eric Ebron at No. 10 overall. Ebron is a bit like Johnson (and Tate, for that matter) in that he is entering the NFL while still quite fundamentally raw but boasts unbelievable athleticism that made him the focal point of his collegiate offense. There is no question that he possesses the speed to burn defenses attempting to double Johnson but some scouts questioned Ebron's maturity and how he'd handle a complementary (rather than starring) role. Ebron possesses strong hands and good body control to make difficult receptions but also dropped plenty of passes during his career. The Lions will likely want to feature their newest toys early to give defenses something to worry about and that may be especially critical for Ebron, who some considered one of the year's biggest boom or bust prospects.
They won't get nearly the attention as the flashy playmakers drafted ahead of them but the Lions may have discovered two Diamonds in the Rough with Day Three selections of Utah State cornerback Nevin Lawson (4th round) and Princeton defensive tackle Caraun Reid (5th round). Recruited out of the state of Florida by former Utah State head coach Gary Andersen (now entering his second season as head coach at Wisconsin), Lawson proved to be an immediate difference-maker and four-year starter for the Aggies. Like Van Noy (and Reid) Lawson turned heads at the Senior Bowl with his athleticism and ability to step up against top competition. He is quick, instinctive and highly physical - traits that could result in his overtaking third-year pro Bill Bentley as the Lions' "starting" nickelback. Ivy League players rarely last in the NFL but if his play at the Senior Bowl was any indication, Reid will prove an exception. Reid is going to be one of the exceptions. Athletic and surprisingly strong given his 6-foot-2, 302-pound frame, Reid can play either of the two defensive tackle spots in Austin's scheme. That versatility (and Reid's hard-charging motor) makes him a quality complement to Suh and Fairley, each of whom, frankly, could use a push to take better advantage of their unbelievable talent.
Detroit's 2014 draft class:
1st Round -- No. 10 overall - TE Eric Ebron, North Carolina
2nd Round -- No. 40 overall - OLB Kyle Van Noy
3rd Round - No. 76 overall - OL Travis Swanson, Arkansas
4th Round - No. 133 overall - CB Nevin Lawson, Utah State
4th Round - No. 136 overall - DE/TE Larry Webster, Bloomsburg
5th Round - No. 158 overall - DT Caraun Reid, Princeton
6th Round - No. 189 overall - WR T.J. Jones, Notre Dame
7th Round - No. 229 overall - K Nate Freese, Boston College
Key Undrafted Free Agents Signed:
FB Chad Abram, Florida State
QB James Franklin, Missouri
OT Cornelius Lucas, Kansas State
Read more about all of Detroit's picks here.
Show Comments
Hide Comments
Our Latest Stories
Michigan, California and BYU held pro days on Friday, with Davis Webb fighting a 'torrential...

Plus, prospects at Utah, Missouri and San Diego State look to make their mark on a busy Th...

Plus, two USC prospects tackle agility drills and two small-schoolers look to make their m...
In a class loaded with defensive studs, no position group is better than the corners and s...

Mitchell Trubisky is 'solid,' Takk McKinley sits and Marlon Mack 'sizzles' during Tuesday pro...

John Lynch is among the 75 NFL scouts at UNC's pro day, while the Browns are noticeably ab...