Finding the Fits: Vikings' Patterson the perfect Purple Playmaker
The Minnesota Vikings once prided themselves on a ferocious defensive line affectionately known as the Purple People Eaters. With defenses focusing on Adrian Peterson, rookie receiver Cordarrelle Patterson could explode into the NFL with the same aplomb he did the SEC -- as a highlight reel regular.
by Rob Rang
The Sports Xchange/CBSSports.com

• 4 min read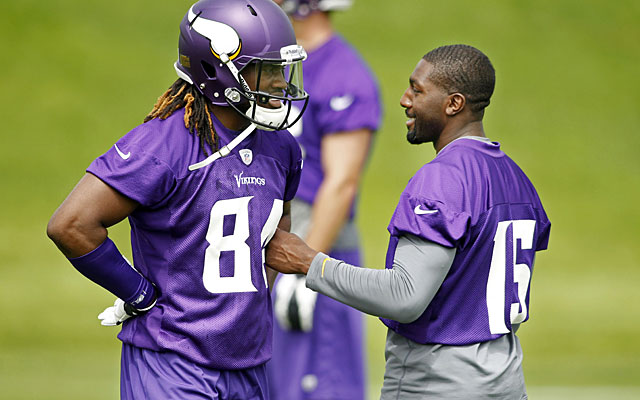 During the next several weeks, NFLDraftScout.com will review the more intriguing picks made during the 2013 NFL Draft in a series called Finding the Fits. The goal of the series is to identify one relatively unheralded player per team who appears to be a good schematic fit and, therefore, more likely to be a surprise contributor early in his pro career.
Minnesota Vikings' best fit: WR Cordarrelle Patterson, Tennessee, first round, No. 29 overall
Adrian Peterson deserved every vote he received as the league MVP a season ago, but for the first half of the year it was Percy Harvin's versatility that helped Minnesota race out to a 5-2 start in the highly competitive NFC North division.
With Harvin shipped to Seattle, the team needed a dynamic athlete to fill his role on offense and special teams. A bold trade back into the first round by general manager Rick Spielman netted his club Patterson, the most explosive playmaker in the class.
Patterson, 6-feet-2 and 216 pounds, signed with Tennessee as a highly regarded junior college prospect in 2012 but wasn't expected to see significant playing time with All-SEC candidates Justin Hunter and Da'Rick Rogers ahead of him on the depth chart. He was thrust into a starting position once Rogers was kicked off the team by then-Vols head coach Derek Dooley and rewarded the coaches' confidence by burning North Carolina State and its talented secondary for 165 all-purpose yards in his first taste of FCS action, the nationally televised Chick-fil-A Kickoff.
Patterson's vision, agility and speed made him equally dangerous as a returner, runner and receiver and he dominated the SEC to the tune of 154.8 all-purpose yards a game, easily the highest mark in the power conference.
"When you watch the tape on him, when they put him in the backfield and pitched him the ball, if you throw him a bubble screen, when you see him go downfield, you're talking about a 6-1, 215-pound receiver who runs a 4.3[-second 40-yard dash]," Spielman told reporters following the draft. "He's electric with the ball in his hands."
While Patterson's athleticism is obvious on tape, so too is his inconsistency as a route-runner, one of the reasons he lasted until the 29th pick in a draft short on playmakers.
After raiding division rival Green Bay for steady veteran Greg Jennings, the Vikings aren't looking to Patterson to be Christian Ponder's go-to target in 2013.
Instead, they'll feature him early as a returner and ease him into the offense with plays that get him the ball in space. With defenses focused on stopping Peterson, and Ponder athletic enough to improvise, Patterson could quickly emerge as a frequent highlight reel producer.
Patterson the flash, others the foundation (other thoughts on the Vikings' 2013 draft class):
Head coach Leslie Frazier did a spectacular job in guiding the Vikings to the playoffs in 2012. An aging roster that lost Harvin and perhaps equally invaluable cornerback Antoine Winfield means that Frazier may have to be even better in 2013 if the Vikings are to return to the postseason.
That process will certainly be aided by the Vikings two "other" first-round picks, Sharrif Floyd and Xavier Rhodes. The 6-foot-1, 215-pound Rhodes pairs with Chris Cook, a 6-foot-2, 210-pounder, to give Minnesota the long, lanky corners to contend with the division's big receivers.
Floyd, selected 20 spots later than many had projected, could prove a steal. His quickness and motor make him a potential star three-technique defensive tackle. He'll supplement longtime Vikings standout Kevin Williams inside as a rookie and help the club transition from the six-time Pro-Bowl selection, set to begin his 11th season.
Floyd, NFLDraftScout.com's No. 9-rated prospect, slipped to No. 23 in large part because teams were concerned about his shorter-than-ideal arms. Interior linemen able to get into Floyd's chest could push him off the ball a bit against the run. Considering the focus on the passing game from division rivals Green Bay, Detroit and Chicago, Floyd's unique athleticism should make him a quality interior pass-rush threat.
The Vikings entered the 2013 draft needing help at inside linebacker but waited until the seventh round to nab Penn State's Michael Mauti, who is attempting to come back from his third torn ACL.
Suffering this serious an injury three times in his five seasons at Penn State certainly is a red flag for Mauti but the Penn State linebacker had earned first-round grades from some scouts following his recovery from the second injury and looks well on his way to recovery again. Some close to the program have favorably compared Mauti to former Penn State and current NFL standouts Paul Posluszny and Sean Lee.
Gerald Hodges, a quality pick in the fourth round, may contribute significantly this season but don't be surprised if Mauti, interestingly enough the 213th player selected in the 2013 draft, doesn't wind up contending for a starting spot in the first two years of his NFL career, as well.
-- The Vikings' 2013 draft class:
1st Round - No. 23 overall - DT Sharrif Floyd, Florida
1st Round - No. 25 overall - CB Xavier Rhodes, Florida State
1st Round - No. 29 overall - WR Cordarrelle Patterson, Tennessee
4th Round - No. 120 overall - OLB Gerald Hodges, Penn State
5th Round - No. 155 overall - P Jeff Locke, UCLA
6th Round - No. 196 overall -  OG Jeff Baca, UCLA
7th Round - No. 213 overall - ILB Michael Mauti, Penn State
7th Round - No. 214 overall - OG Travis Bond, North Carolina
7th Round - No. 229 overall - DT Everette Dawkins, Florida State
-- Key Undrafted Free Agents Signed:
QB James Vandenberg, Iowa
WR Erik Highsmith, North Carolina
WR Rodney Smith, Florida State
WR Nicholas Edwards, Eastern Washington
FB/RB Zach Line, SMU
Read more about all of the Vikings' picks here.
Read all of the Finding the Fits series here.
Show Comments
Hide Comments
Four defensive backs are picked in the final five spots of the first round in Rob Rang's final...

Character has become such a concern for draft prospects that scouts spend a majority of their...

Also, expect Haason Reddick to go higher than expected and Reuben Foster to be taken on Th...
Plus the Cowboys and Steelers find new cornerbacks late in the first round in Dane Brugler's...

Late breaking news has caused several players to slide down the Top 100 just before the 2017...

Drama is always a certainty when it comes to the unpredictability of the draft