Grading CBSSports.com's All-America team as NFL prospects
Preseason All-America teams used to feature just the top names from the biggest schools. But is this still the case? NFLDraftScout.com breaks down each of CBSSports.com's All-Americans to identify which players will be just as relevant for NFL scouts as they are college football fans.
by Rob Rang
The Sports Xchange/CBSSports.com

• 7 min read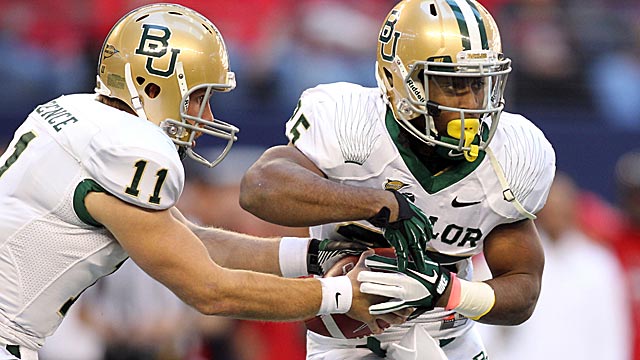 For years, NFL scouts could ignore the hype that came with preseason All-America notes and watch lists for positional awards.

Typically, the players who earned such awards did so on top 25 teams. Winning the Heisman Trophy, for example, meant nothing to scouts because it was often all about statistics, scheme or celebrity, rather than individual talent.

As such, last week's unveiling of CBSSports.com's 2013 College Football Preseason All-America team begged the obvious question: Can these players turn their superstardom in college into high selections in the NFL draft?

NFLDraftScout.com Senior Analysts Dane Brugler and Rob Rang divvied up the team and offer below their takes on whether these All-Americans will prove every bit as compelling as NFL prospects.  


OFFENSE

QB Johnny Manziel, Texas A&M (6-1, 200, Soph.)
Say what you will about his off-field exploits, Johnny Football is aptly nicknamed because his elusiveness and accuracy in the pocket and on the move makes him as dynamic as any quarterback in recent college football history, perhaps ever. If he is as dominant in a second season of SEC competition, it isn't hard to imagine some QB-needy NFL team investing a high pick in Manziel, regardless of the distractions he might bring with him.

RB Lache Seastrunk, Baylor (5-10, 205, Jr.)
NFLDraftScout.com's top-rated runner potentially eligible for the 2014 NFL draft, Seastrunk combines freakish athletic ability to go along with vision and a willingness to cut-back against the grain. He ran for "just" 1,012 yards a season ago as Baylor featured the pass but could challenge for the nation's rushing title in 2013.

RB T.J. Yeldon, Alabama (6-2, 218, Soph.)
Possessing an unheard of combination of size, agility and straight-line speed, Yeldon pushed aside Eddie Lacy a season ago to carve out 1,108 yards and 12 touchdowns as a true freshman. Like Lacy, Trent Richardson and Mark Ingram before him, Yeldon will ultimately earn a lofty grade from scouts. 

WR Marqise Lee, Southern Cal (6-0, 195, Jr.)
A silky smooth athlete who in 2012 became the first Trojan and just the fifth sophomore to ever take home the Biletnikof Trophy as the nation's top wideout, Lee is a future No. 1 target in the NFL. He lacks the size that has helped make Calvin Johnson and A.J. Green household names and is likely to catch less passes in 2012 with Matt Barkley now in the NFL, but his ability to turn short catches into long gains is unparalleled in college football.  

WR Amari Cooper, Alabama (6-1, 202, Soph.)
Considered by some talent evaluators to be Alabama's top prospect after just one season, Cooper is a shockingly polished route-runner who plays with toughness and instincts. Cooper's numbers were impressive in 2012 (59 catches for 1,000 and a school-record 11 touchdowns) but is it frightening to think of what he'd do in an offense that featured him.

WR Sammy Watkins, Clemson (6-1, 205, Jr.)
DeAndre Hopkins earned a first round selection in 2013 and is already earning rave reviews from the Houston Texans, but former teammate Watkins is the more dynamic athlete. Possessing a breath-taking combination of size and pure speed, Watkins looks poised to re-emerge as quarterback Tajh Boyd's favorite weapon in 2013. 

TE Austin Seferian-Jenkins, Washington (6-6, 266, Jr.)
Bigger and more productive a season ago than Mackey Award winner and Cincinnati Bengals' first round pick, Tyler Eifert, Seferian-Jenkins looks like an offensive tackle but boasts the body control of a wide receiver. He'll almost certainly produce the type of numbers to warrant All-American status but must improve as a blocker and will have to convince scouts of his maturity after an off-season arrest for DUI. 

OT Taylor Lewan, Michigan (6-6, 308, Sr.)
An imposing figure cut from the same cloth as former Wolverines All-American and 2008 No. 1 overall pick Jake Long, Lewan's athleticism and aggression could earn him a spot in the top 10 come May. If so, he'd be the first Big Ten player since Long to earn this distinction.

OT Jake Matthews, Texas A&M (6-5, 305, Sr.)
Considered by some scouts to be a better prospect than former teammate Luke Joeckel (the No. 2 overall pick last year), Matthews is set to start at left tackle after dominating from the right side the past three years. Matthews comes by his size, athleticism and toughness naturally, as he's the son of Hall of Famer Bruce Matthews. 

OG David Yankey, Stanford (6-5, 311, Sr.)
Last year Yankey was voted by Pac-12 defensive linemen as the conference's top blocker despite it being his first year playing left tackle. He's been moved back inside to left guard for 2013, where scouts feel his lateral agility, balance and toughness are best suited. 

OG Cyril Richardson, Baylor (6-5, 335, Sr.)
A massive athlete with an appetite for pancakes (we mean blocks, of course), Richardson is the quintessential mauler of the 2014 draft class. Light enough on his feet to serve as Robert Griffin III's blindside tackle in 2011, Richardson's NFL future lies on the inside as a drive blocker in a power-based scheme. 

C Gabe Ikard, Oklahoma (6-3, 298, Sr.)
Athletic, instinctive and versatile (19 career starts at center, 18 at left guard), Ikard is the perfect zone-blocking offensive lineman. The former tight end is light on his feet, showing the ability to block well on the move.

DEFENSE

DE Jadeveon Clowney, South Carolina (6-6, 272, Jr.)
Barring injury, Mr. Clowney will be a top-three draft pick next May and it's easy to see why with his freakish skill-set that creates mismatches rushing off the edge. His combination of size, power and athleticism makes him one of the best defensive prospects to enter the NFL over the last decade.

DE Stephon Tuitt, Notre Dame (6-6, 322, Jr.)
A stout, big-bodied defender, Tuitt is an impressive prospect who passes the eyeball test and backs it up with his play on the field. He has the size of most interior linemen, but has also shown the ability to be an edge rusher with some range to shed blocks and chase down the ballcarrier -- a future NFL star in the making.

DT Louis Nix, Notre Dame (6-3, 347, Sr.)
A potential top-10 prospect, Nix was one of the lone bright spots for the Irish defense in last season's BCS National Championship Game, anchoring the middle of the line. Maybe the best nose tackle prospect since B.J. Raji, Nix's lateral burst and natural power helps him dominate interior blockers.

DT Will Sutton, Arizona State (6-1, 288, Jr.)
A quick, penetrating interior pass rusher, Sutton doesn't have ideal NFL size or measureables, but his burst off the snap to weasel his way into the backfield is something that scouts won't ignore. His size doesn't scream first round pick, but it's tough to argue with the production (23.5 TFL in 2012).

LB C.J. Mosley, Alabama (6-2, 232, Sr.)
A smart, instinctive linebacker, Mosley is an extension of Nick Saban on the field and his pass coverage skills have scouts believing he is a three-down player in the NFL. He likely would have been a top-20 overall pick had he declared after last season and should go that high next May.

LB Anthony Barr, UCLA (6-4, 248, Sr.)
When watching Barr on film, it's tough to believe that with all his success last season, his junior year was just his first on the defensive side of the ball, moving to linebacker from running back. But he's a natural rushing the passer, a premium skill that might make him a top-10 pick in the 2014 NFL Draft.

LB Kyle Van Noy, BYU (6-3, 235, Sr.)
In BYU's bowl game last December against San Diego State, Van Noy had a monster performance and looked like he was ready to make the jump to the pros. But instead he returned to Provo for his senior year this fall, and although he's not a lock first round pick, his motor and range puts him in the top-32 discussion.

CB Jason Verrett, TCU (5-10, 180, Sr.)
A former JUCO transfer, Verrett went from a little-known reserve to one of the best defenders in the Big 12 conference over the past two seasons. He was among the NCAA leaders in interceptions last season (6) and has put himself in position to be a first-round cornerback and the top senior drafted at his position.

CB Bradley Roby, Ohio State (5-11, 192, Jr.)
An exciting player who leaps off game tape, Roby has underwhelming height and overall strength, but he has the speed, footwork and overall presence to lock down one side of the field in man coverage. He still has room to improve and will sit out the first game after an off-field incident, but Roby has the ability to be a top-10 pick.

S Ha'Sean Clinton-Dix, Alabama (6-1, 208, Jr.)
Besides leading the way on the "All-Name" team, Clinton-Dix is a player ready to emerge as one of the best defensive backs in college football. As a first-year starter last season, "Ha Ha" led the Tide with five interceptions, including one in each of the final three games, and also projects very highly to the next level.

S Ed Reynolds, Stanford (6-2, 205, Sr.)
After seeing limited playing time over his first two seasons in Palo Alto, Reynolds had a breakout junior campaign in 2012, finishing among the Nation's leaders in interceptions with six. He has a good blend of speed and strength to be a reliable defender against the run and the pass, something NFL scouts are seeking.
Show Comments
Hide Comments
Not every draft pick can be a winner. Here are the 32 guys who could cause the most regret

Our list of late-round gems includes plenty of lesser-known backs and quality linemen

A running back going No. 2 overall? When you're being compared to Hall of Fame runner, yes
Pass rushers and explosive offensive players highlight the best Day 1 contributors

Here's every draft pick heading to the NFC West, including 21 by the Seahawks and 49ers co...

Here's every draft pick heading to the NFC South, home of the NFC's last two Super Bowl te...