NCAA denies waiver for Dorial Green-Beckham, is the NFL next?
With Green-Beckham ineligible to play at Oklahoma in 2014, the Missouri transfer has several options for his football future and the most appealing might be to enter the 2015 NFL Draft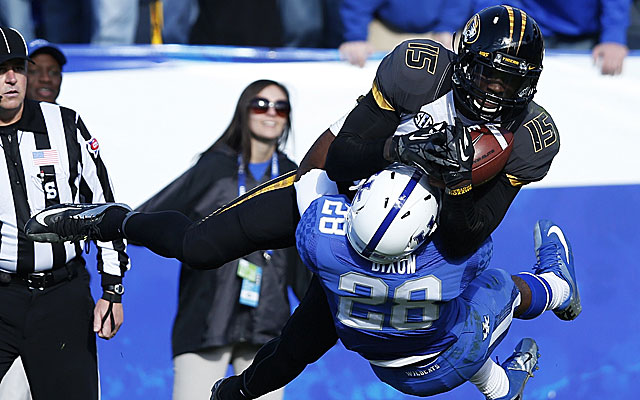 Talented wide receiver Dorial Green-Beckham will have to watch from the sidelines at Oklahoma in 2014 after the NCAA denied the school's request for a waiver to allow the Missouri transfer to play immediately.
Oklahoma released a statement announcing the NCAA's decision Friday night, but Green-Beckham has yet to reveal his plans for the future. Although unlikely this close to the season, he has the option of transferring again to a lower level or JUCO program to play immediately in 2014. But assuming he remains in Norman for the upcoming season, Green-Beckham has two options: stay with Oklahoma for the 2015 season or go pro. He will be three years removed from high school after this season and eligible for the 2015 NFL Draft.
Green-Beckham is currently rated as the No. 39 overall player for the 2015 NFL Draft by NFLDraftScout.com and his full scouting report can be found here. He was dismissed by Missouri this past April following several off-field incidents, most recently a suspected burglary and assault. Green-Beckham has also had multiple run-ins with the law involving marijuana possession since he graduated high school.
Green-Beckham has first-round talent, but the immaturity and off-field issues are as relevant to his draft projection as his on-field ability. Staying at Oklahoma for the 2015 season and keeping his nose clean would only help his draft projection for the 2016 NFL Draft. However, he has the NFL upside to possibly be an early round pick in the 2015 NFL Draft, depending on whether a team would feel comfortable taking a chance on him. If Green-Beckham stays clean off the field, tests off-the-charts as expected at the NFL Combine and most importantly presents himself well during the interview process, it's not crazy to think he still has a chance at being a first-round pick next spring.
A jump to the NFL following an ineligible season wouldn't be an unprecedented move. Two summers ago, LSU dismissed Tyrann Mathieu from the football program due to repeated failed drug tests. Instead of transferring to a FCS program to play the 2012 college football season, Mathieu sat out and entered the 2013 NFL Draft where he was selected in the third round by the Arizona Cardinals. Mathieu has stayed out of trouble at the pro level (so far) and if not for an ACL tear late last season, he has been one of the league's top up-and-comers at the safety position.
On the flip side, the Cleveland Browns took a flier on troubled wide receiver Josh Gordon in the second round of the Supplemental Draft in July 2012. Despite playing in only 14 games in 2013, he led the league in receiving yards (1,646) and plays of 20-plus yards (30). But Gordon is facing a possible yearlong suspension due to multiple failed drug tests and his character has been a strong question mark since he entered the league. Will Gordon be able to stay out of trouble and on the field? Only time will tell, but many around the league are skeptical due to his off-field problems.
As part of Friday's release, Oklahoma pledged to "continue to provide the appropriate assistance to Dorial, just as it does with other students in helping him grow personally from the many opportunities available to him at OU." Green-Beckham needs to take advantage of the help being offered him and inject discipline and structure into his life, which will show NFL teams he is reliable on and off the field.
Based on talent alone, Green-Beckham has the ability to be a similar pro prospect as A.J. Green and earn top-10 grades from teams. But factoring in the character concerns, it would be unfair to stamp him with a round projection this early in the process. Green-Beckham has until mid-January to make a final decision on whether he will be a part of the 2015 NFL Draft class, so stay tuned to this situation.
Show Comments
Hide Comments
A diluted drug test continues recent alarming off-field concerns for talented Alabama pros...

Here are players from Air Force to Wyoming who might not be drafted but could make an NFL...

Who should the Rams take with their first pick? We break down all their options
Who should the Seahawks take with their first pick? We break down all their options

Who should the Cardinals take with their first pick? We break down all their options

Who should the 49ers take with their first pick? We break down all their options