No players selected in NFL's Supplemental Draft
For the second consecutive year none of the special-case players made eligible for the NFL's annual supplemental draft were selected. The four players are now free to sign with any team.
by Rob Rang
The Sports Xchange/CBSSports.com

• 2 min read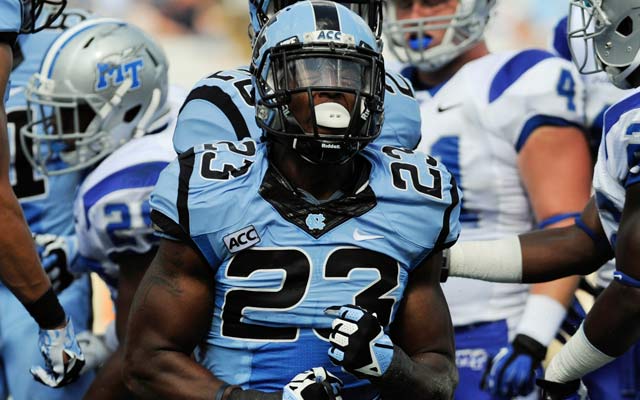 For the second consecutive year the NFL's annual Supplemental Draft came and went without a single player getting selected.
The supplemental draft is very different from the media bonanza that occurs each spring. For one, players have to petition the NFL to be considered. This year there were four players available - New Mexico wide receiver Chase Clayton, North Carolina linebacker Darius Lipford, Virginia-Lynchburg defensive tackle LaKendrick Ross and SMU running back Traylon Shead. 
A breakdown of each player can be read here.
With the draft concluded, each player is now considered a street free agent and can be signed by any team.
The massive Ross has drawn interest from several NFL teams. The 6-foot-6, 360-pound defensive tackle sat out last season after being ruled academically ineligible. 
"He is not going to sign with a team for at least a couple of weeks. He is just not in shape," agent Glen Lansky told NFLDraftScout.com on Thursday. "When he worked out for the scouts (July 7) he said he would do a couple of things and wound up doing everything and it was obvious he just isn't in shape yet.
"There are some teams interested, but he started working with a trainer today and realistically it will take at least a couple of weeks for him to take part in a serious workout for a team. He is focused on this, but it will take time."
The supplemental is carried out via e-mail among teams and is not televised. Because of this, the draft took only a few minutes to begin and finish.
The teams, slotted into three groups based on their won/loss percentage the previous year, contact the league with a list of the players they would draft and the round in which they would take them. Any team that uses a supplemental draft pick would then lose the corresponding selection in the next year's draft.
The supplemental draft was originally created for players who had lost their eligibility between the primary NFL Draft in April and the beginning of the next season. Typically they are players who ran afoul of the law or failed to keep up with their academic obligations.  
A total of 43 players have been selected since the draft's inception in 1977.  Among the most notable Supplemental selections were quarterback Bernie Kosar (Cleveland, 1985), wide receiver Cris Carter (Philadelphia, 1987), linebacker Brian Bosworth (Seattle, 1987) and, most recently, wide receiver Josh Gordon (Cleveland, 2012).
Show Comments
Hide Comments
When factoring in value and quality of player, several teams stand out as true winners of the...

Plus Nick Saban sends a ton of talent to the NFL, the Browns find a QB and more from Rounds...

Here are the 25 best prospects still available after three rounds of the 2017 draft have w...
Here are the 50 best prospects still on the board as the 2017 NFL Draft heads into Day 2

Florida State RB Dalvin Cook will kick off Day 2 of the draft

After an unpredictable Round 1, here are some predictions you can bank on for Rounds 2 and...