On big stage, Teddy Bridgewater flashes No. 1 overall form
Beating Rutgers wasn't easy but with 26 scouts in attendance, the junior quarterback showed off the poise, accuracy and arm strength to warrant his perch atop NFLDraftScout.com's rankings for the 2014 NFL Draft.
by Rob Rang
The Sports Xchange/CBSSports.com

• 4 min read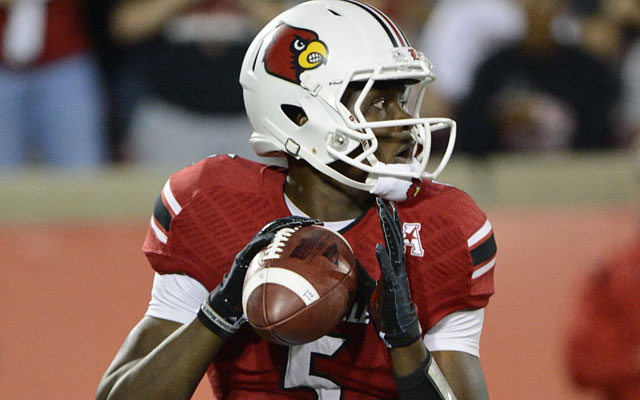 With representatives from most NFL teams attending, Louisville quarterback Teddy Bridgewater impressed while guiding his No. 8 Cardinals to a 24-10 victory Thursday night in a key AAC showdown with Rutgers.
The NFL contingent reportedly included 26 scouts in all, including general managers from the Jacksonville Jaguars, Pittsburgh Steelers, Kansas City Chiefs and Seattle Seahawks. Jacksonville, the favorite to "earn" the No. 1 overall pick and currently projected to select Bridgewater had multiple scouts on hand.
If the pressure of so many scouts in the building bothered Bridgewater, NFLDraftScout.com's top-rated overall prospect, the junior certainly didn't show it.
Taking most of his snaps from under center in Louisville's pro-style offense, the 6-foot-3, 205-pound quarterback completed 21 of 31 passes for 310 yards and two touchdowns with one interception on the night. Bridgewater's performance is all the more impressive considering that his leading receiver, Devante Parker, was a late scratch due to a shoulder injury.
Scouts circled Thursday's game as a relatively rare opportunity to see Bridgewater against a respected opponent. One of the primary knocks on Bridgewater has been his level of competition. Entering Thursday night's game, Louisville had beaten Ohio, Eastern Kentucky, Kentucky, Florida International and Temple by a combined score of 222-27. 
Rutgers (4-2) entered the game with their only previous loss of the year a 52-51 overtime defeat by No. 21 Fresno State in the season-opener August 29.
While talent evaluators can quibble over his opponents, Bridgewater's pin-point accuracy remained every bit as impressive against Rutgers Thursday night as it was in January when he earned MVP honors in guiding Louisville to a shockingly easy win over then No. 4 Florida in the Sugar Bowl.
Just as he had against the Gators, Bridgewater looked every bit a future No. 1 overall candidate with his ability to read defenses and make audibles at the line of scrimmage before delivering catchable passes to all levels of the field.
In an era of spread offenses that rarely ask quarterbacks to challenge defenses with passes longer than 10 yards, Bridgewater's willingness to take deep shots, in fact, is one of the most exciting elements of his play.
His aggression paid off with a beautifully thrown deep corner pass that hit Kai De La Cruz for a 34-yard touchdown that staked the Cardinals to a 10-0 early in the second quarter.
It backfired late in the second quarter, however, when he put slightly too much loft on the ball, allowing Rutgers' free safety Jeremy Deering to beat freshman James Quick for just Bridgewater's second interception of the season.
The interception was actually a well thrown pass from Bridgewater that Deering read and accelerated quickly to corral. Regardless of its aesthetic value, the pass resulted in a turnover that served as a blight on what was otherwise a sterling performance from the young quarterback.
It is sometimes difficult to remember that Bridgewater is just in his third season of collegiate action because of his mastery of some of the subtleties of the position. He is effortless in his set-up and delivery of the ball. Bridgewater possesses a compact throwing motion that gives defenders little time to adjust and is smooth in play-action, extending the ball fully and turning his back to the defense to carry out the fake. Most importantly, he possesses Pro-Bowl caliber accuracy, showing the touch to loft passes over defenders as well as the velocity needed to zip through tight windows. He was particularly effective on slants and deep crossing routes. 
Louisville's offensive line did a nice job of protecting him but Bridgewater occasionally showed off his athleticism, as well. Twice he scrambled for 12-yard gains on Louisville's third scoring drive of the game. He also demonstrated the ability to hit receivers in stride when rolling to his left and right. Among his most impressive throws of the game, in fact, came while running right to escape pressure on Louisville's first drive of the third quarter. Facing third-and-6, Bridgewater, sprinted right and showed good arm strength and great ball placement to lead Damian Copeland for a gain of 20.
While Bridgewater is certainly gifted, like any player he comes with some concerns. When he was off-target in this contest, it was over the middle -- the most dangerous area of the field to be inaccurate. He generally throws tight spirals but had a few wobblers late in the second and third quarters. He also misfired on a deep wheel route with roughly six minutes remaining that could have given Louisville some cushion.  
Further, while Bridgewater has shown great toughness over his career (63 sacks to date) and took some shots in this game, he is lighter than scouts would prefer and has narrow shoulders, limiting his body's capacity to add muscle mass. Some will worry if he'll be able to hold up to the barrage of hits that could come in playing quarterback for one of the league's worst teams.
The fact that so many talent evaluators were on hand for a game that they easily could have watched from the comforts of their living room is a testament to the buzz building around Bridgewater.
With yet another masterful performance, expect that buzz to continue grow.
 
Show Comments
Hide Comments
Plus Louisville prospects look to make their mark in our roundup of Thursday's pro day act...

Brad Kaaya looked smooth in passing drills in front of all 32 teams at Miami's pro day

For teams sorting out their final draft boards, a pro day isn't an afterthought
If the draft plays out like this mock, don't be surprised to see the Jaguars take Leonard Fournette...

Here's what you need to know from the pro days of Florida, Florida State, Texas and Eastern...

The Lions could be in the market for an impact safety and Peppers is a top-tier athlete with...