Out for season, Dominique Easley's status as a first-round pick takes hit
The explosive Florida defensive tackle will miss the remainder of his senior season after tearing his ACL in practice. What does it mean for his draft status?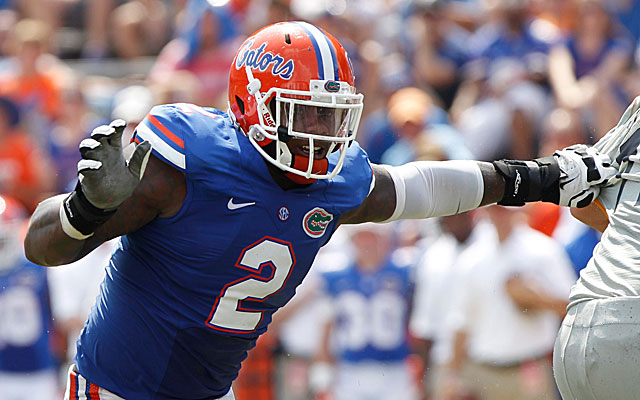 A season-ending knee injury to Florida senior defensive tackle Dominique Easley is an unfortunate turn of events for a player who was considered a first-round draft pick in 2014.
Easley entered the day ranked as NFLDraftScout.com's No. 3 defensive tackle for the 2014 NFL Draft and the 29th overall prospect in the class. He has an explosive first step and is extremely fluid for his size, showing lateral burst to attack gaps and win angles. Easley is a tough, high motor kid and forces the issue with his penetration, making an impact even if he doesn't get the sack or tackle. He is a high character person with a strong work ethic so if anyone can return from an injury like this, it's him.
Easley is currently slotted at No. 32 (Broncos) and No. 19 (Cowboys) in mock drafts by Rob Rang and me, respectively. But with his second ACL tear and 6-8 months of rigorous rehab, his chances of landing in the first round have gone down considerably.
"Test results have revealed that he suffered a tear of both his ACL and medial meniscus, which will require season-ending surgery," Gators head coach Will Muschamp said in a statement.
Earlier on Wednesday, Muschamp referred to Easley's injury as a "tweak," but speculation remained, especially after Easley (@MR_ChUcKie_2) posted this cryptic tweet:
"thank you for all 4 yrs of sticking with me but god has something else planned for and have no worries #believe
Easley tore the ACL in his left knee in November 2011, but was able to return for the 2012 season. Both of his ACL tears have come on non-contact drills when he planted awkwardly. So the good news is that Easley has experience returning from this type of injury, but it will require surgery and it remains questionable that he will be able to work out prior to the draft. This is, however, an example of one of the positives of the NFL Draft being pushed back to May as it gives a player like Easley more time to rehab in hopes of proving to scouts that he's at full health.
Show Comments
Hide Comments
Our Latest Stories
The QBs have the star matchup, but plenty of prospects are worth watching closely this wee...

With 497 rushing yards on the young season, McGuire ranks in the top 10 in college footbal...

The Browns also can't wait on DeShone Kizer, taking the Notre Dame QB at No. 1
A look at NFL prospects who helped and may have hurt themselves this past weekend

Credit Mike McIntyre for developing the talent needed to catch scouts' attention in this t...

The Division-III left tackle transfer is quickly proving he has a future in the NFL