Prospect Matchup: Week 8
Know the top NFL prospects to watch this weekend in the pivotal matchups on the college football landscape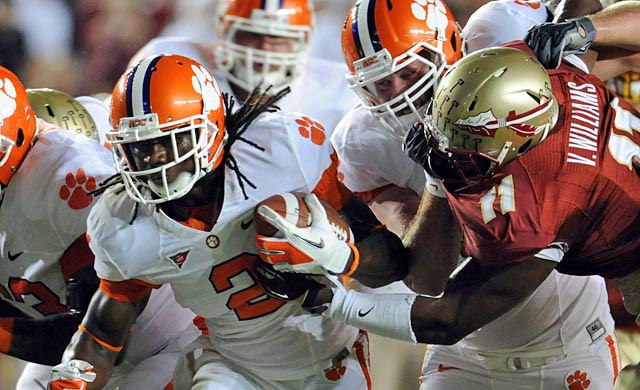 FEATURED MATCHUP:
FLORIDA STATE | CLEMSON
Saturday, October 19, 8 ET
Clemson, S.C. – ABC

The ACC hasn't realistically had a team in the national title hunt since Bobby Bowden's days in Tallahassee. But this season, both Clemson (6-0) and Florida State (5-0) are undefeated and look like viable BCS national championship contenders, making this matchup all that more important for both programs. With Florida State forced to replace 11 draft picks from a year ago, including a first round quarterback, Clemson was expected to be in the driver's seat in the ACC, especially with senior quarterback and Heisman Trophy contender Tajh Boyd leading the Tigers. But redshirt freshman quarterback Jameis Winston has already been more impressive than E.J. Manuel from a year ago and he has the Seminoles looking like an unstoppable machine. Can he lead Florida State into Clemson Memorial Stadium and leave Death Valley with a win? Winston will need to outscore and outplay Boyd for that to happen.

Clemson QB Tajh Boyd vs. Florida State WLB Christian Jones
Despite the undefeated record and gaudy statistics, senior QB Tajh Boyd (6-1, 225, 4.64, #10) has had some ups and downs this season and has yet to clearly establish himself as that clear-cut first round pick. He does have some Russell Wilson to his game with his downfield vision and ability to throw from different platforms, but his ball placement and timing haven't been consistent in 2013. Boyd will need to be on the top of his game against the Seminoles defense, which features several future pros including senior WLB Christian Jones (6-3, 232, 4.64, #7). He has provided versatility this season for FSU, playing both WILL and MIKE LB spots and also lining up as a hand-in-the-dirt DE on some passing downs.

Clemson WR Sammy Watkins vs. Florida State DB Lamarcus Joyner
An explosive play waiting to happen, junior WR Sammy Watkins (6-1, 205, 4.47, #2) leads the Tigers with 36 catches for 582 yards and four scores, including seven receptions of 20-plus yards. While his athleticism and beautiful acceleration have always been his strengths, he has really improved as a receiver, running sharper routes and doing a better job finishing catches away from his body. Watkins, who often lines up in the slot, will occasionally face Florida State senior DB Lamarcus Joyner (5-8, 190, 4.52, #20), who has seen time at both safety and corner over his career, playing a lot of nickelback as a senior. Although he can't improve his height, Joyner has terrific feet, fluid athleticism and plays much bigger that he looks.

Florida State LOT Cameron Erving vs. Clemson DE/OLB Vic Beasley
A player I pegged as an emerging talent over the summer, RS junior DE/OLB Vic Beasley (6-2, 235, 4.64, #3) has lived up to that praise, leading the ACC with nine sacks through six games. A former tight end, he is able to win with his exceptional athleticism to run circles around blockers before closing on the pocket. Beasley uses his length well and has been able to convert speed to power to knock tackles on their heels before disengaging and disrupting the pocket. Seminoles junior LOT Cameron Erving (6-5, 320, 5.26, #75) will have his hands full with Beasley in this game. Erving has the foot quickness to hold his own, but he has been inconsistent vs. speed rushers, struggling to mirror with spotty footwork.

Florida State C Bryan Stork vs. Clemson DT Grady Jarrett
After leaving the game two weeks ago against Maryland with a concussion, senior C Bryan Stork (6-4, 300, 5.20, #52) is expected to return to the field for this contest. He is the anchor of the offensive line, leading the offense with 32 career starts as the only senior starter. Stork needs to continue to play with consistency to cement his status as a top-five center for the 2014 NFL Draft. Junior Grady Jarrett (6-1, 295, 5.16, #50) looks very average in pads with ordinary height and build, but he is a spark plug in the interior, playing with a disruptive motor to make stops in the backfield. He uses his limbs to extend and jolt blockers, forcing his way into the pocket. Stork vs. Jarrett will be interesting in the trenches.

OTHER FLORIDA STATE PROSPECTS TO WATCH:
DT Timmy Jernigan, junior (6-2, 298, 4.98, #8)
WR Rashad Greene, junior (6-0, 180, 4.49, #80)
RB James Wilder, junior (6-1, 229, 4.57, #32)
FS Terrence Brooks, senior (5-11, 200, 4.53, #31)
OLB Telvin Smith, senior (6-2, 218, 4.60, #22)
DT Demonte McAllister, RS senior (6-2, 290, 5.06, #97)

OTHER CLEMSON PROSPECTS TO WATCH:
LOT Brandon Thomas, RS senior (6-3, 315, 5.24, #63)
RB Roderick McDowell, RS senior (5-9, 200, 4.47, #25)
OLB Spencer Shuey, RS senior (6-2, 240, 4.84, #33)
RG Tyler Shatley, RS senior (6-3, 300, 5.26, #62)
WR Martavis Bryant, junior (6-4, 200, 4.57, #1)
DE Corey Crawford, RS junior (6-4, 270, 4.86, #93)
OTHER GAMES TO WATCH:
MIAMI at NORTH CAROLINA
Thursday, Oct. 17, 7:30 ET.
Chapel Hill, N.C. – ESPN

WHEN THE HURRICANES HAVE THE BALL…
Through five games this season, senior QB Stephen Morris (6-2, 215, 4.65, #17) has been a tough evaluation because of the good and the bad. He's been steady and inconsistent, banged up and healthy. Which version will show up against the Tar Heels? Senior ROT Seantrel Henderson (6-7, 342, 5.06, #77) will return to the field after he was suspended against Georgia Tech two weeks ago for breaking team rules. The Hurricanes will need him to help block senior DE Kareem Martin (6-5, 265, 4.82, #95), although thus far he has disappointed this season.

WHEN THE TAR HEELS HAVE THE BALL…
It wouldn't be tough to argue that the top two NFL prospects in this matchup belong to the UNC offense: senior LOT James Hurst (6-6, 305, 5.28, #68) and junior TE Eric Ebron (6-4, 245, 4.67, #85). Hurst isn't elite in any one area, but he's solid as both a run blocker and pass protector. Ebron might be the best tight end in the country with his superb athleticism and catch radius. Senior QB Bryn Renner (6-2, 225, 4.97, #2) appeared ready for a breakout season, but so far in 2013, his play has been uninspiring and he needs a signature win and performance to boost his NFL resume.

OTHER MIAMI PROSPECTS TO WATCH:
OLB Denzel Perryman, junior (6-0, 236, 4.65, #52)
WR Phillip Dorsett, junior (5-9, 187, 4.42, #4)
WR Allen Hurns, senior (6-1, 195, 4.56, #1)
TE Clive Walford, RS junior (6-4, 259, 4.79, #46)

OTHER NORTH CAROLINA PROSPECTS TO WATCH:
CB Tim Scott, junior (5-11, 190, 4.48, #7)
FS Tre Boston, senior (6-0, 205, 4.58, #10)
CB Jabari Price, senior (5-11, 198, 4.56, #4)
DT Tim Jackson, senior (6-4, 285, 4.93, #93)
UCF at LOUISVILLE
Friday, Oct. 18, ET
Louisville, Ken. – ESPN

WHEN THE KNIGHTS HAVE THE BALL…
Everyone knows about the Louisville quarterback in this matchup, but UCF has a NFL prospect at the position as well with RS junior QB Blake Bortles (6-3, 227, 4.89, #5). He displays terrific field vision and overall feel for the position and should be able to push the ball against the Cardinals defense. Bortles isn't quite ready for the bright lights of the NFL, but get familiar with him now. He has a pair of talented tackles blocking for him on the edges: RS junior LOT Torrian Wilson (6-4, 308, 5.28, #72) and senior ROT Chris Martin (6-5, 284, 4.98, #70).

WHEN THE CARDINALS HAVE THE BALL…
After a performance last Thursday that didn't quite live up to some expectations, all eyes will again be on junior QB Teddy Bridgewater (6-3, 205, 4.65, #5) in this prime-time matchup. In Louisville's balanced offense, he might not put up flashy statistics, but Bridgewater is such a natural passer with above average arm talent. He does need to improve his downfield accuracy on deep shots and if junior WR DeVante Parker (6-2, 209, 4.57, #9) is able to play (missed last week due to a shoulder injury), that shouldn't be a problem for the duo.

OTHER UCF PROSPECTS TO WATCH:
DT E.J. Dunston, senior (6-2, 308, 5.18, #95)
WR Jeff Godfrey, senior (5-11, 187, 4.56, #2)
LG Jordan McCray, senior (6-4, 310, 5.34, #63)
RG Justin McCray, senior (6-4, 308, 5.34, #64)

OTHER LOUISVILLE PROSPECTS TO WATCH:
SS Hakeem Smith, RS senior (6-1, 180, 4.58, #29)
RB Michael Dyer, RS junior (5-9, 215, 4.50, #26)
FS Calvin Pryor, junior (6-2, 208, 4.64, #25)
DE Lorenzo Mauldin, junior (6-3, 243, 4.76, #94)
AUBURN at TEXAS A&M
Saturday, Oct. 19, 3:30 ET
College Station, Texas – CBS

WHEN THE TIGERS HAVE THE BALL…
The seventh-ranked rusher in the SEC, junior RB Tre Mason (5-9, 205, 4.50, #21) has been a main cog to the Auburn offense, averaging 5.6 yards per rush. He leads the team in scoring with eight touchdowns (seven rushing and one on a kick return) and will also contribute as a receiver. The Aggies have allowed a lot of points this season on defense, but have a few intriguing prospects on that side of the ball. Senior LB Nate Askew (6-3, 235, 4.53, #9) was a wide receiver until this season but has adapted nicely to LB with his athletic skill-set.

WHEN THE AGGIES HAVE THE BALL…
Everyone knows to watch RS sophomores QB Johnny Manziel (5-11, 210, 4.45, #2) and WR Mike Evans (6-5, 225, 4.58, #13) and senior LOT Jake Matthews (6-5, 305, 5.08, #75) on offense so let's focus on the defensive prospects they'll face in this matchup. Auburn has several intriguing mid-to-late round options like RS senior OLB Dee Ford (6-2, 240, 4.72, #30), who leads the team with three sacks. Also on the defensive line, keep an eye on senior DT Jeffrey Whitaker (6-3, 310, 5.32, #54) and junior DT Gabe Wright (6-2, 296, 4.98, #90).

OTHER AUBURN PROSPECTS TO WATCH:
FB Jay Prosch, RS senior (6-0, 258, 4.67, #35)
CB Chris Davis, senior (5-10, 200, 4.54, #11)
DE Kenneth Carter, senior (6-3, 280, 5.23, #92)
DE Nosa Eguae, RS senior (6-2, 269, 4.84, #94)

OTHER TEXAS A&M PROSPECTS TO WATCH:
ROT Cedric Ogbuehi, RS junior (6-5, 300, 5.15, #70)
WR Derel Walker, senior (6-2, 185, 4.59, #11)
RB Ben Malena, senior (5-8, 195, 4.54, #1)
OLB Steven Jenkins, RS senior (6-2, 220, 4.65, #8)
UCLA at STANFORD
Saturday, Oct. 19, 3:30 ET
Stanford, Calif. – ABC

WHEN THE BRUINS HAVE THE BALL…
UCLA ranks fifth in all of college football in total offense, averaging 547.0 yards per game, with RS sophomore QB Brett Hundley (6-3, 227, 4.68, #17) under center for the Bruins. He appears to improve with every game, flashing the arm talent and overall athleticism that makes scout drool. Hundley's top target, senior WR Shaq Evans (6-1, 210, 4.52, #1), is an impressive physical specimen with the size and agility to get open and make plays with the ball. Senior DE Trent Murphy (6-6, 261, 4.86, #93) leads the team in sacks (5.0) and TFL (8.0).

WHEN THE CARDINAL HAVE THE BALL…
Junior LG David Yankey (6-5, 314, 5.08, #54) receives most of the pub, but senior RG Kevin Danser (6-5, 296, 5.73, #76) is a mauling blocker himself with a nasty demeanor in the run game. In a matchup with two impressive young quarterbacks, the best overall prospect is on the other side of the ball: senior OLB Anthony Barr (6-4, 248, 4.48, #11), who already has double digit tackles for loss (10.0) this season. Senior DL Cassius Marsh (6-4, 262, 4.92, #99) needs a strong game after he was ejected last week for throwing a punch vs. Cal.

OTHER UCLA PROSPECTS TO WATCH:
RB Jordan James, RS junior (5-8, 193, 4.48, #6)
RB Damien Thigpen, RS senior (5-8, 180, 4.44, #25)
ILB Jordan Zumwalt, senior (6-3, 236, 4.72, #35)
OLB Keenan Graham, RS senior (6-1, 246, 4.76, #40)

OTHER STANFORD PROSPECTS TO WATCH:
DE Ben Gardner, RS senior (6-4, 277, 4.97, #49)
ILB Shayne Skov, RS senior (6-2, 245, 4.95, #11)
DE Josh Mauro, RS senior (6-6, 282, 4.98, #90)
RB Tyler Gaffney, RS senior (6-0, 226, 4.57, #25)
ARKANSAS at ALABAMA
Saturday, Oct. 19, 7 ET
Tuscaloosa, Ala. – ESPN

WHEN THE RAZORBACKS HAVE THE BALL…
Arkansas lost seven starters on offense, including their leader at quarterback, but they did return senior C Travis Swanson (6-4, 318, 5.26, #64), who is arguably one of the best pivots in the country. The Razorbacks' offense will need his leadership against a stout Alabama defense led by senior WLB C.J. Mosley (6-2, 232, 4.65, #32), who leads the Tide with 48 tackles. Despite playing in all six games so far, RS junior OLB Adrian Hubbard (6-5, 252, 4.76, #42) has been underwhelming and is still searching for his first sack of the season.

WHEN THE CRIMSON TIDE HAVE THE BALL…
Senior QB A.J. McCarron (6-3, 214, 4.84, #10) might have the most impressive resume among all the prospects at his position in this draft class, but where does he fit in the quarterback rankings? He needs to continue his strong SEC play to show NFL scouts he's more than just a "game manager." One of the best prospect matchups to watch in this contest will be junior LOT Cyrus Kouandjio (6-5, 310, 5.12, #71) against senior DE Chris Smith (6-2, 268, 4.76, #42). Smith leads the SEC in sacks (6.0) and is among the conference leaders in TFL (8.0).

OTHER ARKANSAS PROSPECTS TO WATCH:
DT Byran Jones, senior (6-2, 315, 5.12, #54)
LOT David Hurd, senior (6-5, 318, 5.34, #69)
WR Julian Horton, senior (6-0, 210, 4.59, #2)
FB Kiero Small, RS senior (5-10, 242, 4.86, #36)

OTHER ALABAMA PROSPECTS TO WATCH:
OLB Adrian Hubbard, RS junior (6-5, 252, 4.76, #42)
RG Anthony Steen, RS senior (6-2, 310, 5.22, #61)
DE Ed Stinson, RS senior (6-3, 292, 4.87, #49)
CB Deion Belue, senior (5-11, 183, 4.48, #13)
USC at NOTRE DAME
Saturday, Oct. 19, 7:30 ET
South Bend, Ind. – NBC

WHEN THE TROJANS HAVE THE BALL…
The Trojans' offense scored 38 points last week in the win over Arizona, but will face a tougher test on the road in South Bend. Senior RB Silas Redd (5-9, 200, 4.53, #25) made his season debut last week after missing the first five games rehabbing from multiple offseason knee surgeries. USC hopes he'll be close to full health going up against the Irish stout defensive front, led by RS junior NT Louis Nix (6-2, 352, 5.17, #1). Junior WR Marqise Lee (6-0, 195, 4.49, #9) has done some light running, but is considered "questionable" for this game (knee sprain).

WHEN THE IRISH HAVE THE BALL…
Notre Dame has gelled on offense over the last few weeks with several players emerging as go-to threats for the Irish. RS Junior TE Troy Niklas (6-6, 260, 4.89, #85) is a former defensive lineman, but since he moved to the offensive side of the ball, he's become one of the best blockers in the country and has steadily improved as a pass catcher. He will likely cross paths with RS junior SS Dion Bailey (6-0, 210, 4.58, #18), who roams the middle of the field for the Trojans. Senior OLB Morgan Breslin (6-1, 250, 4.67, #91) is "questionable" to play.

OTHER USC PROSPECTS TO WATCH:
DT George Uko, RS junior (6-3, 285, 5.02, #90)
TE Xavier Grimble, RS junior (6-5, 255, 4.72, #86)
LOT Kevin Graf, RS senior (6-6, 300, 5.24, #77)
DE Devon Kennard, RS senior (6-3, 260, 4.86, #42)

OTHER NOTRE DAME PROSPECTS TO WATCH:
DL Stephon Tuitt, junior (6-5, 303, 4.89, #7)
LOT Zack Martin, RS senior (6-4, 305, 5.22, #70)
OLB Prince Shembo, senior (6-1, 252, 4.76, #55)
CB Bennett Jackson, senior (6-0, 185, 4.52, #2)
Show Comments
Hide Comments
Not every draft pick can be a winner. Here are the 32 guys who could cause the most regret

Our list of late-round gems includes plenty of lesser-known backs and quality linemen

A running back going No. 2 overall? When you're being compared to Hall of Fame runner, yes
Pass rushers and explosive offensive players highlight the best Day 1 contributors

Here's every draft pick heading to the NFC West, including 21 by the Seahawks and 49ers co...

Here's every draft pick heading to the NFC South, home of the NFC's last two Super Bowl te...