Prospect Matchup: Week 9
Know the top NFL prospects to watch this weekend in the pivotal matchups on the college football landscape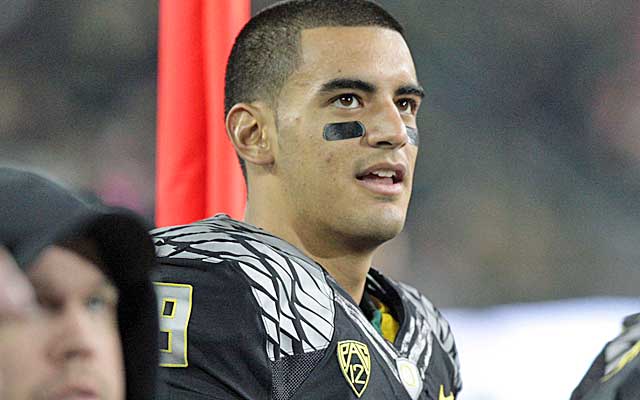 FEATURED MATCHUP:
UCLA | OREGON
Saturday, October 26, 7 p.m.
Eugene, Ore. – ESPN

While the SEC is still king, the Pac-12 has made a strong push to be included in the conversation of college football's best conference. And two big reasons for that is Oregon's offensive powerhouse in Eugene and the re-emerging program at UCLA. The Ducks became a legitimate National Title contender while Chip Kelly was at the helm and, so far, the Mark Helfrich head coaching tenure has continued that success, averaging 57.6 points per game in 2013. Coming off back-to-back losing seasons in 2010-11, Jim Mora took over as Bruins' head coach last season and notched nine wins. UCLA started 5-0 this year but couldn't keep up with Stanford last week, suffering their first loss of the year. With a pair of talented redshirt sophomore quarterbacks (Oregon's Marcus Mariota and UCLA's Brett Hundley), all eyes, including those of NFL scouts, will be on the passers in this match-up.

Oregon QB Marcus Mariota vs. UCLA QB Brett Hundley
No, the quarterbacks don't actually face off against each other on the field, but fans, analysts and scouts won't be able to help but compare the two redshirt sophomores and their performances in this match-up. QB Marcus Mariota (6-4, 212, 4.52, #8) is the conductor of Oregon's full speed offensive attack and has an athletic skill-set that allows him to make plays with his arm and legs, which will likely draw some Colin Kaepernick comparisons. He has the arm to make all the throws, but his accuracy is still a work-in-progress. QB Brett Hundley (6-3, 227, 4.68, #17) has everything you want physically, but is still underdeveloped mentally and isn't quite pro ready. Both have extremely high NFL ceilings.

UCLA OLB Anthony Barr vs. Oregon RB/WR DeAnthony Thomas
Wait, isn't senior OLB Anthony Barr (6-4, 248, 4.48, #11) a pass rusher? He is and that is his strength, but the Bruins will need his range and quickness in space to counter the speed of Oregon RB/WR DeAnthony Thomas (5-9, 170, 4.34, #6) who will see a lot of time lined up in the backfield. Barr is an imposing athlete with an impressive blend of strength to shed and fluidity to bend off the edge or change directions and redirect his momentum in a flash. His sack total is impressive, but he's also stout vs. the run. Oregon uses a lot of creative ways to get the ball in Thomas' hands in order to utilize his explosive speed in space. He has missed the past three games due to a nagging ankle injury but is expected to play against UCLA.

UCLA WR Shaquelle Evans vs. Oregon CB Ifo Ekpre-Olomu
One of the more underrated senior wide receiver prospects, WR Shaquelle Evans (6-1, 210, 4.52, #1) is Brett Hundley's most reliable pass-catcher, leading the Bruins with 319 receiving yards and five touchdowns. He is a tall, well-built target with strong muscle definition and flexibility to make touch catches. He will often be matched-up with junior CB Ifo Ekpre-Olomu (5-10, 185, 4.52, #14), who is not only Oregon's top corner, but also one of the top defensive backs in all of college football. He has fluid footwork and hips to stick with receivers downfield, but also play tough and physical at the line of scrimmage and against the run. Ekpre-Olomu has the skill-set to be the first defensive back drafted in May.

UCLA LG Xavier Su'a-Filo vs. Oregon DL Taylor Hart
Oregon is known for their explosive offense, but the Ducks have plenty of defenders worthy of NFL attention, even after losing a top-three draft pick from last year (Dion Jordan). Senior DL Taylor Hart (6-6, 287, 4.92, #66) is the key to Oregon's versatile defensive front with his ability to line up at any position, from nose tackle to edge rusher and everything in between. He bursts out of his stance and attacks gaps with an active motor that never quits. Hart has a lean lower body, but wins at the point of attack with his smarts and hustle. Junior LG Xavier Su'a-Filo (6-3, 305, 5.18, #56), who also sees time at LT, is the best blocker on the Bruins' OL and wins with his wide base and aggressive power at the point of attack.

OTHER UCLA PROSPECTS TO WATCH:
DE Cassius Marsh, senior (6-4, 262, 4.92, #99)
ILB Jordan Zumwalt, senior (6-3, 236, 4.72, #35)
OLB Keenan Graham, RS senior (6-1, 246, 4.76, #40)
RB Jordan James, RS junior (5-8, 193, 4.48, #6)
DT Sealii Epenesa, senior (6-1, 316, 5.30, #98)
RB Malcolm Jones, senior (6-0, 220, 4.59, #28)

OTHER OREGON PROSPECTS TO WATCH:
WR Josh Huff, senior (5-11, 202, 4.46, #1)
C Hroniss Grasu, RS junior (6-3, 298, 4.96, #55)
OLB Boseko Lokombo, RS senior (6-3, 230, 4.62, #25)
FS Avery Patterson, RS senior (5-9, 190, 4.52, #21)
DT Wade Keliikipi, RS senior (6-3, 306, 5.12, #92)
DB Brian Jackson, RS senior (5-10, 197, 4.58, #12)


OTHER GAMES TO WATCH:
VANDERBILT at TEXAS A&M
Saturday, Oct. 26, Noon
College Station, Tex. – SEC

WHEN THE COMMODORES HAVE THE BALL…
Vanderbilt's top NFL prospect is senior WR Jordan Matthews (6-3, 205, 4.55, #87), who is also one of the top wideouts in the SEC. A long, lean target, he extends well to pluck the ball out of the air and is a strong competitor to out-physical defensive backs. Matthews is a little straight-linish, but has deceiving after-the-catch ability and is a borderline top-40 prospect. An underrated Commodore player is senior LOT Wesley Johnson (6-5, 290, 5.12, #67), who lunges and overextends at times, but is light on his feet with a very high football IQ.

WHEN THE AGGIES HAVE THE BALL…
Redshirt sophomore QB Johnny Manziel (5-11, 210, 4.45, #2) faced some adversity this week after a tough home loss to Auburn last Saturday. He also injured his throwing shoulder in that contest, but will play in this match-up. Senior DE Walker May (6-4, 250, 4.84, #90) is likely a PFA, but he'll be able to help himself if he does well against Aggies senior LOT Jake Matthews (6-5, 305, 5.08, #75). Redshirt sophomore WR Mike Evans (6-5, 225, 4.58, #13) lined up against senior CB Andre Hal (5-11, 186, 4.52, #23) will be a must-see match-up.

OTHER VANDERBILT PROSPECTS TO WATCH:
FS Kenny Ladler, senior (6-0, 205, 4.57, #1)
RB Wesley Tate, RS senior (6-1, 215, 4.58, #24)
LB Chase Garnham, senior (6-2, 234, 4.76, #36)
DE Kyle Woestmann, RS junior (6-3, 255, 4.96, #92)

OTHER TEXAS A&M PROSPECTS TO WATCH:
ROT Cedric Ogbuehi, RS junior (6-5, 300, 5.15, #70)
WR Travis Labhart, RS senior (5-9, 180, 4.58, #15)
RB Ben Malena, senior (5-8, 195, 4.54, #1)
OLB Steven Jenkins, RS senior (6-2, 220, 4.65, #8)
TENNESSEE at ALABAMA
Saturday, Oct. 26, 3:30 p.m.
Tuscaloosa, Ala. – CBS

WHEN THE VOLUNTEERS HAVE THE BALL…
After a narrow loss to Georgia, Tennessee rebounded with a win over South Carolina last week, but it won't get any easier this Saturday. The Volunteers veteran offensive line will be tested in this match-up against Alabama's strong and physical front-seven. Senior ROT Ja'Wuan James (6-6, 318, 5.28, #70) and junior LOT Antonio Richardson (6-6, 327, 5.16, #74) are arguably the best tackle tandem in the country. And Tennessee will need them on the top of their game as they face Alabama senior DE Ed Stinson (6-3, 292, 4.87, #49) and junior OLB Adrian Hubbard (6-5, 252, 4.76, #42).

WHEN THE CRIMSON TIDE HAVE THE BALL…
Although his lack of range limits his overall effectiveness, senior NT Daniel McCullers (6-6, 351, 5.18, #98) is a double-team magnet with his mammoth size and raw power to clog running lanes. He has improved his pre-snap awareness to put himself in position to make plays, recording 2.5 tackles for loss last week against the Gamecocks. McCullers will face off against senior RG Anthony Steen (6-2, 310, 5.22, #61), who is one of the top five seniors at his position. Junior LB A.J. Johnson (6-2, 243, 4.73, #45) leads the team with 55 tackles.

OTHER TENNESSEE PROSPECTS TO WATCH:
C James Stone, senior (6-3, 292, 5.27, #64)
RB Rajion Neal, senior (5-11, 212, 4.53, #20)
RG Zach Fulton, senior (6-5, 323, 5.34, #72)
LG Alex Bullard, RS senior (6-2, 302, 5.22, #78)

OTHER ALABAMA PROSPECTS TO WATCH:
LOT Cyrus Kouandjio, junior (6-5, 310, 5.12, #71)
LB C.J. Mosley, senior (6-2, 232, 4.65, #32)
FS HaHa Clinton-Dix, junior (6-1, 208, 4.54, #6)
QB A.J. McCarron, RS senior (6-3, 214, 4.84, #10)
SOUTH CAROLINA at MISSOURI
Saturday, Oct. 26, 7 p.m.
Columbia, Mo. – ESPN2

WHEN THE GAMECOCKS HAVE THE BALL…
A substantial reason for Missouri's undefeated start to the 2013 season is their consistency on defense, specifically up front with an active pass rush. Senior DE Michael Sam (6-2, 255, 4.74, #52) ranks second in college football, averaging 1.3 sacks per game, and fourth in tackles for loss, averaging 1.9 each contest. On the other side, junior DE Kony Ealy (6-5, 275, 4.77, #47) is just as disruptive with 3.5 sacks on the season. For the Gamecocks, junior LT Corey Robinson (6-7, 341, 5.36, #53) will have his hands full with the Mizzou rushing duo.

WHEN THE TIGERS HAVE THE BALL…
Missouri has an impressive arsenal of wideouts who create mismatches due to their impressive combination of height and athleticism. Seniors WR L'Damian Washington (6-4, 205, 4.39, #2) and WR Marcus Lucas (6-4, 220, 4.58, #85) lead the team in receptions and have combined for eight touchdowns (seven by Washington). Despite moderate statistics, junior DE Jadeveon Clowney (6-5, 274, 4.56, #7) has still made his presence felt. His impact can't be felt just on the stat sheet, which is why he still belongs in the No. 1 overall pick conversation.

OTHER SOUTH CAROLINA PROSPECTS TO WATCH:
DE Chaz Sutton, RS senior (6-4, 263, 4.82, #90)
CB Jimmy Legree, RS senior (5-11, 187, 4.52, #15)
QB Connor Shaw, senior (6-1, 209, 4.64, #14)
RG Ronald Patrick, senior (6-2, 315, 5.34, #67)

OTHER MISSOURI PROSPECTS TO WATCH:
CB E.J. Gaines, senior (5-10, 195, 4.44, #31)
LT Justin Britt, RS senior (6-6, 315, 5.28, #68)
ILB Andrew Wilson, RS senior (6-3, 240, 4.72, #48)
RB Henry Josey, RS junior (5-10, 190, 4.49, #20)
TEXAS at TCU
Saturday, Oct. 26, 7:30 p.m.
Fort Worth, Tex. – Fox Sports 1

WHEN THE LONGHORNS HAVE THE BALL…
The top match-up in this game might be on the outside when senior WR Mike Davis (6-2, 195, 4.52, #1) faces senior CB Jason Verrett (5-10, 178, 4.49, #2), who is arguably the best defensive back in the country. Davis is second on the team in catches and receiving yards, but has a team-best five touchdowns and has proven to be a dangerous deep threat. Verrett only has one interception on the year, but has 12 passes defended with his ballhawking instincts. Senior LOT Donald Hawkins (6-5, 312, 5.28, #51) is an intriguing NFL guard prospect.

WHEN THE HORNED FROGS HAVE THE BALL…
Although he hasn't been consistently dominant, senior DE Jackson Jeffcoat (6-4, 252, 4.79, #44) is among the conference leaders with 5.0 sacks and 7.0 tackles for loss. He fires off the snap and shows the effort to finish through the whistle, but he is the type of prospect who leaves you wanting more. Senior DT Chris Whaley (6-3, 295, 5.02, #96) is a former top high school recruit and has shown flashes, but scouts need to see more consistency. Senior CB Carrington Byndom (6-0, 182, 4.53, #23) is one of the Big 12's top DB prospects.

OTHER TEXAS PROSPECTS TO WATCH:
LG Trey Hopkins, senior (6-4, 302, 5.26, #75)
RG Mason Walters, RS senior (6-5, 320, 5.22, #72)
SS Adrian Phillips, senior (5-11, 201, 4.57, #17)
CB Quandre Diggs, junior (5-10, 200, 4.48, #6)

OTHER TCU PROSPECTS TO WATCH:
FS Elisha Olabode, senior (5-9, 195, 4.52, #6)
C Eric Tausch, RS senior (6-2, 300, 5.37, #73)
RB Waymon James, RS senior (5-8, 203, 4.63, #32)
WR Brandon Carter, junior (5-11, 186, 4.46, #3)
PENN STATE at OHIO STATE
Saturday, Oct. 26, 8 p.m.
Columbus, Ohio – ABC

WHEN THE NITTANY LIONS HAVE THE BALL…
One of the more anticipated match-ups this weekend, junior WR Allen Robinson (6-3, 205, 4.54, #8) vs. junior CB Bradley Roby (5-11, 192, 4.39, #1) will be a great challenge for both prospects. They are both physical and aggressive with the ball in the air, but Roby has the speed advantage and Robinson is bigger and stronger. Junior OLB Ryan Shazier (6-2, 230, 4.58, #10) has the range and closing burst to make an impact in the run game, but he needs to do a better job anticipating blocks and avoiding the trash. Shazier also leads the Buckeyes in TFL (8.0).

WHEN THE BUCKEYES HAVE THE BALL…
Penn State's run defense is allowing just 117.7 yards per game on the ground, but will face a tough test against the Buckeyes led by senior RB Carlos Hyde (6-0, 235, 4.62, #34), who leads the team with 443 rushing yards (6.2 yards per carry average). Senior DT DaQuan Jones (6-3, 333, 5.18, #91) leads the Nittany Lions with 8.5 tackles for loss, but is also second on the squad with 39 tackles. Senior ILB Glenn Carson (6-3, 235, 4.83, #40) isn't quite at Michael Mauti's level, but he is Penn State's leading tackler and provides defensive leadership.

OTHER PENN STATE PROSPECTS TO WATCH:
RG John Urschel, RS senior (6-3, 304, 5.27, #64)
FS Malcolm Willis, RS senior (5-11, 215, 4.64, #10)
TE Matt Lehman, RS senior (6-6, 252, 4.92, #84)
RB Bill Belton, junior (5-10, 200, 4.53, #1)

OTHER OHIO STATE PROSPECTS TO WATCH:
LOT Jack Mewhort, RS senior (6-6, 308, 5.28, #74)
SS C.J. Barnett, senior (6-0, 205, 4.59, #4)
LG Andrew Norwell, senior (6-6, 316, 5.33, #78)
C Corey Linsley, RS senior (6-3, 298, 5.24, #71)
STANFORD at OREGON STATE
Saturday, Oct. 26, 10:30 p.m.
Corvallis, Ore. – ESPN

WHEN THE CARDINAL HAVE THE BALL…
While he has registered just a pair of sacks on the season, junior DE Scott Crichton (6-3, 260, 4.73, #95) is one of the few nationally who have already collected double-digit tackles for loss (10.0). He has a quick first step with a stout build to make an impact against both the run and the pass. The second-best defensive prospect for the Beavers is senior CB Rashaad Reynolds (5-10, 190, 4.50, #16), who has already surpassed his 2012 interception total with four. Senior RB Tyler Gaffney (6-0, 226, 4.57, #25) is a tough, grind-it-out type of back.

WHEN THE BEAVERS HAVE THE BALL…
One of the most exciting receivers in the country is junior WR Brandin Cooks (5-10, 182, 4.52, #7), who leads all of college football in receptions (76), receiving yards (1,176) and receiving scores (12). He is explosive with terrific hand-eye coordination to reel-in tough catches despite his shorter stature. Junior QB Sean Mannion (6-4, 215, 4.94, #4) is a big reason for Cooks' production this year, but will face his toughest test of the season against Stanford's aggressive front-seven, led by senior ILB Shayne Skov (6-2, 245, 4.95, #11).

OTHER STANFORD PROSPECTS TO WATCH:
DE Trent Murphy, RS senior (6-6, 261, 4.86, #93)
DE Ben Gardner, RS senior (6-4, 277, 4.97, #49)
DE Josh Mauro, RS senior (6-6, 282, 4.98, #90)
RG Kevin Danser, RS senior (6-5, 296, 5.73, #76)

OTHER OREGON STATE PROSPECTS TO WATCH:
CB Sean Martin, RS senior (5-11, 185, 4.59, #6)
LOT Michael Philipp, RS senior (6-3, 328, 5.32, #77)
WLB Michael Doctor, senior (5-11, 228, 4.64, #40)
RG Grant Enger, RS senior (6-5, 290, 5.18, #71)
Show Comments
Hide Comments
Plus Nick Saban sends a ton of talent to the NFL, the Browns find a QB and more from Rounds...

Here are the 25 best prospects still available after three rounds of the 2017 draft have w...

Here are the 50 best prospects still on the board as the 2017 NFL Draft heads into Day 2
Florida State RB Dalvin Cook will kick off Day 2 of the draft

After an unpredictable Round 1, here are some predictions you can bank on for Rounds 2 and...

Receivers surprise in the top 10, Alabama goes MIA in the top 15 and more 2017 NFL Draft t...