Scouts Roundtable: Who are the top Big Ten prospects?
Three NFL scouts discuss their opinions on what the Big Ten conference has to offer for the 2014 NFL Draft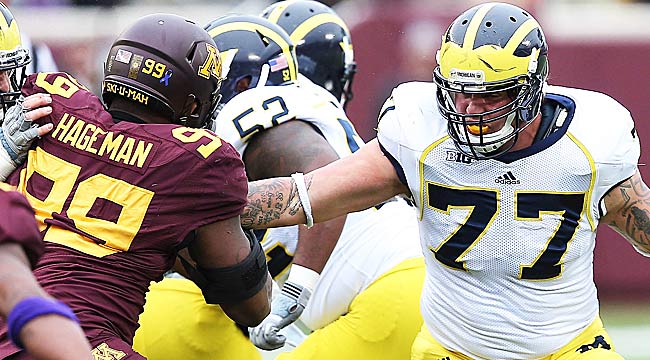 TOPIC
The Big Ten came extremely close to not producing a first round pick this past April, but the Cowboys came through, selecting Wisconsin interior lineman Travis Frederick 31st overall.

However, the conference should have a strong bounce back year with the 2014 class of pro prospects, led by senior offensive tackle Taylor Lewan and junior cornerback Bradley Roby. To gauge the overall outlook on the conference's prospects for next May's draft, I asked three different pro scouts to briefly discuss their take on the current NFL talent in the Big Ten.

Scout A: I love some of the senior prospects in the Big Ten this year, here are a few thoughts: Iowa (C.J. Fiedorowicz), Indiana (Ted Bolser) and Purdue (Gabe Holmes) all have senior tight ends that we think highly of – watch them. I've seen good things from Michigan State's top receiver (Bennie Fowler) and expect him to have a big final season in East Lansing. Roby, the corner out of Ohio State is "as advertised" and a future NFL star. One kid who isn't getting much ink just yet is Shede Hageman from up there at Minnesota, but I bet he ends up in the first round.

Scout B: I spend a lot of time in Columbus each year and I REALLY like Shazier. He's a beast, plain and simple. Few years back, I was observing a different Buckeye backer (Etienne Sabino) at practice because he received high grades by a few scouting services. But as I was watching him, I was blown away by this athletic linebacker performing bag drills next to him. I asked a young OSU coach what his story was and I found out it was a true frosh by the name of Shazier. He looked 200 pounds soaking wet but his closing burst and active nature was jaw-dropping. Kid's a third year junior now and I think the secret's out. He's got a killer motor, team-first "tude" and the athletic traits to play sideline-to-sideline. I see a mix of Daryl Washington and Lavonte David, two second round guys. I can't see teams making the same mistake with Ryan and letting him fall that far.

Scout C: I don't scout east of the Mississippi River, but I graduated from a Big Ten school 30 years ago so I'm always in tune with what's going on over there. Consider me in the BOB (Bill O'Brien) fan club. He'll be in the league soon. I can't wait to see what he does in year two in Happy Valley. And for me, two of his guys on offense really stood out last year: Robinson the receiver and that athletic tight end they have (Allen Robinson and Kyler Carter). Bradley Roby has swivel hips and the lower body explosion that you want at the position, but I do have questions about his anticipation. Nonetheless, he's going high. Also, watch Hageman, the big bonker out of Minnesota, that kid has top-15 potential.

My reaction: It's impossible to cover every Big Ten prospect in these responses, but I found it interesting that none of the three scouts mentioned Michigan's senior left tackle Lewan, who some believe has top-10 potential. On the flip side, two of the scouts mentioned Minnesota defensive tackle Rashede Hageman as a first rounder. And I'm not sure what a "big bonker" is, but it was used in a positive way to describe the Minnesota senior. I'm glad one of the scouts brought up Penn State's Allen Robinson, who I think has a chance to be an Anquan Boldin-type of receiver at the next level. Although Ohio State's left tackle Jack Mewhort wasn't mentioned, he is another Big Ten prospect worth watching this year.

Overall, no big surprises with the replies, high marks for Ohio State's Bradley Roby and Ryan Shazier with a few other Big Ten names sprinkled in to watch this season.
Show Comments
Hide Comments
A report Thursday afternoon indicates that Myles Garrett will be the first overall pick in...

Four defensive backs are picked in the final five spots of the first round in Rob Rang's final...

Character has become such a concern for draft prospects that scouts spend a majority of their...
Also, expect Haason Reddick to go higher than expected and Reuben Foster to be taken on Th...

Plus the Cowboys and Steelers find new cornerbacks late in the first round in Dane Brugler's...

Late breaking news has caused several players to slide down the Top 100 just before the 2017...