Seahawks' rookie RB Christine Michael dazzles vs. Packers
Michael led all NFL rushers in Week One of the preseason and with 98 yards, including a 43-yard touchdown Friday night against the Packers, he's put himself in position to do it again in Week Three.
by Rob Rang
The Sports Xchange/CBSSports.com

• 1 min read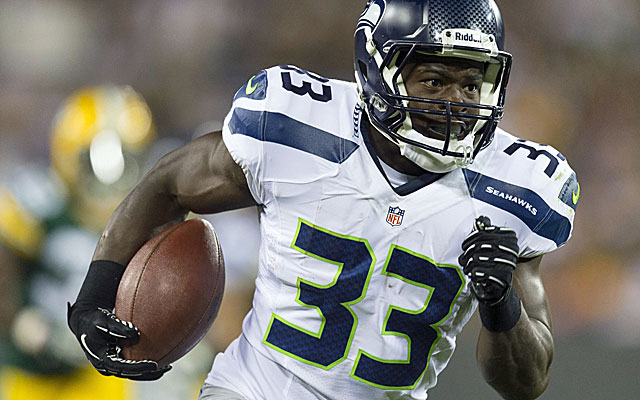 Let's just state the obvious right away: the Seahawks' starting running back is Marshawn Lynch.
Lynch is not only a Pro Bowler, he's among the team's most respected players. 
But it wasn't hard to imagine a future with 2013 second round pick Christine Michael operating as the lead back in Seattle after he tore through the Green Bay Packers Friday night for 122 all-purpose yards including a tie-breaking 43-yard touchdown.
Three plays, in particular, stood out, beginning with the score, which appeared to come against a mix of Green Bay's first and second units.   
On the 43-yard touchdown run, Michael took the hand-off from Russell Wilson and exploded through a wide lane up the middle. Michael had several holes to choose from as the Seahawks' starting offensive line blocked it well. Further, he received a terrific downfield block by wideout Jermaine Kearse. It was the explosion with which the rookie hit the hole and accelerated down the sideline, however, that turned the potential 10-yard gain into an game-changing score. 
After giving up a tying touchdown, Seattle fed Michael on their next snap from scrimmage. The rookie broke free off the left side for an even prettier run. Sliding left and right to evade defenders (and even incorporating a probably unnecessary spin move), Michael danced his way for a gain of 18.
Michael showed off more of his electric moves (and soft hands, as well) on a 25-yard catch and run in the early fourth quarter. After collecting the pass from Brady Quinn, the rookie burst ahead to simply out-ran defenders with obvious angles on him. The play gave Seattle momentum and they capitalized immediately. One snap later, Quinn hooked up with wideout Stephen Williams for a 42-yard score to give the Seahawks what wound up being the winning score.
Packers' rookie Eddie Lacy had been a focal point of the buildup to this preseason matchup between NFC favorites. With Aaron Rodgers only playing one series, however, the Seahawks were relatively free to tee off on the Packers' running game and they did so against Lacy, holding the rookie from Alabama to -5 yards on eight carries.
While the storyline was set up for Lacy, it was the athleticism of the rookie from Texas A&M, however, that wound up stealing the show.
Show Comments
Hide Comments
Our Latest Stories
Texas A&M and Alabama highlight this weekend's biggest matchup for NFL scouts

Scouts are salivating for Texas A&M vs. Bama, a showcase for the top two prospects in the...

The most freakish talent in college football paired with Cam Newton is a scary thought for...
A look at NFL prospects who helped and may have hurt themselves this past weekend

J.T. Barrett stepped up when it mattered most on Saturday against Wisconsin

The Vols will be looking to finish what they started last year in Tuscaloosa this Saturday