Skov, Mauro bully Bruins in Stanford's win
The focus was on the "skill positions" in the Stanford-UCLA showdown but impressive play from two Cardinal defenders should continue their season-long rise up draft boards.
by Rob Rang
The Sports Xchange/CBSSports.com

• 2 min read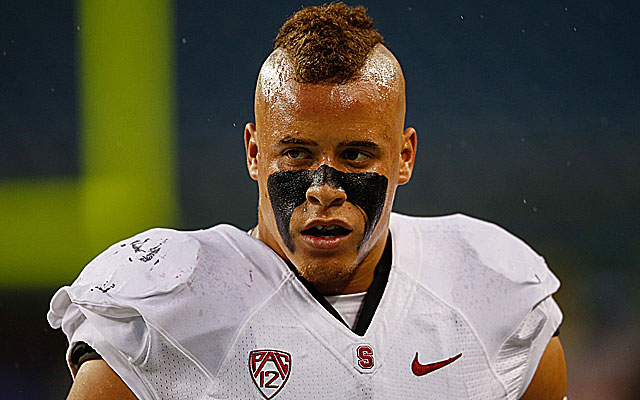 In a game billed as a showdown between exciting redshirt sophomore quarterbacks Brett Hundley and Kevin Hogan, defenses instead stole the spotlight in a Pac-12 battle pitting No. 9 UCLA against No. 13 Stanford.
Cardinal inside linebacker Shayne Skov and defensive lineman Josh Mauro personified the physicality of the game with their intense, technically sound play in the Cardinal's 24-10 win.
Each has played well this season, steadily rising up draft boards.
Skov, NFLDraftScout.com's No. 4 inside linebacker, has demonstrated more explosiveness in his second season removed from a torn ACL. The 6-foot-2, 245-pounder exploded through gaps in UCLA's offensive line for several emphatic collisions with Bruins backs, resulting in multiple tackles for loss on the day.
The physicality was there for Skov a season ago. One of Skov's greatest attributes has always been aggression in taking on and shedding blockers in the hole.
This year, however, he has shown greater patience when breaking down with ball-carriers in the open field because he has regained his explosive closing ability. This has led to less lunging by Skov and more secure textbook tackling.
Skov's over-aggression got the better of him early in this contest, however, as he failed to ease up with Hundley firing a pass over him, barreling into the quarterback. Skov's hit wasn't dirty but he did lower his shoulder to brace for the collision, making it an easy call for a Pac-12 officiating crew known for calling games tightly.
While Skov signed with Stanford as a highly regarded recruit and immediately stood out, the 6-foot-6, 282-pound Mauro only emerged as a starter a season ago.
The broad-shouldered defender is listed as a defensive end for Stanford but saw many snaps inside at defensive tackle and at nose guard for the Cardinal against UCLA. There, his long-arms and impressive upper body strength helped him control the middle of the Bruins' offensive line. This became easier as the game went on as UCLA suffered several injuries up front, causing re-shuffling along the offensive line. Mauro's most impressive plays, it is worth noting, occurred early in the game.
Tall enough to read where the ball was going after the snap, Mauro can extend his arms and pull blockers aside on his way to impressive solo tackles at the line of scrimmage.
As his size suggests, Mauro isn't an explosive pass rusher. He has good initial quickness off the snap, is very strong and plays with a terrific motor. He did not record a sack against UCLA but entered the contest second on the team (with three) behind star outside linebacker Trent Edwards (five) and posted five sacks in his first extensive duty a year ago.
Mauro's best position would seem to be as a five-technique defensive end, which makes him an intriguing prospect for proponents of the 4-3 and 3-4 schemes, alike. This versatility could result in a significantly higher selection than where NFLDraftScout.com currently ranks him.
Show Comments
Hide Comments
Receivers surprise in the top 10, Alabama goes MIA in the top 15 and more 2017 NFL Draft t...

Florida State RB Dalvin Cook will kick off Day 2 of the draft

Here are the 50 best prospects still on the board as the 2017 NFL Draft heads into Day 2
A report Thursday afternoon indicates that Myles Garrett will be the first overall pick in...

Four defensive backs are picked in the final five spots of the first round in Rob Rang's final...

Character has become such a concern for draft prospects that scouts spend a majority of their...