Texans GM: 'I absolutely know who I want' with No. 1 NFL Draft pick
General manager Rick Smith remains open for business for peers that want to back up a Brinks truck of draft pickst to obtain the No. 1 overall pick before the 2014 draft begins next Thursday. Short of that, Smith knows how he will invest the top pick.
The Sports Xchange/CBSSports.com

• 1 min read
More Draft coverage: Mock Drafts | Prospect Rankings | Big Board | News
Houston Texans general manager Rick Smith knows exactly what he intends to do with the No. 1 overall pick when the team is officially on the clock next Thursday to open the 2014 NFL Draft in New York.
Just in case a tremor of a trade offer comes down the pike, Smith will keep the identity of the player the Texans covet to himself for the time being.
"I absolutely know who I want," Smith said.
While good friend Ozzie Newsome said he hasn't the slightest hunch what Smith will do, Sports Xchange contributor John McClain reported Wednesday that Houston was down to two possibilities at No. 1: South Carolina defensive end Jadeveon Clowney and state-grown quarterback Johnny Manziel.
There is also the option of sending the pick to the highest bidder. Even if the Texans draft a player, Smith could do so with the intent to unload that prospect to the highest bidder. Jacksonville, which drafts third overall, Cleveland (fourth), Oakland (fifth) and Atlanta (sixth) are all thought to hold some level of interest in Clowney or Manziel.
"Where the game is played is if there's an opportunity to move and, in this case, obviously to move back if somebody else wants to come up to that first pick," Smith said. "Then you weigh what the opportunities are versus who the individual is that you want to take and what that value is relative to the value that somebody might be offering you."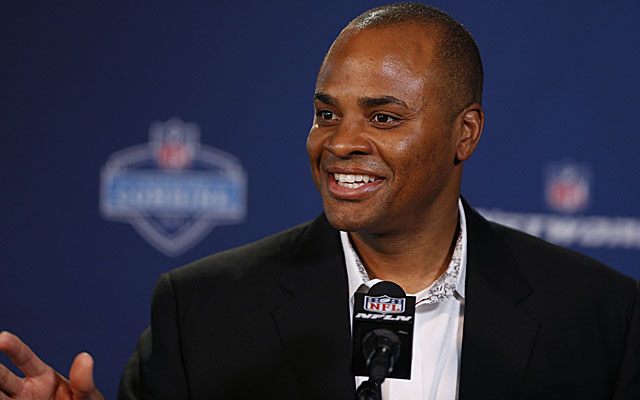 The Texans hosted Clowney and Manziel on the same date -- April 21 -- at team headquarters.
Houston holds 11 total picks and McClain said the top pick would come at the steepest of prices -- a first-, second- and fourth-round pick in the 2014 draft and a first-rounder next year.
One known need for the Texans is quarterback. If Houston passes on Manziel, Central Florida's Blake Bortles and Louisville's Teddy Bridgewater at No. 1, O'Brien could push to trade back into the first round to get a future franchise quarterback. Houston also picks 33rd overall.
Drafting a quarterback in the first round comes with a higher salary slot but also the advantage of a fifth-year team option.
In the second round, players receive four-year deals with no option but annual salaries are less than $1 million.
Show Comments
Hide Comments
NFL scouts like Jake Butt and they cannot lie. He's the latest star in Jim Harbaugh's TE-friendly...

Reeves-Maybin makes up for his lack of size with terrific instincts and agility

Royce Freeman leads the top draft-eligible Ducks as our countdown of the top programs rolls...
Our countdown of the top programs for NFL prospects continues with the Hurricanes

Can Max Redfield, a former five-star recruit, put it all together for his senior season?

Our countdown of the top programs for NFL prospects continues