Top NFL Rookie of Week 14: Vikings WR Cordarrelle Patterson
Even though the Vikings ultimately lost to the Baltimore Ravens, it is hard to discount Patterson's 255 all-purpose yardage, which included a 79 yard touchdown reception with 45 seconds left to give Minnesota a four-point lead.
by Rob Rang
The Sports Xchange/CBSSports.com

• 2 min read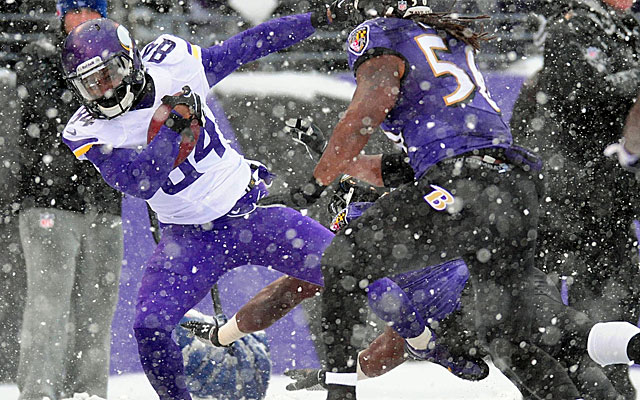 Each Tuesday of the NFL season NFLDraftScout.com Senior Analyst Rob Rang will identify his Rookie of the Week. To qualify, the first-year professional player must have played a significant role in a competitive NFL game, demonstrating not just flashes of talent but the potential to emerge as a legitimate long-term standout. The player's draft status -- whether as a former first round pick or undrafted free agent -- does not apply.
Top NFL Rookie of Week 14: Minnesota Vikings' WR
Cordarrelle Patterson
With frigid temperatures and snow blanketing football fields all across the NFL landscape last weekend, the setting was perfect for a dramatic performance.
Minnesota Vikings' wideout and kick return extraordinaire Cordarrelle Patterson was happy to oblige, catching five passes for 141 yards and a touchdown and running for another 112 yards on four kickoffs against the defending Super Bowl champion Baltimore Ravens.
The wintery conditions kept both teams offenses in deep freeze throughout much of the contest but it was a flurry of points rather than snowflakes in the fourth quarter that made this game memorable.
After scoring just 13 total points over the first three quarters of action, the Ravens and Vikings combined for 42 points in the final stanza, including four touchdowns in the last two minutes. 
The clubs traded big plays late in the fourth quarter with longtime Viking Toby Gerhart rumbling for an impressive 41-yard touchdown to give Minnesota the 19-15 advantage.  Jacoby Jones answered for the Ravens seconds later, however, returning the subsequent kickoff 77-yards to retake the lead.
And that is when Patterson made his biggest contribution of the game, taking a quick screen from backup quarterback Matt Cassel quickly upfield, before breaking left than right than left again to weave his way through the Baltimore defense for a 79-yard score. The touchdown gave Minnesota a seemingly insurmountable 26-22 lead with just 45 seconds remaining.
Another rookie - Ravens' wideout Marlon Brown - got the last laugh in this game, however, hauling in 35-yard pass from Joe Flacco to kick-start the Ravens' come-back before dragging both feet as he fell out of the back of the end zone with the game-winning nine-yard score.
While Brown and the Ravens made the biggest play late, it was Patterson's emergence that was arguably the bigger story. The Vikings were desperate for someone to step up with superstar Adrian Peterson going down with a scary midfoot sprain midway through the second quarter.
Blessed with extraordinary athleticism, the 6-foot-2, 220-pound Patterson has emerged as Minnesota's best big play threat, though he remains a work in progress as a route-runner. The same flair for the dramatic which helped him dominate the SEC in his one season of action in the FBS, however, has given the Vikings reason for optimism in a season that otherwise has been largely forgettable. 
Patterson and the Vikings host the Philadelphia Eagles on Sunday.
Rookie of the Week Archives:
Week One: Carolina Panthers DT Star Lotulelei
Week Two: Houston Texans WR DeAndre Hopkins
Week Three: New York Jets QB Geno Smith
Week Four: Buffalo Bills ILB Kiko Alonso
Week Five: Green Bay Packers RB Eddie Lacy
Week Six: Detroit Lions TE Joseph Fauria
Week Seven: Washington Redskins TE Jordan Reed
Week Eight: Arizona Cardinals RB Andre Ellington
Week Nine: New England Patriots WR Aaron Dobson
Week 10: St. Louis Rams WR/PR Tavon Austin
Week 11: Oakland Raiders QB Matt McGloin
Week 12: New York Jets DL Sheldon Richardson
Week 13: Denver Broncos RB Montee Ball
Show Comments
Hide Comments
Our countdown of the top programs for NFL prospects continues

The 'little' brother of Panthers' Star is a 6-2, 310-pound run stuffer.

Many of the tools that had scouts buzzing about Carson Wentz are present with Leidner
No shocker here: A lineman and a RB are among the Badgers' top NFL prospects

Will NFL scouts be as excited about Hurd as his size, speed and production suggests?

Carlos Watkins needs mechanical refinement, but the future is bright for the Clemson defen...