Top NFL Rookie of Week 4: Buffalo Bills' ILB Kiko Alonso
Intercepting passes three and four of the young season, Alonso, the No. 46 overall pick of the 2013 draft, helped guide the Bills to a surprising win over the reigning Super Bowl champs.
by Rob Rang
The Sports Xchange/CBSSports.com

• 3 min read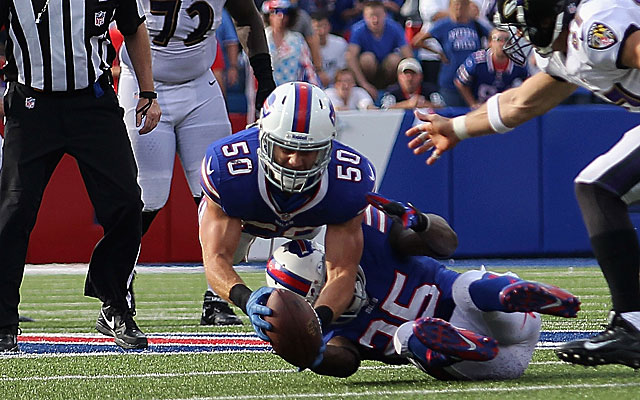 Each Tuesday of the NFL season NFLDraftScout.com Senior Analyst Rob Rang will identify his Rookie of the Week. To qualify, the first-year professional player must have played a significant role in a competitive NFL game, demonstrating not just flashes of talent but the potential to emerge as a legitimate long-term standout. The player's draft status - whether as a former first round pick or undrafted free agent - does not apply.

NFL Rookie of Week 4: Buffalo Bills' ILB Kiko Alonso
Considering the fanfare surrounding fellow first-year standouts EJ Manuel and Robert Woods, it isn't surprising that linebacker Kiko Alonso hasn't generated a great deal of national attention despite the fact that he's been arguably the most consistently impressive rookie of the young NFL season.
Alonso is likely used to being overshadowed by now. After all, he was rarely mentioned in the same breath with the other "elite" inside linebackers prior to the 2013 draft (like Manti Te'o, Kevin Minter, etc.) despite proving more athletic than either during drills and proving to be a playmaker throughout his career at Oregon. Alonso was even overshadowed while at Oregon even though he was a more consistent performer in big games than Dion Jordan, whom the Miami Dolphins selected No. 3 overall. 
Alonso, who entered Sunday's game with interceptions in each of the past two games (vs. Carolina, New York Jets), picked off reigning Super Bowl MVP Joe Flacco twice in the second half as the Bills protected a single-score lead to successfully win in front of a passionate home crowd at Ralph Wilson Stadium.
Alonso's second interception came with just 57 seconds remaining and the Ravens driving down by just three points to give Buffalo the improbable victory. 
Interceptions are funny. Sometimes athletes happen to be in the right place at the right time. In Alonso's case, he demonstrated awareness, athleticism and ball-skills to make the clutch plays and wasn't simply fortunate to find the ball near him. 
Alonso's first interception came with approximately five minutes remaining in the third quarter. Flacco was drifting back and attempted to hit wide receiver Marlon Brown on a shallow crossing route. Alonso initially followed another Ravens' receiver (Tandon Doss) across the middle but with one wideout leaving the middle (Doss) and Brown entering it, Alonso remained in position. The rookie linebacker's patience was rewarded as he jumped in front of Brown to snatch Flacco's pass for the easy interception.
Alonso's game-winning interception was more impressive and not just because of the fact that it directly led to Buffalo securing the victory.
The rookie middle linebacker got an initial jam on veteran tight end Dallas Clark, slowing the former Indianapolis Colts' Pro Bowler before stepping back up towards the line of scrimmage. Flacco zipped a pass to Clark but the ball was knocked into the air as Clark and Buffalo safety Da'Norris Searcy collided. The ball wasn't in the air for long but Alonso made an impressive diving attempt to pluck it, sneaking his hands under the ball just before it hit the turf. Alonso juggled the ball slightly before securing it, giving him his NFL-leading fourth interception and the Bills their second win of the season. 
Along with his two interceptions, the rookie middle linebacker made five tackles on the afternoon.
Considering Alonso's history as a playmaker, perhaps NFL fans shouldn't be surprised by his rookie success. He and his teammates will get another opportunity under the bright lights to further impress this week as the Bills travel to Cleveland to play the Browns Thursday night.
Rookie of the Week Archives:
Top Rookie in Week One: Carolina Panthers' DT Star Lotulelei
Top Rookie in Week Two: Houston Texans' WR DeAndre Hopkins
Top Rookie in Week Three: New York Jets' QB Geno Smith
Show Comments
Hide Comments
Four defensive backs are picked in the final five spots of the first round in Rob Rang's final...

Character has become such a concern for draft prospects that scouts spend a majority of their...

Also, expect Haason Reddick to go higher than expected and Reuben Foster to be taken on Th...
Plus the Cowboys and Steelers find new cornerbacks late in the first round in Dane Brugler's...

Late breaking news has caused several players to slide down the Top 100 just before the 2017...

Drama is always a certainty when it comes to the unpredictability of the draft