Top Prospect of Week 14: Penn State WR Allen Robinson
If Saturday's upset win at Wisconsin was the junior's final game for the Nittany Lions, Robinson went out in style, showing the versatile skill-set that could result in a high selection in the 2014 NFL draft.
by Rob Rang
The Sports Xchange/CBSSports.com

• 4 min read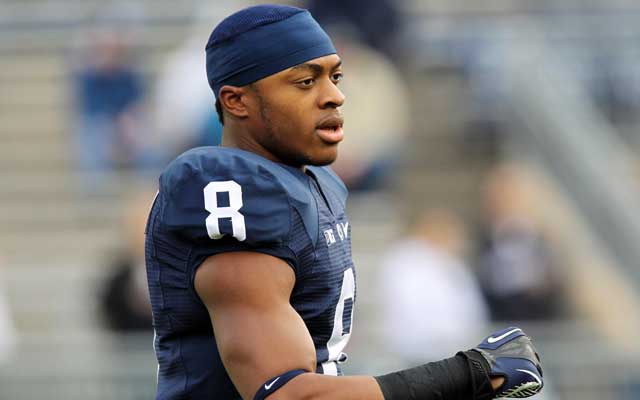 Each Wednesday of the college football season NFLDraftScout.com Senior Analyst Rob Rang will identify his Prospect of the Week. To qualify, the player must have played a significant role in their team's performance against a quality opponent, demonstrating not only effectiveness as the collegiate level but the rare traits to demand the attention of pro scouts, as well.
Top Prospect of Week 14: Penn State WR Allen Robinson

NFL scouts flocking to see Penn State take on Wisconsin is certainly nothing new.
For the top prospects on both teams to play wide receiver, however, is a bit unusual.
The elite pass-catchers in the Big Ten put on a show Saturday afternoon as Allen Robinson's Nittany Lions surprised Jared Abberderis and the No. 15 ranked Badgers, winning 31-24. 
Each receiver played well, showing off the contrasting styles that project nicely to the next level. On this day, however, it was the junior from Penn State who starred.   
Robinson, a 6-foot-3, 205-pound junior, is the physical prototype, blending great size, strength and acceleration to project as a future NFL star. He's much more fluid than his lanky frame would suggest and showed great power and determination in this contest, fighting off would-be tacklers to generate yards after the catch.
Abbrederis, listed at 6-foot-1, 190-pounds, relies on quickness and body control rather than straight-line speed or power to generate separation from defenders. Those tasked with stopping him have a day of sore feet ahead of them, as he is an absolute ankle-breaker.   The Badgers' senior used his great quickness to consistently get open against Penn State, catching a game-high 12 passes for 135 yards.
While Abbrederis was statistically superior, Robinson (eight catches for 122 yards) was the more impressive performer, utilizing his straight-line speed and strength to blow past the Badgers' for big plays or simply shoving defenders out of the way to generate yardage after the catch.
As the clear focal point in head coach Bill O'Brien's quick-hitting pro-style attack, Robinson isn't just talented, he's developing into a polished route-runner and hands-catcher. He's used on a variety of routes which just make his projection to the NFL that much easier.
Robinson's biggest play of the game, for example, came off of a quick screen in the first quarter. With 9:00 remaining in the open quarter and the Nittany Lions facing a 2nd and 13 from their own 27-yard line, Robinson went in motion towards the Penn State (left) sideline. At the snap he hesitated, caught the quick pass from quarterback Christian Hackenberg  and showed off his vision, fluidity and acceleration, cutting first towards the middle of the field and then back to the left to run down the sideline for a gain of 52 yards.
His first catch of the game was a quick slant against press coverage on Penn State's opening drive. Showing the savvy scouts are looking for, Robinson took an initial step and then hesitated, freezing talented Wisconsin cornerback Sojour Shelton, before breaking sharply at a 45 degree angle to collect the pass from Hackenberg for an easy first down.
While Robinson's quickness and acceleration make him more than capable of lining up inside as a slot receiver in the NFL (as he often does for Penn State), it is his size, physicality and leaping ability which consistently beat up the Badgers Saturday.
With the Nittany Lions trailing 14-7 in the closing minutes of the first half, Robinson ran an 18-yard square-in and leapt into the air to haul down a high pass from Hackenberg to give Penn State first and goal from the two-yard line. The pass was thrown where only Robinson could catch it but robbed him of the opportunity to do anything after making the grab.
Robinson was featured on the Nittany Lions' first drive following the half, diving back towards his quarterback and getting his hands underneath the football to save one low pass for a first down and showing off his strength to push aside Shelton and linebacker Derek Landisch after catching a quick out for another one. 
The variety of routes run, receiver positions played and the ability to gain separation against both press-man and off coverage is an indication of Robinson's polish. His consistent production this season is another.
Saturday was the eighth time this season the First Team All-Big Ten wideout eclipsed the 100-yard mark. Despite catching just three passes for 29 yards as a true freshman two years ago, Robinson's 175 career receptions rank second in school history to Deon Butler's 177.
With the Nittany Lions ineligible for a bowl this season due to NCAA sanctions, it remains to be seen if the next pass Robinson catches comes with Penn State or in the NFL. The junior has said that he'll discuss his options with his family and make a decision over Penn State's holiday break.


Prospect of the Week Archives:
Week 1: Alabama WR/RS Christion Jones
Week 2: Miami LB Denzel Perryman
Week 3: Washington RB Bishop Sankey
Week 4: Fresno State QB Derek Carr
Week 5: Texas A&M OT Jake Matthews
Week 6: TCU CB Jason Verrett
Week 7: Texas Tech TE Jace Amaro
Week 8: Florida State OLB Telvin Smith
Week 9: Stanford DE/OLB Trent Murphy
Week 10: Michigan State CB Darqueze Dennard
Week 11: Wisconsin ILB Chris Borland
Week 12: Boston College RB Andre Williams
Week 13: LSU OT La'el Collins
Show Comments
Hide Comments
Plus Seahawks eschew needs on the line and Rams seek help for Goff as we hand out NFC West...

Plus Saints and Falcons load up on defense as NFC South gets a massive boost in talent

Lions draft for now, Packers run down their checklist and Vikings find a runner in our NFC...
Plus Giants do a lot with a little and Eagles and Redskins face durability concerns in our...

Plus Broncos and Chargers help their QBs while Raiders gamble big in our AFC West grades

Texans pin hopes to Watson, new Jaguars must focus and Titans help Mariota in our AFC South...