Top Prospect of Week 15: Connecticut LB Yawin Smallwood
Overshadowed by the "other" games last Saturday was a strong all-around performance from Smallwood, a junior and two-time all-conference pick who has already announced his intentions to enter the 2014 draft.
by Rob Rang
The Sports Xchange/CBSSports.com

• 2 min read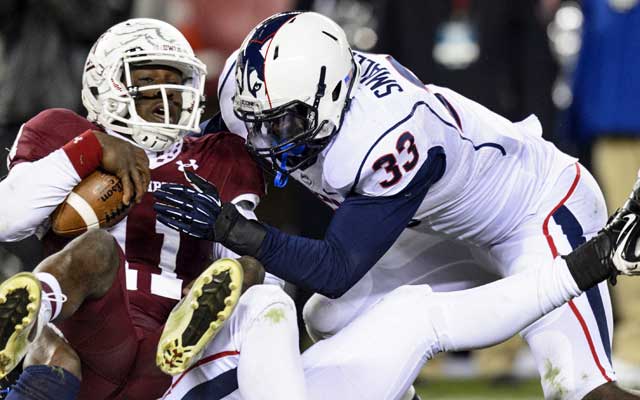 Each Wednesday of the college football season NFLDraftScout.com Senior Analyst Rob Rang will identify his Prospect of the Week. To qualify, the player must have played a significant role in their team's performance against a quality opponent, demonstrating not only effectiveness as the collegiate level but the rare traits to demand the attention of pro scouts, as well.
Top Prospect of Week 14: Connecticut LB Yawin Smallwood

For good reason, much of the focus following Conference Championship Saturday has centered upon impressive wins by Florida State, Auburn, Michigan State and Stanford.
From a scouts' perspective, however, one of the most noteworthy performances of the weekend actually took place in a much quieter setting. 
Shortly after helping the Connecticut Huskies beat the Memphis Tigers 45-10 Saturday, Smallwood announced his intention to forgo his senior season and enter the 2014 NFL draft.
Demonstrating the same big play ability which characterized much of his three starting seasons for the Huskies, the First Team American Athletic Conference (formerly Big East) pick registered seven tackles (six solos), including two sacks and a pass broken up.
It wasn't the most statistically dominant game of Smallwood's career but it did show off the versatility of the linebacker, who paced UCONN with 118 tackles, 9.5 tackles for loss and four sacks and was voted the team's Defensive MVP this season.
One of Smallwood's most impressive characteristics is his ability to rush the quarterback. He "only" registered two sacks against the Tigers - with each of them coming in the fourth quarter as the Huskies held a double-digit lead - but his awareness and acceleration resulted in big plays for teammates on several other, earlier snaps.
Connecticut defensive tackle Shamar Stephen was credited with the first quarter sack that forced a Memphis field goal attempt for example, but it was Smallwood who forced Tigers' quarterback Paxton Lynch to step up into the arms of the 6-foot-5, 313 pound defender.
Possessing an athletic frame and ease of motion typically found in outside linebackers, Smallwood burst upfield on a delayed blitz, nearly taking down Lynch, himself. The speed with which Smallwood entered the quarterback's vision seemed to startle him and Lynch dropped his eyes to scramble rather than keeping his head up to find receivers breaking open.
Smallwood's athleticism is just as helpful when dropping into coverage.
A more fluid athlete than Stanford's Shayne Skov or Wisconsin's Chris Borland, NFLDraftScout.com's top-rated senior inside linebackers, Smallwood was asked to cover wide receivers as well as running backs against Memphis, showing good balance, agility and speed for the position.
Complementing Smallwood's athleticism are his long arms and strong hands, other physical characteristics scouts prefer at the position because they help defenders disengage from blocks and latch on to the shifty ball-carriers in the NFL. 
With the NFL increasingly turning towards the pass, inside linebackers generally drop on draft day. Smallwood's intriguing traits, however, could make him an exception to the rule.
Prospect of the Week Archives:
Week 1: Alabama WR/RS Christion Jones
Week 2: Miami LB Denzel Perryman
Week 3: Washington RB Bishop Sankey
Week 4: Fresno State QB Derek Carr
Week 5: Texas A&M OT Jake Matthews
Week 6: TCU CB Jason Verrett
Week 7: Texas Tech TE Jace Amaro
Week 8: Florida State OLB Telvin Smith
Week 9: Stanford DE/OLB Trent Murphy
Week 10: Michigan State CB Darqueze Dennard
Week 11: Wisconsin ILB Chris Borland
Week 12: Boston College RB Andre Williams
Week 13: LSU OT La'el Collins
Week 14: Penn State WR Allen Robinson
Show Comments
Hide Comments
A diluted drug test continues recent alarming off-field concerns for talented Alabama pros...

Here are players from Air Force to Wyoming who might not be drafted but could make an NFL...

Who should the Rams take with their first pick? We break down all their options
Who should the Seahawks take with their first pick? We break down all their options

Who should the Cardinals take with their first pick? We break down all their options

Who should the 49ers take with their first pick? We break down all their options