Top Prospect of Week 8: Florida State LB Telvin Smith
Think it was just Jameis Winston that led to the Seminoles dominating victory over Clemson? Scouts are gushing about the athleticism and awareness in coverage Smith showed, as well.
by Rob Rang
The Sports Xchange/CBSSports.com

• 3 min read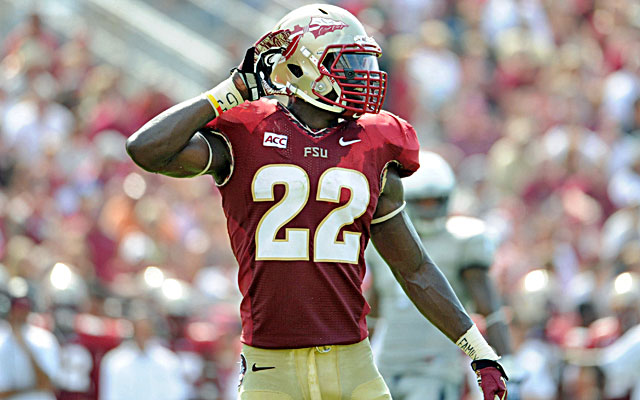 Each Wednesday of the college football season NFLDraftScout.com Senior Analyst Rob Rang will identify his Prospect of the Week. To qualify, the player must have played a significant role in their team's performance against a quality opponent, demonstrating not only effectiveness as the collegiate level but the rare traits to demand the attention of pro scouts, as well.
Top Prospect of Week 8: Florida State LB Telvin Smith
With a breathtaking performance in a primetime showdown with Tajh Boyd and Clemson, freshman sensation Jameis Winston stole the spotlight from two rosters filled with highly regarded NFL prospects.
Heisman voters can afford to focus on dynamic underclassmen. NFL scouts can appreciate them for now but can't waste opportunities to gauge so many talented seniors in such a competitive environment.

By forcing three turnovers against the Tigers, versatile FSU defensive back Lamarcus Joyner made sure scouts couldn't help but leave Death Valley acknowledging his instincts and big-play ability.
Since Saturday night's 51-14 shellacking, Winston and Joyner have been well acknowledged for their play. Outside linebacker Telvin Smith, however, hasn't generated as much hype ... at least not in the media. Scouts leaving the game, however, were quick to point to Smith's athleticism and awareness as "hidden" factors in Florida State's ability to shut down Clemson's high-powered offense.
Under the legendary Bobby Bowden and defensive coordinator Mickey Andrews, the Seminoles built the mold for undersized athletic linebackers just like the 6-foot-2, 218-pound Smith.
Few of the 220-pounders that starred for Florida State during this era were able to continue their success as linebackers in the NFL. The physical demands of the position were often too much for players of this size, forcing some to attempt to make the switch to safety.
Smith's toughness and athleticism give him as good a shot as any of Florida State's undersized linebackers over the year. Better yet, he's poised to the enter the NFL at a time in which teams are more willing than ever to sacrifice mass for speed and instincts in coverage from the linebacker position.
Smith's athleticism was demonstrated almost immediately against the Tigers. Though Joyner was the defender who ripped the ball away from Stanton Seckinger on the first play from scrimmage, Smith hit the Clemson tight end first. Further, it was Smith who batted away the Tigers' next series, knocking down a 3rd down pass from Boyd to running back Roderick McDowell that forced Clemson's first punt. He wasn't just asked to cover backs and tight ends in this contest. Smith covered Clemson wideouts, including superstar Sammy Watkins, at times -- and covered him well. 
Regardless of Smith's coverage ability, to play linebacker in the NFL, one must be a forceful and reliable open field tackler.
Perhaps the play that best illustrated Smith's strengths and weaknesses in this regard came early in the second quarter with Florida State ahead 17-7.
Boyd hit McDowell on a quick swing pass to his right and the 5-foot-9, 190-pound running back caught the ball with nearly 15 yards of open field between himself and Smith, whose rapid closing seemed to illustrate that he had coverage responsibilities. McDowell tried to shake the linebacker but Smith's explosive speed seemed to catch the running back by surprise and the two collided for what looked like a four-yard loss.
Instead, McDowell was able to wiggle free, reversing his field to run left, before cutting back right into the middle of the field... only to find the hustling Smith waiting to knock the back to the ground for a loss of eight.
The chaotic second quarter tackle for loss was Smith's only "big" play from a statistical standpoint. Officially Florida State credited him with 11 tackles, though he appeared to be on more. Further, their stat sheet doesn't recognize the handful pass breakups he seemed to force in this game. 
Regardless of the statistical evidence, Smith's ability to cover sideline to sideline, appeared to unnerve the Tigers.
Prospect of the Week Archives:
Week 1: Alabama WR/RS Christion Jones
Week 2: Miami LB Denzel Perryman
Week 3: Washington RB Bishop Sankey
Week 4: Fresno State QB Derek Carr
Week 5: Texas A&M OT Jake Matthews
Week 6: TCU CB Jason Verrett
Week 7: Texas Tech TE Jace Amaro
Show Comments
Hide Comments
Ross looks like the perfect replacement for Brandin Cooks in the Big Easy

The top three-technique prospect in the draft could see his name not called at all

A diluted drug test continues recent alarming off-field concerns for talented Alabama pros...
Here are players from Air Force to Wyoming who might not be drafted but could make an NFL...

Who should the Rams take with their first pick? We break down all their options

Who should the Seahawks take with their first pick? We break down all their options