Top Prospect of Week 9: Stanford DE/OLB Trent Murphy
Murphy was unstoppable against Oregon State which leads to two obvious questions -- where will he play in the NFL and can he repeat his success this week against undefeated Oregon?
by Rob Rang
The Sports Xchange/CBSSports.com

• 3 min read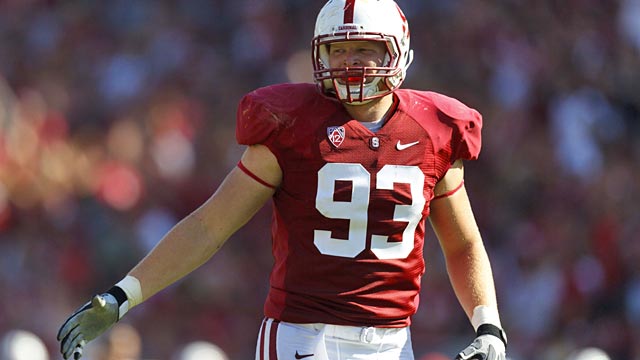 Each Wednesday of the college football season NFLDraftScout.com Senior Analyst Rob Rang will identify his Prospect of the Week. To qualify, the player must have played a significant role in their team's performance against a quality opponent, demonstrating not only effectiveness as the collegiate level but the rare traits to demand the attention of pro scouts, as well.
Top Prospect of Week 9: Stanford DE/OLB Trent Murphy

At 6-foot-6, 261 pounds, Stanford's Murphy is an imposing figure. As he demonstrated in dominating fashion against Oregon State in a primetime Pac-12 showdown October 26, NFLDraftScout.com's top-rated senior defensive end is also powerful, surprisingly athletic and instinctive.

Alternately lining up as a stand-up outside linebacker or as hand-in-the-dirt defensive end, Murphy recorded eight tackles in the 20-12 victory over the Beavers, including 3.5 for loss. Of those, 2.5 were sacks. Murphy also knocked down a pass, blocked an extra point and hurried Oregon State quarterback Sean Mannion on two other occasions, helping to limit the Maxwell Award finalist to season lows in QB rating (117.1), passing yardage (271) and touchdowns (one) despite attempting more passes (57) than in any other game this year. For his efforts Murphy was named the Pac-12's Defensive Player of the Week.

It wasn't just his conference taking note of Murphy's performance, however. Talent evaluators on hand for the game couldn't help but draw comparisons to Houston Texans' star J.J. Watt for Murphy's ability to impact the game in so many ways.

Like the reigning NFL Defensive Player of the Year, Murphy is at his best attacking the quarterback. While not truly explosive off the snap, Murphy's long legs help him cover ground quickly and he shows surprising flexibility to dip and close around the corner for a man of his size. This body control and length also allows Murphy to consistently defeat the cut blocks which render most players of his height ineffective. Murphy quickly reacts to cut blocks, showing the hand usage to knock would-be blockers to the ground, as well as the flexibility to sprawl and quickly recover.
A breakdown of Murphy's biggest plays:
Murphy's first sack was his easiest. Rather than meet him at the edge, Oregon State left tackle Michael Philipp initially turned inside with fellow senior LG Josh Andrews, allowing Murphy (playing DE on a four man front) a free release upfield on 3rd and 20 to record an easy sack on Mannion.
His next sack ended another Oregon State drive, this time the Beavers' first series of the second half. Again lining up as a traditional 4-3 defensive end, Murphy rushed upfield only to be contained by Philipp, himself a potential NFL draft pick. Showing awareness, powerful, active hands and a high revving motor, Murphy took advantage of the 6-foot-4, 328-pound left tackle sliding left to cut back inside, swim over the top of Philipp with his right arm and close on the quarterback.
Murphy's next major contribution to the game was his blocked PAT of the Beavers' only touchdown of the game. Oregon State had seemingly seized the momentum, cutting Stanford's lead to 13-9 with 46 seconds remaining in the third quarter in front of a passionate crowd in Corvalis. Rather than punctuate their 12-play, 90-yard scoring drive with an extra point to lessen Stanford's lead to just a field goal, Murphy, lining up in the middle, used his great height, leaping ability and timing to block the kick.  
Murphy's third sack of the game came with 4:04 remaining in the game. Murphy was again lined up as a defensive end but this time out of a three man front. Rather than lining up on the outside shade of the left tackle, he was held in tighter to keep his containment responsibilities. Murphy quickly crossed the face of Philipp, forcing the left tackle to frantically slide to his left. Sensing the pass blocker's loss of balance, Murphy planted his right foot and spun back to the inside, freeing himself up to quickly close on Mannion again.
Whether on the inside or out, in the two-point stance or three, Murphy was an obvious difference-maker against Oregon State. As talented as the Beavers are, however, Murphy will have to be just as impressive this week against the undefeated Oregon Ducks for his Cardinal to pull off the upset in Palo Alto. 
Prospect of the Week Archives:
Week 1: Alabama WR/RS Christion Jones
Week 2: Miami LB Denzel Perryman
Week 3: Washington RB Bishop Sankey
Week 4: Fresno State QB Derek Carr
Week 5: Texas A&M OT Jake Matthews
Week 6: TCU CB Jason Verrett
Week 7: Texas Tech TE Jace Amaro
Week 8: Florida State OLB Telvin Smith
Show Comments
Hide Comments
Our countdown of the top programs for NFL prospects continues

The 'little' brother of Panthers' Star is a 6-2, 310-pound run stuffer.

Many of the tools that had scouts buzzing about Carson Wentz are present with Leidner
No shocker here: A lineman and a RB are among the Badgers' top NFL prospects

Will NFL scouts be as excited about Hurd as his size, speed and production suggests?

Carlos Watkins needs mechanical refinement, but the future is bright for the Clemson defen...