Top Prospect of Week Five: Texas A&M OT Jake Matthews
Overshadowed by his QB and even fellow offensive linemen throughout much of his career, Matthews' dominant play against Arkansas and their SEC sack-leader Chris Smith erased any doubt scouts had about his ability to remain at left tackle in the NFL.
by Rob Rang
The Sports Xchange/CBSSports.com

• 3 min read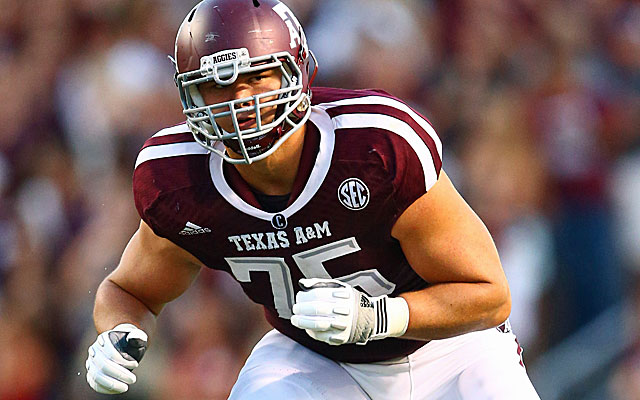 Each Wednesday of the college football season NFLDraftScout.com Senior Analyst Rob Rang will identify his Prospect of the Week. To qualify, the player must have played a significant role in their team's performance against a quality opponent, demonstrating not only effectiveness as the collegiate level but the rare traits to demand the attention of pro scouts, as well.
Top Prospect of Week Five: Texas A&M OT Jake Matthews
Virtually all of the buzz surrounding Texas A&M's first trip to play Arkansas since 1990 focused on either mega-watt star Johnny Manziel or the fact that this contest was the SEC debut for new Razorbacks' head coach Bret Bielema.

With such built-in story lines, it was easy for some to lose sight of one of the most intriguing one on one matchups of the early 2013 season. NFL scouts, of course, were watching and so was NFLDraftScout.com as Matthews, starting just the fourth game of his career at left tackle, was facing Arkansas' Chris Smith, a 6-2, 268-pound speed rusher whose 5.5 sacks over his first four games led the country.

Smith, the only returning SEC player other than South Carolina's Jadeveon Clowney to have recorded nine or more sacks a season ago, is a legitimate NFL prospect in his own right. He's quick off the snap and doesn't rely just on his athleticism to wreak havoc off the edge. He uses his natural leverage advantage to bull rush tackles and has good lateral agility to jab-step outside and beat leaning pass-blockers with a quick burst back inside.

Virtually none of it worked against Matthews, NFLDraftScout.com's top-rated senior prospect, however, as the 6-foot-5, 305-pound All-American lived up to this lofty ranking by holding Smith to just one assisted tackle in this contest. 

The Aggies' starting right tackle each of the past three seasons, Matthews turned down an opportunity to be an early first round pick a year ago, instead electing to return and take over the critical left tackle role with Luke Joeckel declaring for the NFL as a junior. Scouts loved the grit, power and technique Matthews had demonstrated on the strongside over his career at A&M but some remained skeptical about his ability to handle the top pass-rushers in the SEC.

Texas A&M wasted little time in testing Matthews' ability, calling a deep pass on their first snap. Easing off the snap with a combination of balance and grace that belied his limited experience at the position, Matthews easily latched on to Smith, giving Manziel a comfortable pocket from which to throw a 49-yard strike to Mike Evans, instantly hushing a passionate Arkansas crowd.

Like Joeckel before him, Matthews is a smooth, albeit not elite athlete. He slides out of his stance, demonstrating great patience to allow the defender to come to him. Once his opponent is near him, Matthews shows greater upper body strength than his former linemate, instantly corralling opponents with powerful hands, good extension and leverage due to playing with his knees bent, butt down and shoulders square.

Considering that he's the son of former Houston Oilers and Tennessee Titans' Hall of Famer Bruce Matthews, Jake's textbook technique is perhaps no surprise.

His high selection in the 2014 draft won't be a surprise either.
Nor will it be a surprise when he remains if he remains at left tackle in the NFL.  

Smith, Matthews' primary opponent, only made statistical contribution to this game. It came midway through the second quarter with A&M nursing a 24-17 lead. As he'd done throughout the game, Matthews controlled Smith on this snap but was left in a tough position with Manziel scrambling to his left. Approximately seven seconds after taking the snap, Manziel was sacked by Smith and Deatrick Wise, Jr. to force an A&M punt.

It was the only sack A&M allowed on the day in 30 passing attempts. The Aggies also rushed for 261 yards and two scores, including running the ball on 29 of 38 plays from scrimmage in the second half as they robbed the Razorbacks and their crowd's enthusiasm on their way to the 45-33 win.

Week One: Alabama WR/RS Christion Jones
Week Two: Miami LB Denzel Perryman
Week Three: Washington RB Bishop Sankey
Week Four: Fresno State QB Derek Carr
Show Comments
Hide Comments
Not every draft pick can be a winner. Here are the 32 guys who could cause the most regret

Our list of late-round gems includes plenty of lesser-known backs and quality linemen

A running back going No. 2 overall? When you're being compared to Hall of Fame runner, yes
Pass rushers and explosive offensive players highlight the best Day 1 contributors

Here's every draft pick heading to the NFC West, including 21 by the Seahawks and 49ers co...

Here's every draft pick heading to the NFC South, home of the NFC's last two Super Bowl te...