Tuel Time? Bills starting QB Jeff Tuel struggled vs. Redskins
Buffalo named Jeff Tuel as its starting QB for the opener against the Patriots, should EJ Manuel be unable to play. Tuel's inefficient play Saturday night against the Redskins provides little reason to be optimistic.
by Rob Rang
The Sports Xchange/CBSSports.com

• 2 min read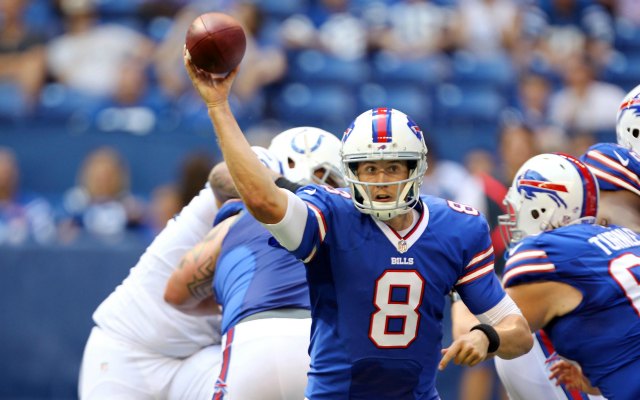 Every undrafted rookie lucky enough to get an opportunity to play in the NFL dreams of a scenario in which they are thrust into the starting role.
Jeff Tuel may find himself in this situation as Buffalo Bills head coach Doug Marrone told reporters Monday that the former Washington State Cougar -- and not newly added veterans Thaddeus Lewis or Matt Leinart -- will be his starting quarterback Sept. 8 against the New England Patriots should first-round pick EJ Manuel's knee not yet be sound.
Manuel was named the Bills' starter but Marrone isn't sure if the former Florida State star will be available after undergoing "minor" knee surgery Aug. 18. Worse, it is being reported that Kevin Kolb's concussion could be a career-threatening injury.
Reviewing Tuel's performance against the Redskins only makes the dark clouds more menacing.
The rookie completed 10 of 17 passes but for only 63 yards in over three quarters of action of the 30-7 blowout loss. The Bills didn't convert a single third down in their final seven series and only converted twice the entire game via the pass. By comparison, the Redskins' hardly imposing duo of Rex Grossman and Pat White threw for 16 first downs.
Tuel often resorted to check-down passes over the middle that resulted in small gains. He throws the ball with a bit of a windup, which isn't helped by average arm strength. He throws the ball with functional accuracy but doesn't often enough put the ball in position to allow Buffalo's receivers to gain yardage after the catch.
On a positive note, the 6-foot-3, 221-pound Tuel did show a willingness to take shots down the field. Twice he attempted to hit wideout T.J. Graham deep down the left sideline when Washington challenged him with man-to-man coverage. Both throws hung in the air slightly and resulted in pass interference calls, the first going against Graham and the second against Redskins cornerback David Amerson.
He's also intelligent. Tuel threw for 5,936 yards and 33 scores with one of the least-talented FBS teams in the country over his time in the Palouse, operating effectively out of spread attacks coached by Paul Wulff and Mike Leach. I listed him as one of five quarterbacks in my Diamonds in the Rough preview for the 2013 NFL Draft. He has been studying the Bills' playbook since May and it shows in the way he scans the field. He's a surprisingly good athlete, as well.
Further, Tuel certainly started his career with the Bills impressively, completing 19 of 23 passes for 212 yards and two scores in the preseason opener against the Colts. He attempted only three passes (completing two for 24 yards) in the Bills' Week 2 victory against Minnesota.
Tuel has enough traits to potentially earn a spot on the Bills' roster but, frankly, the rookie looked over his head against the Redskins' reserves.
The Bills traded with the Detroit Lions for Lewis and signed Leinart a day later to give the team options as it prepares for New England.

Read more of Rang's Rookie Reports here.
Show Comments
Hide Comments
Our Latest Stories
The Lions could be in the market for an impact safety and Peppers is a top-tier athlete with...

Lamp's performance continues the momentum he's created for himself throughout his senior s...

The versatile Stanford star would wear a lot of hats in Green Bay
Michigan, California and BYU held pro days on Friday, with Davis Webb fighting a 'torrential...

Plus, prospects at Utah, Missouri and San Diego State look to make their mark on a busy Th...

Plus, two USC prospects tackle agility drills and two small-schoolers look to make their m...