Why the Richardson deal makes sense for Cleveland
While outrage is understandably the first reaction, I hope Browns fans also realize that this trade makes sense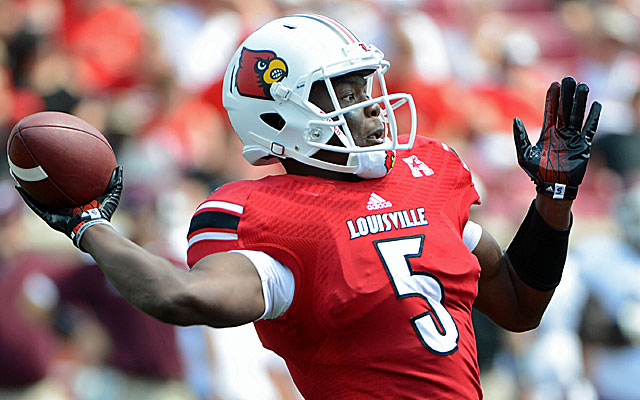 I understand, Cleveland. I do.
After all, I'm one of you. I grew up in Northeast Ohio. My first jersey was No. 19 with "KOSAR" stitched above the numbers. I've spent too much time freezing in the Muni lot off the lake before entering the stadium to watch teams led by Ken Dorsey and Spurgeon Wynn at quarterback.
I understand the passion and love for Cleveland Browns football. So I understand the outrage of today's trade that sent running back Trent Richardson, arguably the team's best player, to the Indianapolis Colts for a 1st round pick in the 2014 NFL Draft.
Are the Browns throwing up the white flag after two games already? Easy to say so, but this trade was about one thing: the chance to get better. And more specifically, get better at quarterback.
No, the Browns didn't trade for a quarterback, but they did trade for an asset that gets them a giant step closer to landing one. It could be argued that the Browns will have a chance at a top-tier quarterback prospect with their original first round pick, but the current regime isn't concerned with "maybes" – they are focused on the long-term and finding the answer at quarterback, at whatever cost. And with 10 draft picks already in the holster for the 2014 NFL Draft, including five picks in the top three rounds, the ammo is there.
After all, this is a quarterback league. This trade was less about Trent, who is on pace for 840 rushing yards this season, and more about the value of the compensation.
Looking forward to the quarterbacks who could be available for the 2014 NFL Draft, Teddy Bridgewater, Brett Hundley and Marcus Mariota all project highly to the next level, but all are underclassmen and there is no guarantee they'll be available next May. But you don't get better in the NFL by standing pat and taking the safe approach. Sometimes it takes a bold move. A decision that makes everyone do a double-take and saw "Wow." And that's what this trade is. Only time will tell if this swap ends up to be a smart one for the Browns organization, but even the most skeptical Cleveland fans can admit, they understand why it happened.
Full disclosure, I loved that the Browns traded up in the 2012 NFL Draft to grab Richardson, who I thought had the potential to be mentioned in the same breath as Adrian Peterson as one of the NFL's best backs. And I still think Richardson will be a consistent 1,000+ yard rusher at the pro level, but in 17 career starts in the NFL, he has only three 100-yard rushing performances and doesn't show the same explosion or burst that made him a top-five prospect out of Alabama. Add in the strong durability concerns and it's amazing that the Browns were able to get a first round pick for him.
So yes, I understand Browns fans. You're tired of the "R" word (rebuild). You don't want to hear the "P" word (patience). But don't blame the current regime for the faults of the previous one. Tom Heckert had orders from ownership for the "quick fix" approach in the 2012 NFL Draft, which is why they traded up for a dynamic running back third overall (Richardson) and reached for a ready-right-now quarterback (Brandon Weeden) later in the first round. That strategy has led to a 5-13 record.
Don't blame Joe Banner, Michael Lombardi and Rob Chudzinski for those past transgressions. Give them a chance to build this team the best way possible, not just go with the quick fix. And it starts with finding a quarterback and today's trade gets the Browns one step closer to doing so.
It's a hard pill to swallow. And while stunning, it's a very bold, and in my opinion smart, move for the future of the Cleveland Browns organization.
Show Comments
Hide Comments
Our Latest Stories
Michigan, California and BYU held pro days on Friday, with Davis Webb fighting a 'torrential...

Plus, prospects at Utah, Missouri and San Diego State look to make their mark on a busy Th...

Plus, two USC prospects tackle agility drills and two small-schoolers look to make their m...
In a class loaded with defensive studs, no position group is better than the corners and s...

Mitchell Trubisky is 'solid,' Takk McKinley sits and Marlon Mack 'sizzles' during Tuesday pro...

John Lynch is among the 75 NFL scouts at UNC's pro day, while the Browns are noticeably ab...