Finding the Fits: Boykin might not start for Eagles, but should contribute early and often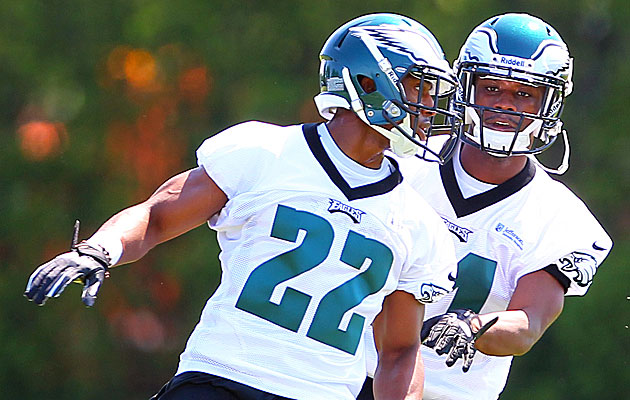 Brandon Boykin (22) works in a drill during the Eagles' rookie minicamp. (Getty Images)
Over the next several weeks,
NFLDraftScout.com
will be reviewing some of the more intriguing picks made during the 2012
NFL Draft
through a series called "Finding the Fits." The goal of the series is to identify one relatively unheralded player per team who appears to be a good schematic fit and therefore more likely to be a surprise contributor early in his pro career.
Dubbed the "Dream Team" before the season began, the
Philadelphia Eagles
started 2011 with only four victories in their first dozen games. But the team finished strong, winning the final four contests of the year en route to an 8-8 final record. While the Eagles didn't come close to meeting expectations, they did enough to make most believe they'll be contenders again in 2012.
So far Philadelphia's offseason has seen the good (long-term extensions for playmakers
DeSean Jackson
and
LeSean McCoy
) and bad (ruptured achilles tendon for left tackle
Jason Peters
, likely ending his 2012 season), but an interesting part of the past few months has been the Eagles' defensive-heavy draft class. In the first two rounds, Philadelphia added three future starters in the front seven with defensive tackle
Fletcher Cox
, linebacker
Mychal Kendricks
and defensive end
Vinny Curry
. However, cornerback
Brandon Boykin
out of Georgia, who the Eagles drafted in the fourth round, is the most appealing fit for Philadelphia in 2012.
Boykin flirted with entering the 2011 NFL Draft, but instead returned to Athens for his senior season, which ended with mixed results. He was projected as a top-75 draft pick before a broken leg during Senior Bowl week sidelined him for the remainder of the pre-draft process. Boykin's injury combined with a few other concerns made him available on the draft's third day. And the Eagles, who were looking for a potential slot corner, were more than happy to see the Ex-Bulldog available in the fourth round.
Boykin possesses special tools with the foot speed to cover a lot of ground and fluidity to burst in any direction, making him a natural fit in nickel and inside coverage. He needs to continue and develop his coverage skills and awareness to improve his "feel" in the secondary, but his gifted athleticism hides some of his instinctive shortcomings. The largest obstacle in his way might be his inconsistencies as a tackler. At 5-10 and 182 pounds, Boykin appears maxed out physically and his lack of strength shows in run support, struggling to finish and break down in space. He doesn't shy from contact and is extremely aggressive, but often needs the help of his teammates to bring down the ballcarrier. Boykin's lack of size also leads to strong durability concerns as he was often beaten up in college.
After the signing of prized-free agent
Nnamdi Asomugha
last summer, the Eagles found that more is not always better, creating a logjam at the cornerback position with
Asante Samuel
and
Dominique Rodgers-Cromartie
already on the roster. Whether it was scheme, pressure or simply a clash of egos, the trio of talented corners didn't mesh as expected and the Eagles finished in the bottom third of the NFL in passing scores allowed (27) last season.
With Asomugha and Samuel starting most of last season, Rodgers-Cromartie regressed in his new role in the slot. But with Samuel and his large contract being shipped to the Atlanta Falcons last month in exchange for a late round draft pick, "DRC" will replace him on the outside as a starter, leaving the No. 3 cornerback job wide open.
Joselio Hanson
and
Curtis Marsh
will be the favorites to take over this role, but don't be surprised if Boykin beats out the competition for the nickel job, a position that seems to grow in importance as NFL offenses become more dangerous through the air.
Besides his ability to contribute on defense, Boykin proved to be a versatile performer on offense and special teams at Georgia, scoring eight total touchdowns over his collegiate career (4 kick returns, 1 punt return, 2 receiving, 1 rushing). While it's doubtful he will line up with McCoy and
Michael Vick
in the backfield on offense, Boykin should be able to make an impact on special teams.
Boykin has the natural ability to contribute right away as a nickelback and return man with starting cornerback potential if he continues to develop mentally. And although he wasn't the top-40 pick that he or many others thought he would be, Boykin landed in a favorable fit in Philadelphia. With only a fourth round price tag, it wouldn't be surprising if he turned out to be one of the best values from the 2012 NFL Draft.
The rest of the Eagles' picks:
1st Round – No. 12 overall – Fletcher Cox, DT, Mississippi State
2nd Round – No. 46 overall – Mychal Kendricks, ILB, California
2nd Round – No. 59 overall – Vinny Curry, DE, Marshall
3rd Round – No. 88 overall –
Nick Foles
, QB, Arizona
4th Round – No. 123 overall – Brandon Boykin, CB, Georgia
5th Round – No. 153 overall –
Dennis Kelly
, OT, Purdue
6th Round – No. 194 overall –
Marvin McNutt
, WR, Iowa
6th Round – No. 200 overall –
Brandon Washington
, G, Miami (Fla.)
7th Round – No. 229 overall –
Bryce Brown
, RB, Kansas State