Finding the Fits: Chargers' strong draft didn't end with Melvin Ingram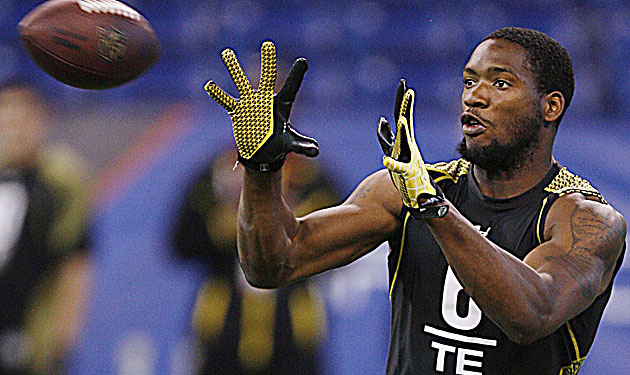 Ladarius Green could be a complement and eventual replacement for Antonio Gate. (US Presswire)
Over the next several weeks,
NFLDraftScout.com
will be reviewing some of the more intriguing picks made during the 2012
NFL Draft
through a series called
"Finding the Fits."
The goal of the steries is to identify one relatively unheralded player per team who appears to be a good schematic fit and therefore more likely to be a surprise contributor early in his pro career.
Considering that the reigning AFC West division champion
Denver Broncos
made arguably the biggest free agent signing of all time in landing
Peyton Manning
, one might be willing to forgive the national media who have largely overlooked the impressive offseason put forth by the
San Diego Chargers
.
San Diego elected to allow talented but unreliable wideout
Vincent Jackson
to leave via the
Tampa Bay Bucs
in free agency but replaced him with four smaller, faster receivers, most notably former
New Orleans' Saints'
first-round pick
Robert Meachem
and former Bronco
Eddie Royal
. The team also solidified their offensive line by re-signing three starters (LT
Jared Gaither
, OC
Nick Hardwick
, OG/RT
Brandyn Dombrowski
) as well as improving their pass rush and run defense with former
Baltimore Ravens
' standout
Jarrett Johnson
.
For a team boasting a star quarterback in
Philip Rivers
and as talented a roster (at least on paper) as any in the AFC, general manager
A.J. Smith
and head coach
Norv Turner
helped put the Chargers in position to truly follow the best-player-available strategy so many teams preach prior to the draft but don't actually follow once the picking begins.
In the weeks leading up to the draft, there was consistent buzz that the Chargers were exploring aggressive trades to move up and guarantee the addition of a headlining defender -- either a pass rusher like
South Carolina
's
Melvin Ingram
or an instinctive safety like
Alabama's Mark Barron
.
Largely due to questions about how well he'll acclimate to the NFL with shorter-than-ideal arms, Ingram slipped into the Chargers' lap at No. 18. Ingram's short arms don't allow him to wrap up securely on every tackle attempt, as you can see when he whiffs against
Clemson
running back
Andre Ellington
in this video
(approximately 1:20 into the video). However, he's quick off the snap, has the lateral agility to elude pass blockers and closes quickly and with power. Those physical attributes, as well as a high revving motor, will help Ingram emerge as one of the AFC West's better edge rushers as a rookie.
Frankly, one could make the argument that any of the Chargers' next three picks are strong enough "fits" that they could be the focus of this article. Former Connecticut defensive tackle
Kendall Reyes
will be moved outside to play defensive end in the Chargers' 3-4 scheme. He has the strength, length and hustle to perform well in this role. I believe he's at least as good of a schematic fit, in fact, as
Corey Liuget
, whom the Chargers selected in the first round a year ago.
One could also argue that Lousiana Lafayette tight end
Ladarius Green
is an ideal fit, considering how his speed and soft hands should complement (and perhaps eventually replace) All-Pro but perpetually nicked-up star Antonio Gates.
Considering how much San Diego struggled in the deep patrol a year ago, however, not to mention the impact the addition of Manning could have on pass defenses in this division, the rookie who could prove most vital to the Chargers' success in 2012 could be the team's third round pick, former LSU strong safety
Brandon Taylor
.
The 5-11, 209-pound Taylor was the unquestioned leader of a supremely talented secondary at LSU that boasted the likes of
Patrick Peterson
(selected No. 5 overall by
Arizona
in 2011),
Morris Claiborne
(selected No. 6 overall by
Dallas
in 2012), as well as cornerback
Tyrann Mathieu
and free safety
Eric Reid
, each of whom rank among the
top 32 prospects
I've graded thus far for the 2013 draft.
With so much star power around him, it was difficult for Taylor to make the type of jaw-dropping plays to create buzz, despite his starting 33 games over his career with the Tigers. He is instinctive, physical and reliable, however, precisely the type of traits the Chargers have been missing at strong safety since releasing Pro Bowler
Rodney Harrison
following the 2002 season. Harrison, of course, would sign with
New England
, where he'd go on to play in two more Pro Bowls as well as help the Patriots win two Super Bowls.
The beauty of the fit in San Diego is that Taylor's experience and intangibles should put him in position to play immediately. Also, he won't necessarily be asked to be a playmaker in this scheme due to the presence of free safety
Eric Weddle
, a more natural ballhawk.
With the Chargers' best veteran option at strong safety appearing to be journeyman
Atari Bigby
, Taylor could have the inside track to starting as a rookie.
He isn't likely to make the types of plays that will leave fans breathless (as Ingram may), but Taylor could nonetheless prove to be a starter on a legitimate Super Bowl contender as a rookie. Considering there were 72 players selected ahead of him, that would be quite an accomplishment -- for Taylor and the front office that drafted him, as well.
The rest of the Chargers' picks:
1st Round - No. 18 overall - Melvin Ingram, OLB, South Carolina
2nd Round - No. 49 overall - Kendall Reyes, DT, Connecticut
3rd Round - No. 73 overall - Brandon Taylor, SS, LSU
4th Round - No. 110 overall - Ladarius Green, TE, Louisiana-Lafayette
5th Round - No. 149 overall -
Johnnie Troutman
, OG, Penn State
7th Round - No. 226 overall -
David Molk
, C, Michigan
7th Round - No. 250 overall -
Edwin Baker
, RB, Michigan State
Read more about all of the
Chargers' picks here.