Finding the Fits: Looney, if healthy, could start as rookie for 49ers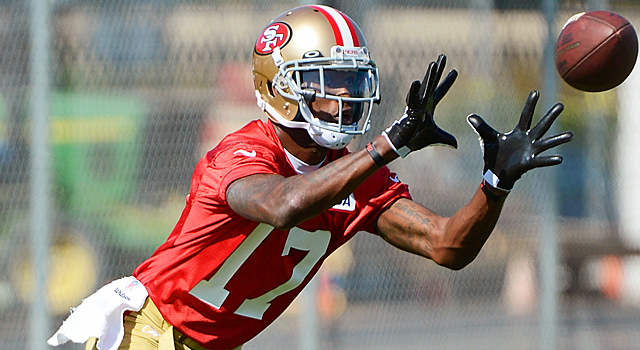 A.J. Jenkins was a stretch for the 49ers in the first round when you consider they needed an offensive lineman.
(Getty Images)
Over the next several weeks,
NFLDraftScout.com
will be reviewing some of the more intriguing picks made during the 2012 NFL draft through a series called
"Finding the Fits."
The goal of the series is to identify one relatively unheralded player per team who appears to be a good schematic fit and therefore more likely to be a surprise contributor early in his pro career.
As Super Bowl champions, there is no denying that the
New York Giants
were the best team in the NFL a year ago. One could make the argument, however, that the
San Francisco 49ers
actually enjoyed the more successful season, overall.
Consider that the 49ers entered last season with a largely untested general manager in
Trent Baalke
, a rookie head coach in
Jim Harbaugh
and major questions about the futures of past first-round picks
Alex Smith
and
Michael Crabtree
. The team was coming off a 2010 season in which they finished just 6-10, good for third in an NFC West division that some characterized as the worst in pro football.
A year later and the 49ers appear to be a team others should envy. Baalke was recognized as the NFL's Executive of the Year. Harbaugh was named the league's Coach of the Year. Smith and Crabtree enjoyed breakout seasons. All of which, of course, contributed to the 49ers emerging as one of the NFL's best teams, finishing 13-3 in the regular season and giving the Giants everything they could handle in a tough NFC Championship battle that could have easily gone in San Francisco's favor if not for a few uncharacteristic turnovers.
Even more frightening than the 49ers' sudden advancement -- at least in the eyes of their competitors -- is the fact that San Francisco doesn't appear to be going anywhere. Entering the draft, 21 of the 22 starting positions on the offense and defense appeared to be settled. The only obvious area of concern was at right guard, where the 49ers were seeking a replacement after allowing 2011 starter
Adam Snyder
to sign with their division rival
Arizona Cardinals
. San Francisco boasted several young offensive linemen who could take over the starting spot, but it would be a roll of the dice. After all, the most logical candidates --
Daniel Kilgmore
,
Alex Boone
and
Mike Person
-- had one combined snap at right guard over their respective NFL careers.
Rather than address this area of concern in the first round, however, the 49ers pulled a stunner, selecting Illinois wide receiver
A.J. Jenkins
at No. 30 overall.
Frankly, I didn't see first round traits when scouting Jenkins, which is why
I had him as the biggest reach of the first round
. Don't get me wrong, he's a talented receiver. Jenkins led the Big Ten with 90 receptions (for 1,276 yards and eight touchdowns) a year ago despite playing with some inconsistency at the quarterback position. He's quick off the snap, shows very good fluidity as a route-runner, possesses enough straight-line speed to challenge deep and is a reliable hands-catcher. For a team built around the running game and already boasting a couple of playmakers in
Vernon Davis
, Crabtree and free agent additions
Mario Manningham
and
Randy Moss
, however, Jenkins could struggle to see meaningful snaps as a rookie.
Limited opportunity is the primary reason why the 49ers' decision to select another playmaker in the second round in Oregon running back
LaMichael James
has largely been questioned. The 49ers, of course, already boast a legitimate frontline starting running back in
Frank Gore
. The team also signed ex-Giant
Brandon Jacobs
in free agency and has former draft picks
Anthony Dixon
and
Kendall Hunter
, selected in the fourth round a year ago, already on the roster. James is dynamic. I
believe he could excel in a similar role as to what the New Orleans Saints have Darren Sproles playing
, but snaps could be tough to come by with such a crowded backfield.
Potential playing time is precisely why Wake Forest guard
Joe Looney
, drafted in the fourth round, may wind up offering the 49ers' their greatest immediate impact performer from the 2012 NFL draft.
Before he has even a chance of earning the starting right guard position, however, Looney will first have to get healthy. He slipped to the fourth round in part because of a foot injury suffered at the Senior Bowl that has thus far kept him sidelined during OTAs. The 49ers expect that he'll be back in time for training camp.
If Looney is, indeed, able to participate in training camp, he could win the starting right guard job outright. At 6-3, 309 pounds Looney has the relatively short, squatty frame conducive to playing on the interior. He's quick off the snap and when blocking on the move, which makes him an ideal fit in Harbaugh's offense. He's also physically tough and highly competitive. For a club that prides itself on its physicality, Looney is a perfect fit.
The rest of the 49ers' picks:
1st Round - No. 30 overall - A.J. Jenkins, WR, Illinois
2nd Round - No. 61 overall - LaMichael James, RB, Oregon
4th Round - No. 117 overall - Joe Looney, OG, Wake Forest
5th Round - No. 165 overall -
Darius Fleming, OLB, Notre Dame
6th Round - No. 180 overall -
Trenton Robinson, FS, Michigan State
6th Round - No. 199 overall -
Jason Slowey, OL, Western Oregon
7th Round - No. 237 overall -
Cam Johnson, DE/OLB, Virginia
Read more about all of the
49ers' draft picks here.