2013 NFL Draft: California Preview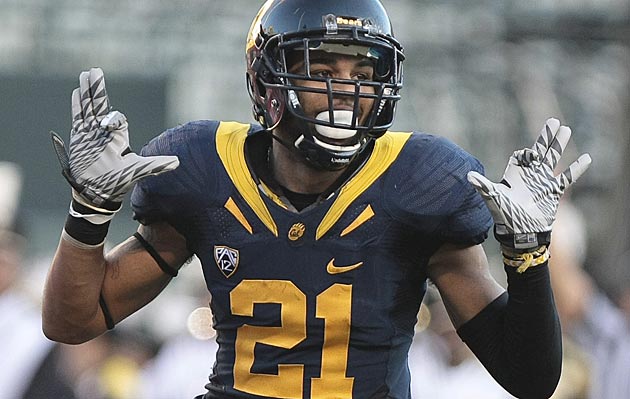 Keenan Allen, a junior, needs only 59 catches to break Cal's all-time record. (US Presswire)

In preparation for the 2013 NFL Draft, NFLDraftScout.com will profile the top draft-eligible prospects from FBS-level programs. This summer series will run until the start of the college football season.

California Golden Bears
NFL Draft picks the past five years: 22
2012 NFL Draft picks: Six -- OT Mitchell Schwartz (Second Round, No. 37 overall), ILB Mychal Kendricks (Second Round, No. 46 overall), P Bryan Anger (Third Round, No. 70 overall), WR Marvin Jones (Fifth Round, No. 166 overall), S D.J. Campbell (Seventh Round, No. 216 overall), DL Trevor Guyton (Seventh Round, No. 219 overall).
Winning the Pac-10 Coach of the Year award in 2002 and 2004, Jeff Tedford has turned around a once-moribund program into a legitimate conference power. The problem is the team hasn't yet taken the next step.
Some, in fact, would argue that Cal has regressed over the past several seasons. In terms of wins and losses, the Golden Bears have undeniably been a disappointment in recent years. This was a team that finished the 2006 season as the No. 14 team in the country. Cal hasn't finished a season in the top 25 since. Tedford experienced his first losing season as head coach in 2010 (5-7) and the team fared only slightly better last year, going 7-5 and losing 21-10 to Texas in the Holiday Bowl.
As disappointing as the last couple of seasons have been for Cal in terms of victories, the team is producing NFL talent like never before. Tedford saw 10 of his former players selected by NFL teams over the past two seasons. One has to go back to the '50s (1952-53 to be exact) to find a better two year run of prospects from the Golden Bears -- and keep in mind that was when there were 30 rounds per draft.
Cal, once again, will offer to the NFL some intriguing talent in 2012. Their best player, junior wide receiver Keenan Allen, ranks as one of the elite skill position prospects in the entire country.
Top-five prospects for the 2013 NFL Draft
*Indicates underclassman

1. WR Keenan Allen (6-3, 206)*
Signing Allen out of Greensboro, North Carolina was a recruiting coup for Cal. Allen, who was regarded by many as the elite prep wide receiver and safety prospect in the country at the time, was heavily pursued by virtually every team in the country and had originally signed a letter of intent with Alabama before joining his half-brother, quarterback Zach Maynard, and signing with Tedford. Upon signing with the Golden Bears, Allen quickly proved that he was well worth the hype, earning all-conference and even All-American accolades from some publications and breaking Philadelphia Eagles' star DeSean Jackson's freshman records for most receptions (46) and receiving yards (490) while also leading the team with five touchdown catches. Despite defenses keying in on him this past season, Allen took his game to another level, snaring 98 passes for 1,343 yards and six scores, earning First Team All-Pac-12 honors from the conference coaches. Allen rarely gets mentioned in the same breath nationally-speaking with Robert Woods, the talented young receiver from Southern California who joined Allen as a first team all conference selection a year ago but, frankly, Allen possesses more unique traits. At 6-3, 205 pounds he possesses the light feet, balance and acceleration to make plays after the catch -- a rarity for receivers of his size. With former teammate Marvin Jones now a member of the Cincinnati Bengals, defenses may have an easier time rolling coverages to try and limit Allen's touches in 2012. Whether he posts the statistics to be recognized with individual awards or not, Allen's worth will be shown on draft day -- when he'll compete to be the first receiver selected.
2. DL Aaron Tipoti (6-2, 295)
While much of Tedford's legacy is based on his ability to produce high caliber offensive skill-position prospects, since adopting the 3-4 alignment currently coached by former NFL defensive coordinator Clancy Pendergast, Cal has churned out several quality defensive linemen, including a pair of first rounders in Tyson Alualu (Jacksonville, 2010) and Cameron Jordan (New Orleans, 2011). Tipoti doesn't boast the same prototypical size as his former teammates but possesses extraordinary burst off the snap to consistently split gaps and compromise the play. In a 3-4 scheme, the defensive linemen are rarely put in position to make the play themselves and thus Tipoti's statistics are far from overwhelming. He registered a career high 25 tackles last season, including five tackles for loss and two sacks. Tipoti's ability to penetrate, however, consistently forces ball-carriers to adjust behind the line of scrimmage, helping Cal's linebackers to swarm -- just as the defense is designed to do. Having played up and down the defensive line for Pendergast, Tipoti has demonstrated the strength, balance and quickness necessary to continue his blue collar success in a 3-4 scheme at the next level. If protected by a stouter nose guard alongside him, Tipoti may wind up fitting even better as a classic three-technique defensive tackle in the 4-3 alignment in the NFL, taking better advantage of his burst upfield and high revving motor.
3. OL Matt Summers-Gavin (6-6, 295)

The Cleveland Browns surprised many back in April with the selection of offensive tackle Mitchell Schwartz out of Cal with the fifth pick of the second round when several more recognizable offensive tackles were still available. Anonymity often comes with the territory as an offensive linemen but nowhere more than at Cal where high profile skill position prospects normally get most of the attention. The same lack of celebrity that made Schwartz a draft-day surprise could occur again in 2013 with Summers-Gavin, who in starting all 13 games a season ago at right tackle served as the blindside protection for southpaw quarterback Zach Maynard. Summers-Gavin was recognized by the conference coaches with honorable mention accolades last season in what was his first season at the position after playing in 19 games (starting 12 of them) at left guard over the 2009-10 seasons. Possessing the long, well-proportioned frame of an offensive tackle, Summers-Gavin may be able to remain on the outside at the next level, though he'd have to stay on the right side. His lack of top-notch agility in pass protection, as well as his comfort as a combination blocker could earn him consideration for a move back inside for an NFL club, as well.
4. CB Marc Anthony (6-0, 200)
Anthony struggled with injuries a season ago or he too might have made the Pac-12's all-conference team. Despite suffering a shoulder injury against Oregon that kept him sidelined for two games, Anthony led the Golden Bears with 12 passes broken up and also posted five tackles for loss among his 38 stops. He'll be entering his third season as a starter for Cal in 2012 and needs to reassure scouts that he can remain healthy as he missed the Stanford game in 2010 due to injury, as well. Well-built, productive in run support and deceptively athletic, Anthony has the frame and game to intrigue pro scouts at the cornerback and safety positions. To boost his stock, he'll need to show greater ball skills as he currently has only three interceptions among his 21 career passes defended. Cal has had one defensive back selected four of the past five years. Barring a collapse in his senior season, Anthony will add to that streak in 2013.

5. QB Zach Maynard (6-2, 185)
Though he's since proven to be a cultivator of talent at virtually every position on the field, Tedford initially made his name as a developer of quarterbacks. His star pupil, of course, was Aaron Rodgers but Tedford also coached several other first round signal-callers, including Trent Dilfer and David Carr while at Fresno State, Akili Smith and Joey Harrington while at Oregon and Kyle Boller to go along with the reigning NFL MVP during his time at Cal. While some will argue that the other component that ties these quarterbacks together (other than Tedford having coached them) is that the majority of these passers failed to live up expecations at the NFL level, it is difficult to pin any of that "blame" on a coach who stopped working with his pupils once they were signed into the professional ranks. Because of Tedford's past success with quarterbacks, there was quiet optimism that he may have found a new diamond in the rough to polish in Maynard, who transferred to Cal after playing the first two seasons of his career at the University of Buffalo. Maynard earned the starting role as a true sophomore, completing 57.5% of his passes for 2,694 yards, 18 touchdowns and 15 interceptions. After sitting out the 2010 season due to the NCAA's transfer rules, Maynard (who is the half-brother of Cal's star receiver Keenan Allen) emerged as Cal's starter last season. While he certainly had his rough games (combined seven interceptions vs. rivals USC and UCLA) in his first season with the Golden Bears, Maynard improved as he gained experience, actually raising his QB rating over 100 points over the course of the final four regular season games and finishing with much more palatable numbers than some may have thought, completing 57% of his passes for 2,990 yards and accounting for 21 touchdowns (17 passing) against 12 interceptions. To be clear, Maynard currently lacks the frame NFL scouts are looking for at the quarterback position and must improve significantly in his decision-making and overall ball placement. He is a mobile athlete capable of keeping the defense honest and boasts a surprisingly strong arm. Should he continue his improvement this season, don't be surprised if NFL teams give the latest Tedford project a strong look.
Just missed:

RB Isi Sofele (5-08, 183)
OG Brian Schwenke (6-4, 312)
OL Dominic Galas (6-1, 306)
DB Josh Hill (5-11, 207)

For all of NFLDraftScout.com's team by team previews of the top prospects to watch in the 2012 season in preparation for the 2013 NFL draft, click here.