2013 NFL Draft: South Carolina Preview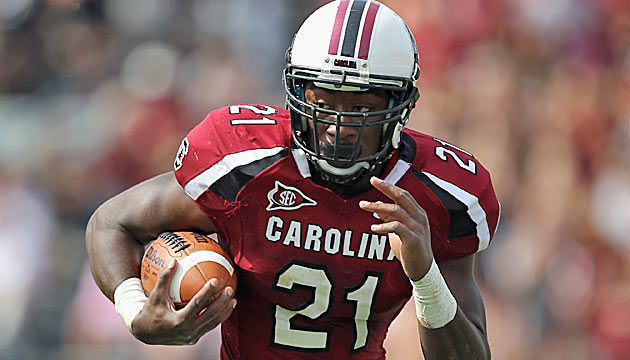 In preparation for the 2013 NFL Draft, NFLDraftScout.com will profile the top draft-eligible prospects from FBS-level programs. This summer series will run until the start of the college football season.

SOUTH CAROLINA GAMECOCKS
NFL Draft picks the last five years: 18
2012 NFL Draft picks: Six -- CB Stephon Gilmore (First Round, No. 10 overall), DE/OLB Melvin Ingram (First Round, No. 18 overall), WR Alshon Jeffrey (Second Round, No. 45 overall), OL Rokevious Watkins (Fifth Round, No. 150 overall), DB Antonio Allen (Seventh Round, 242), DT Travian Robertson (Seventh Round, No, 249 overall).
Steve Spurrier may be one of the most polarizing coaches in America but his ability to recruit, scheme and win against the elite competition in the SEC certainly also makes him one of the most intriguing.
For most of his tenure as head coach at South Carolina, the Gamecocks have been fairly represented throughout the NFL's draft weekend. Each year a couple of South Carolina players are drafted. Every once in awhile, however, South Carolina sees several of their top players nabbed by NFL teams. The 2012 NFL draft was just such an example.
Having sent "just" two players into the NFL (via the draft) in the 2010 and 2011 drafts, respectively, the Gamecocks had six players selected in April, including a pair of first round picks. This was reminiscent of 2009, when after several consecutive seasons of producing on average just a few players per year, there suddenly was a monster haul for NFL teams via the Gamecocks' program. Seven players were selected out of Spurrier's squad in 2009; the most from South Carolina since 1953.
It looks like a return to the "normal" for South Carolina this year with a two highly regarded prospects in junior running back Marcus Lattimore and pass rusher Devin Taylor. As just a true sophomore, defensive end Jadeveon Clowney is not yet eligible for the NFL, though based on the way he performed in his first season of college football last year, that's a shame. The 6-6, 256 pound Clowney has the look of a future top five pick.
Top-five prospects for the 2013 NFL Draft
*Indicates underclassman
1. RB Marcus Lattimore (6-0, 220)*
Lattimore signed with South Carolina rated by some recruiting experts as the elite running back prospect in the country two years ago. He quickly proved well worth the hype, rushing for 1,197 yards and a scoring a school record 19 touchdowns (17 rushing, two receiving) to earn not only First Team All-SEC honors but also earn recognition as the consensus SEC Freshman of the Year and national Freshman of the Year. Lattimore's success early on may have been due in part to opponents game-planning for the traditional Spurrier-led passing frenzy but by the end of the year the powerful and determined Lattimore had transformed the Gamecocks into primarily a run-based team. Lattimore was well on his way towards improving his gaudy totals last season (818 yards, 10 TDs through seven games) before suffering a devastating knee injury against Mississippi State that ended his year. Lattimore was held out of spring practices as he recovered from surgery to repair the torn ACL. He has since re-joined the team and is expected to be ready to roll when the Gamecocks kick off their 2012 campaign August 30 at Vanderbilt. When healthy, Lattimore has shown all of the characteristics scouts are looking for in a running back other than elite breakaway speed. Despite his lanky frame, Lattimore is a gliding, powerful runner who is just as likely to elude defenders with his subtle weaving as he is to simply bowl them over. He's also a pro's pro when it comes to the "little" things that many highly touted running backs fail to work on, as he secures the football tightly when heading into the pile, is among the more physical and consistent pass blockers among running backs in the entire country and shows natural pass receiving skills, including the ability to extend and pluck the ball while keeping his body moving towards positive yardage. If there is a concern with Lattimore it is that he's taken an awful lot of punishment already. Consider that in just the second college game of his career, Spurrier rushed him 37 times against Georgia. Lattimore finished the 2010 season with an eye-popping 412 attempts and rushed for 6,374 yards as a South Carolina prep. When you're the hammer rather than the nail as Lattimore typically is, the punishment isn't as taxing on the body but before Lattimore earns the first round selection that he seems to so clearly deserve, NFL doctors will have to take a long look at him. Despite the fact that he's coming off a torn ACL, Lattimore remains NFLDraftScout.com's top rated running back potentially available in the 2013 draft.
2. DE Devin Taylor (6-7, 267)
The San Diego Chargers made Melvin Ingram the No. 18 overall selection of the 2012 draft despite the fact that at South Carolina last season Ingram often was asked to move from his customary defensive end position inside to defensive tackle to allow Taylor and super freshman Jadeveon Clowney to remain outside. That says a little something about the talent level each of the returning Gamecocks' pass rushers possess. Taylor has proven to be a standout throughout his career at South Carolina. After redshirting in 2008, he immediately was thrown into the mix as a key part of the Gamecocks' rotation along the defensive line and registered 28 tackles, including 5.5 tackles for loss and two sacks. His best season to date came in 2010 when he led the Gamecocks with 13 tackles for loss, finished second on the club in sacks (7.5), led the team's defensive linemen with 46 overall stops, earning First Team All-SEC accolades from the media. The coaches "only" gave him Second Team honors, however, and Taylor wasn't able to prove his doubters wrong a year later. While his numbers were respectable last season (42 tackles, 8.5 tackles for loss, six sacks), frankly it was a disappointing year for him as the Gamecocks saw Ingram and Clowney each surge past him as the clear top defensive linemen on the team. Taylor is going to be an interesting grade for NFL clubs due to the fact that he offers a unique combination of size and overall athleticism. He shows an explosive burst off the snap and is a naturally smooth accelerator. Unfortunately, due to his high-cut frame, he's also stiff, struggling with the flexibility necessary to turn the corner efficiently when he does cross the line. His terrific speed allows him to chase down ball-carriers and make flashy plays but too often Taylor is eluded in short spaces. The fact that Taylor plays a physical brand of football and has such long, powerful arms, however, help him make tackles when, frankly, the rest of his body remains in poor position to do so. With Clowney operating at the RDE position, Taylor should be able to feast upon the generally slower-footed right tackles and enjoy a nice statline this season. He certainly looks the part but he could prove more of a second or third round prospect come April than the top 10 prospect that his success as a prospective three year standout in the SEC would seemingly warrant. At this point Taylor ranks as NFLDraftScout.com's No. 8 defensive end for the 2013 NFL draft.

3. S D.J. Swearinger (5-11, 210)
While Spurrier is best known for scoring points, since coming to South Carolina he and his staff have proven to be astute recruiters and developers of defensive backs. Swearinger could prove the next in a long line of Gamecocks' defensive backs to make a successful leap to the NFL. Swearinger immediately saw time on special teams and as a reserve upon signing with South Carolina, recording 19 tackles in 2009. He saw his first time with the starters as a sophomore, recording 66 tackles including two tackles for loss while splitting time between the free and strong safety positions. He also snared the first interception of his career, returning it 22 yards for a touchdown against Troy. Swearinger enjoyed the best season of his career to date in 2011. He started the first two games at strong safety but was moved to free safety for the final 11 contests. Swearinger finished second on the team with 80 tackles and proved to be a bit of a ballhawk, recording three interceptions on the season, including one late against Mississippi State that helped the Gamecocks eek out a 14-12 win. With the pass rush he had in front of him, as well as stellar play from cornerback Stephon Gilmore, Swearinger served as more of a complementary piece last season than a true star on his own. That said, he's a very physical defender who showed greater open-field tackling skills and dependability in coverage as the year wore on. At this point he looks like a mid-round selection. Considering his versatility and toughness, however, he could be on the verge of a strong jump up the board this season.
4. OL T.J. Johnson (6-5, 318)
Considering the amount of pass blocking they're usually asked to do, as well as the new-found focus on running the ball (since Lattimore joined the team), Spurrier hasn't produced highly regarded offensive linemen with the consistency one might expect. Johnson, frankly, isn't a top notch prospect either but he does possess the size, toughness and experience to potentially earn a late round selection in April's draft. Johnson redshirted in 2008. That was the last time he wasn't on the field for the Gamecocks. He started all 13 games a year later at right guard and was switched to center in 2010, where he's earned the nod the last 27 consecutive games. Johnson's height makes it unlikely that he'll remain inside at the pivot in the NFL, however. Though he holds up surprisingly well against shorter, powerful defensive tackles considering his natural leverage disadvantage, Johnson struggles with quickness. He's a classic blue-collar worker who gets the most of his abilities but isn't a top athlete, overall. He works hard to get to the second level when run-blocking but lacks the lateral agility and balance to re-direct. Don't be surprised if Johnson is moved back outside to guard or perhaps even given a shot at right tackle in a senior all-star game as he has the size and work ethic to warrant a closer look at his more "natural" position.
5. OLB DeVonte Holloman (6-2, 241)
Holloman signed with the Gamecocks as a highly regarded prep prospect and quickly forced his way into the starting lineup despite the fact that South Carolina featured a veteran-laded defense in 2009. Much more athletic than his size would suggest, Holloman played in every game and started two at strong safety, recording 30 tackles and an interception. He started 10 of 14 games at strong safety as a true sophomore, ranking third on the team with 69 tackles and also chipping in two interceptions and forcing a fumble. As Holloman continued to get bigger and stronger (and yet maintained his speed), South Carolina experimented with moving him closer to the line of scrimmage. He was slated to begin the season at the "spur" position but saw his time there shortened after being arrested and charged with a DUI. South Carolina does not allow its athletes to practice with the team when suspended so his practice at the new position was shortened. Holloman, nonetheless, started the first two games upon his return at the spur but was eventually moved back to strong safety to finish the year. He missed the first two games of the season due to suspension but finished with 51 tackles, including four for loss and intercepting another pass. Holloman, like defensive end Devin Taylor mentioned previously, will be an interesting evaluation for scouts. He possesses good athleticism for his frame. He's struggles getting off blocks, however, and may not have the flexibility or football speed (as opposed to 40-speed) to compete against the high-octane passing attacks so popular in today's NFL. At worst he should provide an intriguing skill-set for special teams duty, which could be enough to get him drafted.
Just missed:
ILB Shaq Wilson (5-11, 235)
TE Justice Cunningham (6-4, 264)
CB Akeem August (5-09, 188)
For all of NFLDraftScout.com's team-by-team previews of the top prospects to watch in the 2012 season in preparation for the 2013 NFL draft, click here.