Weekly Rewind: Plenty of DL to choose from should QBs flop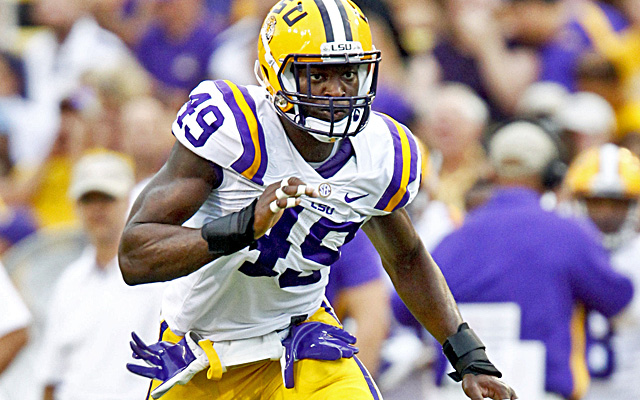 LSU's Barkevious Mingo is currently highest-rated outside linebacker for the class of 2013.
(US Presswire)
Each week, we rewind the game film to highlight the star-worthy performances that could impact the 2013 draft rankings:
The No. 1 overall selection in the past four NFL drafts and 11 times over the past 15 years has been used on a quarterback. For a variety of reasons, this run on quarterbacks as the top pick could be put on hold in 2013.
Southern Cal senior Matt Barkley has been widely regarded as the top quarterback prospect. He proved in a disappointing loss to Stanford that he doesn't possess the elite skill-set of quarterbacks taken No. 1 overall in recent years. The likelihood that a quarterback will be the first pick of the 2013 draft is lessened too by the fact that the weakest teams in the NFL have recently invested highly in the position.
It is the simplest -- least discussed -- reason a player at a position other than quarterback is likely to earn the No. 1 selection: there appear to be plenty of front seven defenders worthy of consideration.
My fellow NFLDraftScout.com analyst Dane Brugler and I each currently project outside linebacker types to earn the top pick in our mock drafts. Georgia's Jarvis Jones and LSU's Barkevious Mingo possess the elite traits and success against quality competition to warrant consideration. Most talent evaluators, after all, agree that pass rushers rank second in priority only to passers, themselves, for a team's sustained success in today's NFL.
There remains a significant contingent within the scouting community who believe the way to build defensive lines is from the inside-out. Those scouts could point to Ohio State's survival against Cal Saturday as evidence of what a dominant interior presence can do, as the Buckeyes' 6-3, 320 pound junior Johnathan Hankins' ability to control the line of scrimmage may have been the deciding factor in their nationally televised 35-28 victory.
In an effort to confuse a veteran Cal offensive line, Hankins was shuffled between both defensive tackle positions, the nose and even left defensive end, recording an eye-popping 10 tackles, including a huge sack of mobile senior quarterback Zach Maynard on the Golden Bears' final drive of the game. Hankins, who seemed to get stronger as the game went on (six tackles after halftime), took advantage of one of the few occasions when Cal attempted to handle him with only one blocker to record his sack, splitting the gap between Cal's brotherly tandem of left guard Jordan Rigsbee and left tackle Tyler Rigsbee. The sack resulted in a 10-yard loss and was likely fresh in the mind of Maynard as he was terribly inaccurate just four plays later on a pass to his own half-brother, star wideout Keenan Allen, that was intercepted, sealing Ohio State's win.
While this was the only play in which Hankins was officially credited with a tackle for loss, the Buckeye defender helped his teammates rack up easy big plays (nine tackles for loss against Cal) by consistently resetting the line of scrimmage.
He held up well against double-teams inside, set the edge when playing defensive end to keep Cal from attacking the edges with their speed and showed good hustle in pursuit. He did this while matched up against Cal's two most experienced offensive linemen, senior center Brian Schwenke and senior right tackle Matt Summers-Gavin, each of whom scouts I spoke with prior to the game expect to be drafted this April.
It has been 19 years since the Cincinnati Bengals gambled on a similarly talented Ohio State defensive tackle in "Big Daddy" Dan Wilkinson with the first overall pick of the 1994 draft. Hankins boasts a similar combination of size, strength and athleticism as Wilkinson and in this game, at least, showed the technique, hustle and versatility to potentially enjoy a more fruitful NFL career than his Ohio State predecessor.
Quick-hitters:
· Another reason why it could be a position other than quarterback to lead off the 2013 draft is that to this point at least there hasn't been a junior quarterback really step up to put pressure on the incumbent senior leaders, Barkley and Arkansas' Tyler Wilson. Virginia Tech's Logan Thomas was a chic pick to ascend to that role entering the season but after a three interception performance in a shocking upset to Pittsburgh Saturday, it's becoming clear that the redshirt junior may want to consider returning next season to iron out some of the wrinkles to his game. Scouts are mesmerized by the 6-6, 260 pound Thomas' upside but each of his three interceptions against the Panthers Saturday were progressively worse decisions and inaccurate passes. His first interception came on the Hokies' first drive of the game. Pressure in his face didn't allow Thomas to step into his throw but the pass was accurate enough to hit his intended target, senior Mark Davis in the hands. The pass, highly contested by Pitt cornerback Cullen Christian, was tipped into the air and intercepted by free safety Jared Holley. Thomas had better protection but made worse decisions on each of his next two interceptions, however, appearing to simply overthrow (by at least five yards) his intended targets and giving strong safety Jason Hendricks two easy picks. Thomas completed just 14 of 31 passes on the day for 265 yards. He did throw one touchdown – an 85-yard catch and run by Davis late in the third quarter that closed Pitt's lead to 28-17 with three minutes and change left in the third quarter. It was the closest then-No. 13 Virginia Tech would get to the Panthers, who entered the game 0-2 and with zero turnovers forced thus far in 2012.
· The Texas Longhorns haven't been challenged yet this season, rolling over Wyoming, New Mexico and Ole Miss Saturday, but it is clear that any team with a hope of beating Mack Brown's bunch had better be prepared to handle defensive coordinator Manny Diaz's fierce pass rush. Lanky junior Jackson Jeffcoat was a constant threat as a standup pass-rusher from the blindside (one sack) and senior Alex Okafor paced the Longhorns Saturday night with two quarterback takedowns. The 6-5, 265 pound Okafor is the more polished of the two, demonstrating enough speed to cross the face of right tackles, as well as the strength and hand usage to bulldoze opponents on his way to the passer. Scouts will appreciate Okafor's versatility. He alternately rushed from a two point stance and with his hand in the ground and was also asked to drop back into coverage on zone blitzes. A returning First Team All-American a season ago with seven sacks, Okafor looks well on his way towards topping those totals in his final year in Austin with three sacks already.
· It is unfortunate that left guard Chance Warmack rarely gets the hype of his fellow All-American candidates on the Alabama offensive line, center Barrett Jones and right tackle D.J. Fluker, because he just might be the best NFL prospect of the trio. The 6-2, 322 pound senior played in five games as a true freshman and hasn't left the starting lineup since. He's more physical than Jones, whose versatility and consistency could lead to a rare repeat as the winner of the Outland Trophy this season and more polished than the massive (6-6, 335 pounds) Fluker, a redshirt junior. Warmack is equally effective when asked to drive defensive tackles off the ball or beat linebackers to the action at the second level, as he did often in helping the Tide rush for 225 yards and six touchdowns on the ground in their SEC opener against Arkansas.
·
It took three games and a change at quarterback but Mike Leach's Air-Raid offense finally started to click for Washington State as the Cougars averaged 8.4 yards per pass attempt in a 35-27 victory at UNLV Friday night. Sophomore quarterback Connor Halliday threw for 378 yards and four touchdowns stepping in for injured senior Jeff Tuel, who has been largely ineffective as the Cougars' starter the first two weeks. The best thing Halliday did was get the ball in the hands of WSU's best player, wide receiver Marquess Wilson. The 6-4, 185 pound junior had struggled in the Cougars' first two games, running lazy routes and clearly getting frustrated by his lack of involvement in the passing game (eight catches for 107 yards). Against the Rebels, however, Wilson doubled his previous season totals, catching five passes for 110 yards and two touchdowns, including an 81-yard score. Wilson's spindly frame and occasional lapse in concentration are big enough concerns that he won't likely earn the first round pick that the game's television announcers suggested. Wilson, however, certainly presents an intriguing enough combination of size, leaping ability, strong hands and build-up speed to earn consideration on the second day of the draft (second, third rounds).
· Da'Rick Rodgers may generate less headlines playing for Tennessee Tech than the Tennessee Volunteers but it hasn't been lost on NFL scouts that the former First Team All-SEC wideout has continued his playmaking ways for the Golden Eagles. Rodgers, NFLDraftScout.com's No. 5 rated receiver for the 2013 draft, caught his third touchdown in as many games for Tech, giving the Golden Eagles a brief 7-0 lead in Eugene against the No. 4 rated Oregon Ducks. Rodgers' score demonstrated precisely the traits that scouts love about his game. The Ducks appeared to be in good position to handle the screen pass in which Rodgers scored. Oregon was playing off Rodgers, who pushed the corner deep before turning back to quickly secure the pass. Rodgers turned, advanced quickly for the handful of yards the play's design had created but then exploded to his right, going against the grain across the entire field to wiggle his way down the right sideline. Along the way Rodgers stutter-stepped twice to shake would-be tacklers and accelerated past a potential blocker to simply out-run two Oregon defensive backs who'd misjudged their angle in deep pursuit. It was Rodgers' only big play of the day; he finished with just two more catches for another 15 yards, but demonstrated against yet another athletic secondary to be a true difference-maker.