2013 Senior Bowl: Oregon prospects confident offense will work in NFL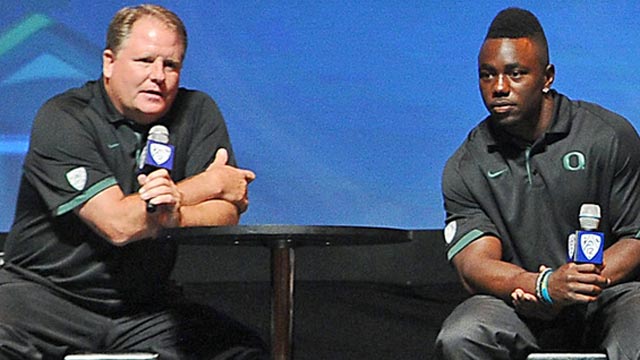 Chip Kelly and Kenjon Barner proved to be quite the potent Oregon combination.
(US Presswire)
MOBILE, Ala. -- Oregon running back Kenjon Barner and offensive tackle Kyle Long had no idea when they finished their senior seasons that their coach would beat them to the NFL. But because Chip Kelly "graduated" to the Philadelphia Eagles before they could get drafted, their lives have turned into a nonstop infomercial for his offense and his coaching style.
Just how often does Kelly's offense come up in conversation?
"Every interview I've done (at the Senior Bowl)," Barner said. "So -- is that your next question?"
Um. Yes. Yes it is.
More on Senior Bowl
Related links
NFL coverage on the go
Truth be told, Barner and Long are ecstatic to talk about the scheme even if they're asked about it constantly. What Kelly did to re-invent the Oregon offense was simplify the playbook but kick up the pace of the plays. There's no huddle, there's no long-winded announcement of the play by the quarterback. Just a snap and a play before players pick themselves up off the ground and repeat.
"It's a learning experience," Long said of playing in the system. "You need to have mental toughness, physical toughness and you have to be in condition to play in an offense that moves in such a high tempo. We play at a fast tempo and then when we need to, we kick it into overdrive. He'll say, 'We're going to go tempo here' and everyone looks around and we all lick our chops because we know the guy across from us is going to be more exhausted than we are because we prepared and practiced at a high level.
"[NFL defenses will be] faster when the ball's snapped, but it's going to be difficult for them to get up there when you're running a play every 14 seconds."
There's the beauty to the idea: Every NFL offense knows what it is supposed to do. So if one is conditioned to do it faster than the defense can handle, they have an absurd edge. Both Long and Barner firmly believe the system will work in the pros.
But the success will be forever tied to Kelly, who Barner lauds as a "genius when it comes to offensive football." The success that Long and Barner have in the pros will also forever be tied to Kelly, who unearthed both men and brought them to Oregon. Long initially intended to play baseball in college but a series of incidents off the field led him to the gridiron, first on defense before moving to offense in junior college. Long is the younger brother of Rams defensive end Chris Long and son of Hall of Famer Howie Long.
In the case of Barner, playing at Oregon landed him a 2,000 total yard campaign with 23 total touchdowns as a senior, production that is not getting overlooked by NFL personnel.
Both players will get drafted – Long likely before Barner – making their Senior Bowl time valuable. The talent at offensive line is deep this year but Long is in the mix to be among the first 10 linemen taken. Barner probably needs some good workouts to help him crack the second day of the draft but there's no doubt that he's as capable as a runner as his stats make him out to be.
As Long and Barner progress to the pros, so will Kelly's offense. But here's a parting thought: What if:
Kelly wanted to scrap the up-tempo no-huddle approach, be it because NFL defenses are different than the Pac-12 or because he feels like it's best based on his personnel? If that were ever to be the case, Barner goes back to what he's been saying about Kelly all along.
"He has no problem adapting to any situation that he's been placed in," he said. "The man's a genius, so I think he can change anything."