Finding the Fits: Jets' forecast calls for early Winters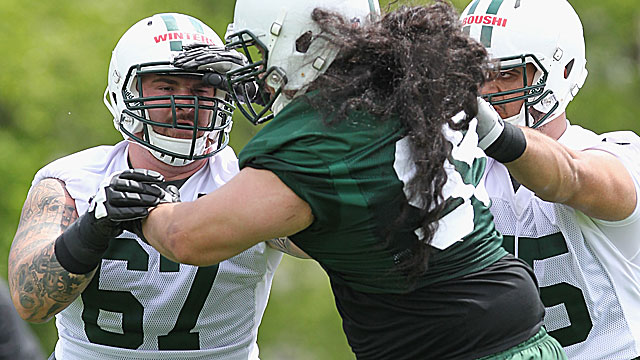 During the next several weeks, NFLDraftScout.com will review the more intriguing picks made during the 2013 NFL Draft in a series called "Finding the Fits." The goal of the series is to identify one relatively unheralded player per team who appears to be a good schematic fit and, therefore, more likely to be a surprise contributor early in his pro career.
New York Jets' Best Fit: OG Brian Winters, Kent State, 3rd Round, No. 72 overall
Considering his position, his draft-day slide and the decision to fire his agents shortly after the draft, it is easy to understand why quarterback Geno Smith, the Jets' third pick, has generated much more buzz than the three players sandwiched around him -- each of whom is expected to play a more substantial role for New York as a rookie.
One would expect that of the Jets' two first-round selections. Cornerback Dee Milliner and defensive tackle Sheldon Richardson were among the first 13 picks of the draft, after all, and are coming off dominant junior seasons against SEC competition.
Winters, selected nearly two full rounds later, could have just as immediate an impact, though it will come at guard, rather than the left tackle position that he capably started 50 games at for Kent State.
Moving a collegiate left tackle to guard against NFL competition is risky business. Every year, a couple of offensive tackles are moved inside to guard because they possess shorter-than-ideal arms. Only a few are actually able to make this transition. Why? It is all about physicality and toughness. Left tackles are typically the most athletic of the offensive linemen. This leads to many of them playing with more finesse than is preferred for the inside.
If nastiness is the top priority when it comes to making the adjustment inside to guard, then Winters was the perfect fit for the Jets.
NFL scouts love to find offensive and defensive linemen with wrestling experience, and Winters' history as a grappler is quite evident in the physicality, leverage and tenacity with he plays. He eased any concerns that scouts might have had about his ability to make the transition inside (or his level of competition) with an impressive week at the Senior Bowl.
Not only is Winters a terrific player (and a personal favorite), he also is going to a club desperate for help at guard. The Jets lost Matt Slauson and Brandon Moore in free agency and are looking to Winters and potentially fifth-round pick Oday Aboushi (who also played tackle in college) to come in and seal some of the gaps on an offensive line that already features two Pro Bowlers in tackle D'Brickashaw Ferguson and center Nick Mangold.
In a New York Minute (Other thoughts on the Jets' 2013 draft class):
Milliner's medical grades were a hot topic in the weeks leading up to the draft, but the buzz since the Jets nabbed the reigning Thorpe Award winner is that he'll quickly prove worthy of the pick.
Milliner underwent five surgeries in his three years at Alabama, but none of them were considered particularly serious. He didn't miss games or practices and was a frequent contributor on special teams. Coaches at Alabama loved his physical and mental toughness.
Milliner might not play with the flashy style that helped make Revis Island so inhabitable, but his physicality could make his side of the field a place for opponents to avoid, nonetheless.
Proponents of the 3-4 defense typically expect their pass rush to come from their outside linebackers, but Rex Ryan's defensive line will once again prove to be the team's primary pass rushers in 2013.
Defensive linemen Quinton Coples and Muhammad Wilkerson led the Jets in sacks a year ago, and the addition of nose guard Sheldon Richardson will only help their production. Richardson plays with a heavy motor and, like Winters and Milliner, he is expected to play immediately due to free agency defections at nose guard.
Just as the media hype surrounding Tim Tebow arguably played a role in Mark Sanchez's decline in effectiveness, the former USC product will have to re-emerge as the Jets' leader if he is to hold off Smith.
Smith has warts, but he has the mobility, intelligence and accuracy down the field to be highly successful in offensive coordinator Marty Mornhinweg's scheme.
Aiding in the Smith (or Sanchez) development will be an infusion of talent and determination to the thunder/lightning running game that Ryan preferred in years past.
The Jets stubbornly pushed Shonn Greene and Joe McKnight as a dynamic duo the past two seasons but saw little sustained success from either to justify their initial draft selections or continued playing time.
It remains to be seen if Mornhinweg's offense will result in improved production from the Jets' passing attack, but don't be surprised if the addition of hard-running Chris Ivory (traded from the Saints for a 2013 fourth-round pick) and big-play free-agent addition Mike Goodson make New York a significantly more formidable rushing team in 2013.
-- The Jets' 2013 draft class:
1st Round -- No. 9 overall -- CB Dee Milliner, Alabama
1st Round -- No. 13 overall -- DT Sheldon Richardson, Missouri
2nd Round -- No. 39 overall -- QB Geno Smith, West Virginia
3rd Round -- No. 72 overall -- OG Brian Winters, Kent State
5th Round -- No. 141 overall -- OT Oday Aboushi, Virginia
6th Round -- No. 178 overall -- OG William Campbell, Michigan
7th Round -- No. 215 overall -- FB Tommy Bohanon, Wake Forest
-- Key Undrafted Free Agents Signed:
CB/RS Mike Edwards, Hawaii
WR Zach Rogers, Tennessee
TE/WR Mike Shanahan, Pittsburgh
Read more about all of the Jets' picks here.