Finding the Fits: Williams poised to earn his stripes with Bengals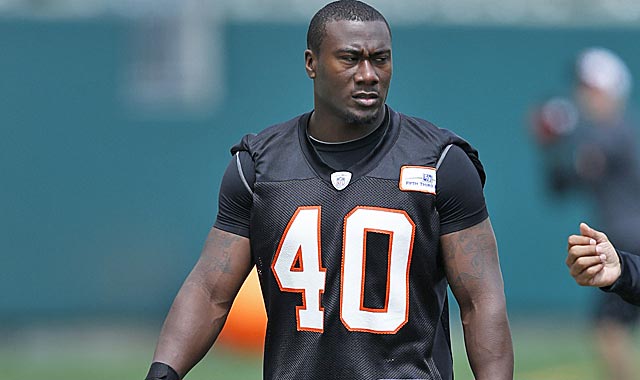 During the next several weeks, NFLDraftScout.com will review the more intriguing picks made during the 2013 NFL Draft in a series called "Finding the Fits." The goal of the series is to identify one relatively unheralded player per team who appears to be a good schematic fit and, therefore, more likely to be a surprise contributor early in his pro career.

Cincinnati Bengals' Best Fit: S Shawn Williams, Georgia, Third Round, No. 84 overall

Boasting one of the league's most impressive defensive fronts and having received surprisingly solid play at linebacker and cornerback in 2012, safety -- strong safety in particular -- was an obvious area of concern for Cincinnati heading into the 2013 NFL Draft.

Sources suggest the Bengals were targeting Kenny Vaccaro and Eric Reid with their No. 21 overall pick but elected to fill other positions of concern when each was taken shortly before Cincinnati's turn on the clock. The Bengals could wind up the big winners due to their patience (as well as the depth of the 2013 safety class) because Williams in the third round could make an immediate impact.

Although not as fluid in coverage as Vaccaro or Reid, Williams' versatility and toughness should help him fit in well in Cincinnati. Williams, among my favorite prospects this year, didn't get the national attention that some of the other Georgia Bulldogs received but his recognition (he made the secondary calls) and thunderous hits consistently stood out on tape. Every bit as impressive as his tape was Williams' competitive spirit. And while the Bengals won't necessarily condone Williams' comments while at Georgia, the aggressive mind-set and leadership he showed with the Bulldogs could make him a quality fit in one of the most physical and competitive divisions in the NFL.

It is the combination of these traits -- both physical and mental -- which could make Williams a "surprise" starter at strong safety for a Bengals' club that looks poised for yet another playoff run in 2013.

Simplifying in Cincinnati (Other thoughts on the Bengals' 2013 draft class):

Having led the Bengals to the playoffs in each of his two seasons in the NFL, Andy Dalton has quietly emerged as one of the league's better young quarterbacks. Not all of the credit should go to him, of course. The Bengals boast a superstar in wideout A.J. Green as well as one of the more talented defenses in the NFL, as well.

With difference-making talents like Green as well defensive linemen Geno Atkins and Michael Johnson, some believe the Bengals already have the talent in place to emerge as a legitimate Super Bowl contender in 2013. As such, Cincinnati attacked the 2013 draft with the goal of finding players who could help put them over the top.

The Bengals received some favorable early returns from rookie wideouts Mohamed Sanu and Marvin Jones last year but adding a secondary target to ease some of the pressure on Green (and Dalton) was a critical need. Rather than gamble on wideouts -- historically one of the riskier positions to draft in the first round -- the Bengals nabbed tight end Tyler Eifert, a relative sure thing, whose soft hands and incredible body control should make him a perfect complement to Green and incumbent starting tight end Jermaine Gresham.

For years the AFC North division has been controlled by the 3-4 defenses run in Baltimore and Pittsburgh. With two matchup nightmares in Eifert and Gresham, the Ravens and Steelers may have to think twice about sending their edge rushers upfield and turning the tight ends loose. Furthermore, adding an underneath target to take advantage of Dalton's accuracy in the short-to-intermediate levels is also more logical than trying to make the former TCU standout something he isn't -- an elite deep-ball passer.

The same "simple" strategy of building around their strengths also came into play with the Bengals' second-round selection of running back Giovani Bernard, an electric open-field runner perfectly suited to pairing with the bruising BenJarvus Green-Ellis.

Third-round defensive end Margus Hunt is an intriguing developmental prospect whose most important role as a rookie could be had on special teams, where his NCAA-leading 17 career blocked kicks could be put to use for a club whose only loss a season ago by more than eight points came at the hands of the Super Bowl champion Baltimore Ravens ... in Week 1.

-- The Bengals' 2013 draft class:

1st Round - No. 21 overall - TE Tyler Eifert, Notre Dame

2nd Round - No. 37 overall - RB Giovani Bernard, North Carolina

2nd Round - No. 53 overall - DE Margus Hunt, SMU

3rd Round - No. 84 overall - SS Shawn Williams, Georgia

4th Round - No. 118 overall - OLB Sean Porter, Texas A&M

5th Round - No. 156 overall - OT Tanner Hawkinson, Kansas

6th Round - No. 190 overall - RB Rex Burkhead, Nebraska

6th Round - No. 197 overall - WR Cobi Hamilton, Arkansas

7th Round - No. 240 overall - OT Reid Fragel, Ohio State

7th Round - No. 251 overall - OC T.J. Johnson, South Carolina

-- Key undrafted free agents signed:

WR Tyrone Goard, Eastern Kentucky

RB Onterio McCalebb, Auburn

P/K Quinn Sharp, Oklahoma State

ILB Bruce Taylor, Virginia Tech

Read more about all of the Bengals' picks here.

Read all of the Finding the Fits series here.