2014 NFL Draft: Georgia Tech preview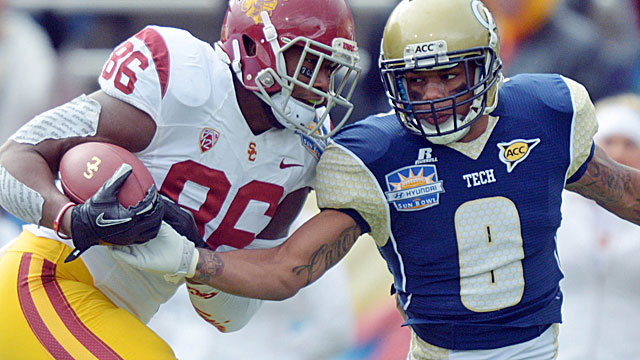 In preparation for the 2014 NFL Draft, NFLDraftScout.com will profile the top draft-eligible prospects from FBS-level programs. This summer series will run until the start of the college football season.

GEORGIA TECH YELLOW JACKETS
NFL Draft picks the last five years: 10
2013 NFL Draft picks: 0

With linebacker Jeremiah Attaochu returning to Atlanta for his senior season, Georgia Tech didn't produce a draft pick in the 2013 class, the first time they were shut out of the NFL draft since 2005. But don't expect the drought to last long as the Jackets hope to improve their six-win regular season from a year ago led by Attaochu -- arguably the best pass rusher in the conference. Most of the Yellow Jackets' NFL talent is on the defensive side of the ball and as the team transitions to a 4-3 scheme. Players will take on new roles in 2013 under new defensive coordinator Ted Roof.

Top Georgia Tech prospects for the 2013 NFL Draft
*Indicates underclassman

1. DE/OLB Jeremiah Attaochu (6-2, 240, 4.64)
A native of Nigeria, Attaochu started the past two seasons as a stand-up pass rush linebacker in Georgia Tech's 3-4 defense, but will transition to more of a traditional defensive end role in Georgia Tech's new 4-3 scheme. He was one of only three ACC players with double-digit sacks in 2012, leading the team with 10 sacks and 12 tackles for loss and earning All-ACC honorable mention honors. Attaochu looks the part with an athletic build and long arms, using his range to make plays all over the field. He has good get-off quickness with the chase skills to track down the ballcarrier from behind and finish. Attaochu is a fiery player with a violent temperament, but needs to keep his wits on the field and control his intensity. He will bite hard on play fakes and get grabby in coverage, but Attachou has an impressive blend of athleticism and strength to work off blocks and battle through the whistle.

2. CB Louis Young (6-0, 201, 4.43)
After a sophomore season that put him on the NFL radar, Young took a step back in 2012 as a junior, struggling with off-field issues, injuries and maddening inconsistencies. Nonetheless, he has intriguing raw talent and is determined to play his best football as a senior in order to show scouts he has next level ability. Young has a good-sized frame for the position and doesn't shy away from contact, but he needs to clean up his tackling technique, too often just throwing his shoulder and getting lazy. He has a nose for the ball and goes after it in the air, matching up well with receivers to break up the play at the catch point. Young needs to stay healthy and stay level-headed from kickoff to the final score and if he can do that, he should be able to establish himself as one of the better cornerbacks in the conference and possible draft pick.

3. DB Jemea Thomas (5-10, 190, 4.54)
Although he's had his ups and downs at Georgia Tech, Thomas is the type of prospect who can grow on you the more you see. He provided depth at safety and cornerback early in his career before taking over at the starting rover position last season, leading the team with four interceptions. Thomas also finished second on the team in tackles with 86 total stops, using his physical nature and strength to finish when he's in the area. He is a fluid athlete with the footwork to cover a lot of ground and puts himself in good position with his natural awareness to read/react quickly. Thomas, who is among the active leaders in the ACC with seven career interceptions, will move to cornerback in 2013 for his final season at Georgia Tech and is expected to be one of the senior leaders on defense.

Other Georgia Tech prospects worth watching:
RB David Sims (5-11, 218, 4.59)
Sims led Georgia Tech running backs in carries last season and is the feature B-back in the team's triple option offense.

OG Will Jackson (6-3, 285, 5.14)
Georgia Tech hasn't had an interior offensive lineman drafted since Paul Johnson installed his option offense, could Jackson be the first?

OLB Quayshawn Nealy (6-1, 235, 4.76)*
Nealy, who will move from inside to outside linebacker in 2013, has 26 starts under his belt and continues to get better.

MLB Jabari Hunt-Days (6-2, 244, 4.76)*
Only a redshirt sophomore, Hunt-Days earned the starting inside linebacker gig last season as a freshman and is already a team leader.

FS Isaiah Johnson (6-2, 205, 4.52)
The Yellow Jackets leading tackler from a year ago, Johnson has good size and speed for the position with a high football IQ.